1 View
2010 Hatfield-McCoy National TrailFest Report
June 24th, 2015 4:31 PM
Share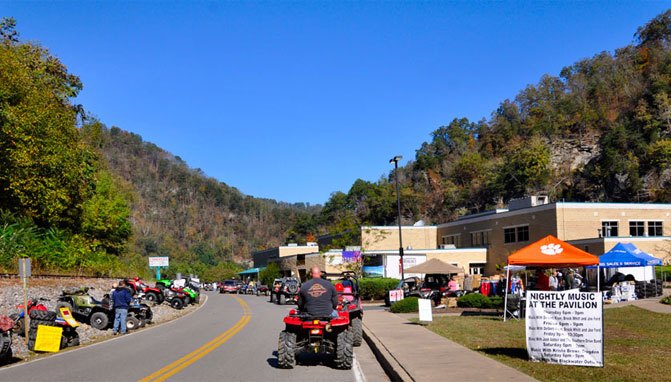 10th anniversary celebration
Although TrailFest ran from Thursday, Oct. 7 through Sunday, Oct. 11, we pulled into Gilbert, WV a day early so we could get ahead of the game. However, we were surprised to see the town already overflowing with ATVs, Side-x-Sides, dirt bikes, 3-wheelers and every other kind of off-road vehicle.
The Larry Joe Harless Community Center was already bustling with folks coming and going and the staff was hurriedly getting organized and already very busy with the meet and greets that were already well underway.
We checked in, got our IDs, T-shirts, and schedules, said our hellos and headed over to our vendors area. Several vendors were already set up and displaying their products or marketing items. There was no doubt this was going to be one of the best National Trailfests so far.
Since this was the 10th year anniversary, organizers were not holding back on anything. A day early and the party was already well underway.
Events
This year's TrailFest had many of the same events that have had for the past few years including:
• Trail Riding
• Poker and Dice Runs
• Factory Demo Rides
• Off-road Vehicle and Costume Parade
• Nightly drag and mud bog racing
• Vendors Displays
• Fireworks on Saturday night
• Casino Night and Live Auction
• Catered Meals Friday night, Saturday morning and Night and Sunday morning
Mud bog racing proved to be a big hit…and a great way to get dirty.
Another thing that has become somewhat of a tradition at TrailFest is the wedding. This is the third consecutive year a couple has gotten married at event.
Special Guests
The pink Tour for a Cure Polaris RZR has some fun in the water.
Media coverage present at this year's TrailFest was vast with websites and magazines and TV shows making sure ATV and off-road enthusiasts were well informed about this fantastic event.
There were also plenty of vendors on site selling their wares, holding raffles for giveaways, and offering free market tools. As well, demonstrations were available for some of the latest off-road vehicles.
Several special charity and volunteer organizations were on hand, including the founders of the Off-Road Tour for a Cure (which this writer is a very big part of), as well as the new Mud Buddies Foundation which offers children with disabilities guided off-road adventures.
Hatfield-McCoy Trail System
The most important aspect of any off-road trail event is the trail system itself. The Hatfield-McCoy Trail System is one of the largest on the east coast, encompassing six separate trail systems in nine different counties and with over 500 miles of trails.
The high-speed junkies could test themselves in organized drag races.
The Rockhouse trail system is the one most conveniently located to Gilbert with a trailhead a short riding distance from the heart of TrailFest. This system runs between the towns of Gilbert and Man. This is the longest trail in the system, about 90 miles in total. The trail difficulty varies between easiest, which makes up 53 percent of this system, to very difficult and even some single-track only trails. Fuel, food and lodging are easily accessible.
This is one of my favorite trail systems because I love being able to ride around Gilbert, pull into McDonalds to get some breakfast, head over to the gas station to fill up my RZR and go hit the trails. Then I follow the trail to Man, get some lunch in town, and then head back to Gilbert in plenty of time for dinner.
The next trail system is Pinnacle Creek with approximately 70 miles of trail. This trail system also has two connectors – one in the town of Pineville and the other in Mullens. It also has difficulty trail ratings that range from easiest (about 41 percent), more difficult (about 42 percent) to extremely difficult. In addition, gas, food and lodging are accessible from this system. Pinnacle Creek is also a connector that links to the Indian Ridge Trail, so riders can legally ride from one system to the other. However, Pinnacle Creek, best known for its scenery, runs along several ridge tops and has some of the best views of any trail system on the east coast.
It's views like this that will keep you coming back year after year.
The newest trail system in the Hatfield-McCoy family is Indian Ridge. It is located near the town of Ashland and has one trailhead of its own, along with a two-acre parking area and rest rooms. Indian Ridge offers a variety of riding conditions within its 62 miles of trail, including 5.6 miles of single track.
Plenty of fun was had by all, including the youngsters.
The Little Coal River is one of my favorite systems to share with new riders. It consists of nearly 55 miles of trail with about 40 percent rated as easiest. More experienced riders can tackle the 20 miles of more difficult trail, as well as some single track areas. There is easy access to this trail system from the Little Coal River Visitor Center. Ample parking is available and a couple of campgrounds are within easy riding distance.
Buffalo Mountain trail system comes in right behind Rockhouse on the mileage factor with 86 miles of trail available. This system has two trailheads with one in Matewan and the other one just south of Williamson and an additional community connector to the city of Delbarton. The Buffalo Mountain trail system is known for being the most historical part of the Hatfield-McCoy Trail System and for having the most miles of single track trails – an estimated 17 miles! Fuel, food and lodging are all easily accessible from this trail system.
Last but not least is the Bearwallow Trail System with approximately 67 miles of trail and located near the town of Logan. It has one trailhead with a two-acre parking lot and restrooms on site. Bearwallow is a favorite among the more experienced riders as it consists largely of more technical terrain.
TrailFest 2011
Plans are already underway for the 11th Annual National TrailFest, which is scheduled for October 6-10, 2011. Next year's events include all the same activities we had this year plus a Fishers ATV World Mud Pit Run for Cash and Prizes, nightly music including the Blackwater Outlaws on Saturday night, and a DirtTrax TV's Pimp My Ride Contest.
More information is available on the National TrailFest and the Hatfield-McCoy Trail System is available at TrailsHeaven.com.
Related Reading
2009 Hatfield-McCoy TrailFest Report
Pink Ranger RZR Tours for a Cure
Off-road enthusiast 'Tours for a Cure' in Pink Ranger RZR
Published November 19th, 2010 11:06 AM
Top Brands
Popular Articles