1 View
2011 Hatfield-McCoy National Trailfest Report
June 17th, 2015 1:38 PM
Share
We're committed to finding, researching, and recommending the best products. We earn commissions from purchases you make using links in our articles. Learn more here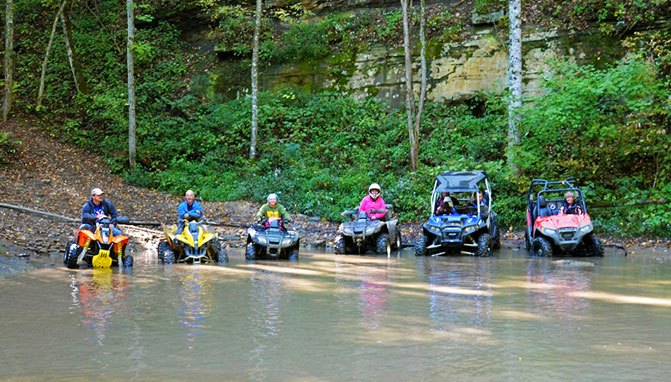 This can't miss off-road event keeps getting better
After having such a great time at the 10th anniversary of the Hatfield-McCoy National Trailfest last year, I wasn't sure the experience could be topped. I'm pleased to report I was wrong, as this year's Trailfest was the best so far.
We pulled into town on the first morning of Trailfest 2011, but unlike previous years, we were not surprised to see the whole town already in motion. Everywhere you looked, you saw an ATV, UTV, or dirtbike. The fields were already getting full of everything from tents to fifth wheels to huge RVs. The vendors' areas were already filling up and the Larry Joe Harless community center was bustling with people from all over the country and even from abroad. Early indication was that this could be the biggest Trailfest yet, and it did not miss the mark. Approximately 50% more people turned out for this year's event, bringing the total number of participants from the average of 2,000 to 2,500 up to over 3,600 not including children.
Events
Although there was no wedding in the mud this year, some other great acts will be hard to follow. One of these acts was the queens of the drag strip. By this, I mean drag queens in every sense of the term. There is always something to surprise the crowd. Some of my favorites are the foot races through the mud and the grudge matches that always come up between different participants.
Trailfest provides consumers with an opportunity to test out a wide variety of off-road machines.
The scheduled events this year included:
• Awesome trail riding every day from dawn until dark
• Factory Demo rides
• Poker/Dice run
• Off-road vehicle costume parade
• Day, evening and night drag races and mud bogging
• Youth Moto Track
• Vendor displays throughout the entire event
• Amazing fireworks display on Saturday night
• Casino night
• Live auction
• Scavenger hunt
• Drag races hosted by On the Trail TV
• Live with Brian Fisher's ATV World and mud run for cash and prizes
• Live music Thursday, Friday and Saturday nights
• Access to Indoor showers, restrooms, locker rooms and the fall festival at the Larry Joe Harless Community Center
• The participant package also includes catered breakfasts Friday, Saturday and Sunday as well as dinner on Friday and Saturday evenings.
• 50/50 drawing
Mud races always draw a crowd.
Charity Related Organizations
An event like Trailfest is a great way to reach out to those less fortunate and show them a fun time.
October is Breast Cancer Awareness month, so everyone really brings this spirit into Trailfest. That is evident from the leaders of the parade down to the special guests and charity groups and their actions during Trailfest.
One of the things that stood out to me since I am personally involved with both of these groups was the Saturday morning trail ride with the Tour for a Cure Photography Group and the Mud Buddies Foundation. Mud Buddies is an organization that usually takes out disabled or disadvantaged children for off-road adventures, sort of in the same way that the Make a Wish foundation works. This year Mud Buddies teamed up with the Tour for a Cure and took out a cancer survivor and her daughter. It was an awesome experience for everyone involved and truly showed the sincere devotion of the off-road community to come together to accomplish good and make for a positive change in the world around us, as well as in the off-road community. It was an honor to be along for that ride.
Special Guests
Other special guests at Trailfest included Stephen Anderson, the host of On The Trail TV and Brian Fisher from Fisher's ATV World. Both took an active role in the events on Saturday night, with Anderson hosting a portion of the drag races and interviewing each participant as they came to the start line and with Fisher doing a mud run for cash and prizes.
Other media coverage at the event included local television and radio stations, as well other magazines and webzines.
Stephen Anderson from On The Trail TV interviews a young ATV rider.
A multitude of vendors were on hand displaying and selling their wares, which included everything from t-shirts and bumper stickers, to riding clothes and helmets, right on up to ATVs and other off-road vehicles. Many of them were also holding raffles to win some of those items and several of them were giving free demo rides on some of the latest off-road equipment.
Hatfield-McCoy Trail System
As fun as all the Trailfest events are, the star of the show is the incredible Hatfield-McCoy trail system.
No Trailfest would be complete without an awesome trail system to back it up. The Hatfield-McCoy Trail System is one of the most extensive trail systems on the east coast and it just keeps growing every year. The Hatfield-McCoy crew added approximately 100 miles of new trails in the last year, bringing the total up to approximately 600 miles. Six complete trail systems make up the Hatfield-McCoy trail system. Several of these systems connect to one another and to the surrounding towns and communities.
The most popular and most used trail system during Trailfest is the Rock House Trail System, which has a couple of connectors in Gilbert, WV, the host town for Trailfest. Off-road vehicles are street legal within the city limits of Gilbert, making it very easy to access this trail system. You can leave your hotel, camping site or other accommodations, drive your off-road vehicle over to the gas station, then through the drive thru at McDonalds or Hardees and then straight down the road to the Rock House trailhead. This system also has a community connector in the town of Man, which offers access to food, fuel and lodging.
The other trail systems within the Hatfield-McCoy family include Bearwallow, Buffalo Mountain, Indian Ridge, Little Coal River, and Pinnacle Creek. While all the trail systems are suitable at least in part for riders of all interests, each of the trail systems has something unique to offer its riders.
With approximately 600 miles of trails available, you're sure to find something new every time you visit.
The Bearwallow Trail System, located near the town of Logan, is famous for its more difficult terrain. Because of this fact, it is better suited for more experienced riders.
The Buffalo Mountain Trail System is the most historical section of the Hatfield-McCoy Trail System and has the most singletrack for the dirtbike enthusiasts. Williamson and Matewan both have trailheads for this system and the city of Delbarton has a community connector going to it.
The Indian Ridge Trail System offers a variety of terrain and has one trailhead located near Ashland, WV. This trail also has a connector that links it up with the Pinnacle Trail System.
Speaking of the Pinnacle Creek Trail System, it also has connectors in the town of Pineville and in Mullens. The awesome scenery makes this one of the most sought after trails. This also is the most popular section of this trail system among the water and snow enthusiasts as it is less than an hour from both an excellent ski resort and rafting spot.
Finally, The Little Coal River Trail System, located just down the way from the Little Coal River Visitor Center, is the best one for families, because it has the most amounts of green or easy trails. It does have some extreme areas for more experienced riders and even some singletrack.
All of the trails in the Hatfield-McCoy Trail System are well marked, mapped and easy to follow. Markers at every intersection lets riders know where they are so they can make an easy decision about where to go next.
If you have not been on the HMTS yet, you should really give it a go. An annual permit is only $50 and you can ride 365 days a year. It is absolutely beautiful in every season and you can't find a friendlier place anywhere.
Quote from the Mayor of Gilbert
Vivian Livingood, mayor of Gilbert, WV, says this about Trailfest: "Trailfest was again a huge success. We feel very blessed to have so many people coming into our town to celebrate this event. Each year, things get better and we get more prepared. Hatfield-McCoy Trails staff has fine-tuned registration and it is a breeze. This year it was amazing to know that Casino Night was taking place, a band was playing, the mud pit and drag strip was in full swing, and the stunt show was performing…all at one time! That is when you realize a great event and great planning has taken place. Many people expressed the fun time they had and that is why our town looks forward to Trailfest each year. We are already thinking of new things for 2012!"
When the mayor talks about the joys of mud bogging, you know you live in a fun town.
Trailfest 2012
As great as this year's Trailfest was, Trailfest 2012 promises to be even better. I am sure there will be even more trails to explore, more events to attend, more friends to meet, more great food to eat and untold adventures to experience. One new thing I know they are planning for next year is a "Pimp My Ride" contest hosted by Dirt Trax TV. Published November 1st, 2011 9:05 AM
Top Brands
Popular Articles