1 View
ATV Riders Flock to Ontario for Can-Am Spring Jam [Video]
July 3rd, 2015 12:02 PM
Share
We're committed to finding, researching, and recommending the best products. We earn commissions from purchases you make using links in our articles. Learn more here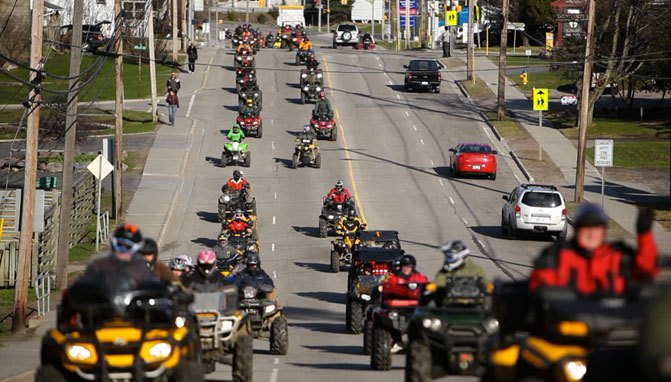 We get dirty at Canada's largest ATV jamboree
One of the great privileges of working for ATV.com is travelling to fantastic off-road destinations and meeting cool people who share your passion for the outdoors. We recently had a chance to do just that when we were invited to the Can-Am Spring Jam in Parry Sound, Ontario in the last weekend of April.
As we've written before, Ontario has some of the best and most diverse ATV trails we've ever ridden, so it didn't take much convincing for us to check out the Can-Am Spring Jam, which just happens to be the largest ATV jamboree in all of Canada.
Parry Sound is only about a two-hour drive north of Toronto so it couldn't be easier to get to. As the highway inched closer to our destination we started to see quite a few trucks loaded up with ATVs and UTVs making the same pilgrimage.
Get the Flash Player to see this player.
Our first order of business was checking into the Comfort Inn, which is located conveniently between the highway and downtown Parry Sound. Upon walking up to the desk late Friday morning we were greeted by a half dozen ATVers who were caked in mud and grinning from ear to ear. The Spring Jam Poker Run was taking place and the Comfort Inn was one of the stops. After the riders got their stickers we grabbed our room keys and prepared to hit the trails.
Before heading to the Spring Jam headquarters at the Foley Fairgrounds in the town of Seguin, we decided to make a quick stop at Wal-Mart (where we saw more Poker Run participants) next door to the Comfort Inn to pick up some rain boots. The week prior had been fairly rainy and since the Poker Run participants we saw earlier were decked out hip waders and rain gear we figured the trails might be a little muddy.
The first thing we did upon arriving at the Can-Am Spring Jam was take the always fun Can-Am Renegade around the demo track.
The drive to the Foley Fairgrounds, which was known as The Village for the weekend, was just a few minutes from the hotel. It's a great space for an event like this because it's got trails nearby, an indoor facility and plenty of outdoor space for the vendors to shop their wares. Can-Am is the title sponsor of the Spring Jam and its display area was huge. A fleet of Can-am ATVs and UTVs was being used for demo rides and that was the first thing we checked out.
The demo vehicles were covered in mud, which was a harbinger of things to come. We grabbed a Can-Am Renegade 800R and started to tear around the demo track, which wound around the back of the fairgrounds and into a wooded area. The Renegade is such a fun machine to play around on, but it was a struggle to get through the muddiest parts of the track so we switched to a Can-Am Outlander 800R X mr. This was our first time on Can-Am's mud machine and it was an eye-opening experience. The massive Gorilla Axle Silverback tires made short work of even the deepest mud sections we could find and left every other machine in its wake. We can't wait to spend some more time on this fantastic ATV.
Can-Am's Outlander 800R X mr made easy work of the muddiest trails. We want to ride this one again…like right now!
As much fun as the demo rides were, the ATV Village was buzzing from all the vendors and event partners. Honda Canada is another key partner and had an impressive display of machines on hand. As well, local Yamaha, Arctic Cat, Dinli dealers were showing off a wide array of new machines. Grilled hamburgers and hot dogs awaited hungry riders, as well as one truck selling the most delicious and hot-from-the-fryer miniature donuts we've ever tasted. If we weren't already happily married the wonderful woman making those donuts may have had to turn down proposal from us. This was not a good weekend to count calories!
While we were at the Village we chatted up some representatives from the Parry Sound ATV District Club about Ontario's trail system. For $120 you can ride the trails around Parry Sound, as well as Elliot Lake, Mattawa, Cochrane and Haliburton for an entire year. Daily and weekly passes are also available if you're just visiting or want a taste test of Ontario's marvelous ATV trails.
If you scrape away the mud, you'll see a bright pink Can-Am Outlander belonging to TraX 4 Breast Cancer. It was one of the stars of the Spring Jam.
A quick glance at the participants of the Can-Am Spring Jam revealed a lot more pink than we normally expect at an ATV rally. This was due to the involvement of TraX4 Breast Cancer – a group that raises funds in support of the Kelly Shires Foundation. This group directly supports women and men who have been diagnosed with breast cancer. TraX4 Breast Cancer held a fundraising ride and put together a hot breakfast on Saturday morning. The group was also riding around on a pink Can-Am Outlander. It can be difficult to stand out at an ATV rally, but not when you're riding a bright pink ATV while wearing a feather boa!
Perhaps the highlight of our Can-Am Spring Jam experience was the Royal Rumble Ride on Friday evening. About 250 ATVs, led by a police escort, made the trip from the Village in Seguin to the streets of Parry Sound. The enormous convoy of ATVs toured through the city streets and wound up at the highest point in the city – the West Parry Sound Museum on Tower Hill. It was here that event organizers and the mayor of Parry Sound greeted the riders and the party began!
Seeing more than 200 ATVs and UTVs driving through the streets of Parry Sound was one of our favorite moments of the trip.
Hot dogs were grilled and music was pumping as the crowd of happy ATVers milled about. The more adventurous climbed the 131-step observation tower and were rewarded with a spectacular view of Georgian Bay at sunset. In order to get photos and video we ended up climbing those 131 steps three times in about an hour. We were exhausted and hungry, but at least we burned off a few of those miniature donuts.
Here's a view from the top of the observation tower as the ATVs were completing the Royal Rumble Ride.
After cleaning up and getting changed at the hotel we headed over to Don Cherry's for some dinner. While the menu had plenty of options, we decided to continue with our not so healthy diet and dig into some tasty chicken wings and a pint as we relaxed and watched some playoff hockey on one of the enormous TVs.
Saturday morning came awfully early, but we were greeted by the Comfort Inn's complimentary breakfast. After filling our bellies and checking our email on the hotel's free WiFi, it was time to head back to the Village for another day of off-road fun.
The trails on the Grand Trunk ride were surprisingly dry considering all the rain that fell leading up to the Can-Am Spring Jam.
Can-Am was kind enough to loan us a Can-Am Commander 1000 XT to use for the day and we decided to go on the Grand Trunk Ride. We thought about tackling the Georgian Rocks ride, but that takes you through a fairly advanced series of trails and we didn't want to bang up our loaner Commander. Part of the Georgian Rocks ride takes place on the 1000-acre private trail system of Bear Claw Tours – an event sponsor. If you really want to challenge yourself those trails are not to be missed. Guided tours are available all season long.
Though it has a few challenges of its own, the Grand Trunk Ride is pretty easy going most of the way and takes you through some amazing scenery. Event organizers smartly sent riders out in small, staggered groups to avoid bottlenecks, but once you hit the trails you were free to go at your own pace. More than once we passed a group of riders sitting and relaxing by a secluded lake. We even saw one rider grab his fishing pole from his storage box and cast a line into the glassy water. It was that kind of day.
One smart rider brought along his fishing pole to cast into this secluded trail-side lake.
After getting so muddy on the demo track the day before, we were pleasantly surprised at the shape the trails were in. We had to deal with a little standing water from time to time, but the majority of the trail was in fantastic shape all the way to Sprucedale – about 40 miles to the east of the Village. The trail was dotted with many well-constructed bridges that took us over several meandering rivers. The quiet ride was only interrupted by a passing train that ran alongside the trail. We've ridden all over North American and it's tough to think of a more beautiful ATV ride than this one.
About halfway to Sprucedale we ran into an odd sight – a truck and trailer parked just off the trail. Turns out it was our beloved donut angel, who was selling the sweet treats, along with coffee and hot chocolate, to grateful ATVers passing by. We couldn't believe that fresh donuts were being cooked up in the middle of an ATV trail. If this is what ATVing in Ontario is all about you can sign us up!
Many well constructed bridges allow ATV riders to safely cross the many lakes and rivers along the trail.
Going at a fairly relaxed pace, including time for taking photos, the Grand Trunk ride should take five or six hours. If you really feel like pushing it you could probably do it in three, but in our opinion this is a trail best experienced slowly so you can take in all the surrounding beauty that Mother Nature was gracious enough to provide.
Following the Grand Trunk ride we returned to the Village to say our goodbyes to many of the great people we met at the Can-Am Spring Jam. Those who stayed a little later were treated to the Yamaha 5-Star Awards Dinner, Auction and Party on Saturday night. Also, Honda hosted another day of fun on Sunday with an early breakfast and the Honda Extra Jam ride that included a trailside lunch. Lucas Cooney
I have been working exclusively in digital media since 1997. I started out with TSN.ca, spending nearly nine years creating and editing content on Canada's leading sports website. I left to join VerticalScope, Inc., one of the world's largest online publishers, to start a number of powersports publications. While at VerticalScope, I've helped create and oversee content for a wide variety of different publications, including ATV.com, Off-Road.com, ArcheryTalk.com, Tractor.com, RVGuide.com, and many more.
More by Lucas Cooney
Published May 11th, 2011 10:58 AM
Top Brands
Popular Articles