3 Views
Touring Ontario – Elliot Lake and Algoma Country
June 24th, 2015 5:02 PM
Share
We're committed to finding, researching, and recommending the best products. We earn commissions from purchases you make using links in our articles. Learn more here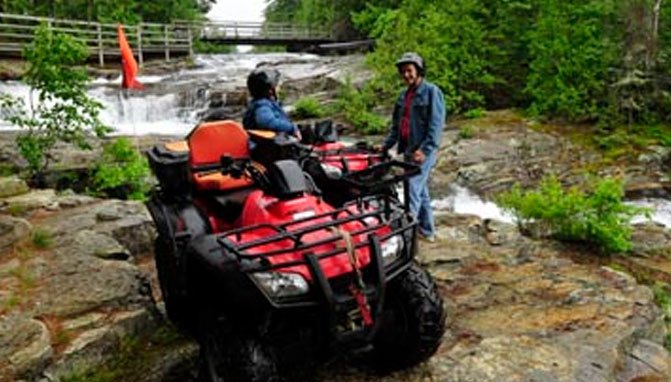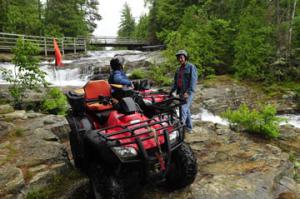 An oasis for ATV enthusiasts
It sometimes seems like ATV riders are embroiled in a constant fight over land usage in the United States. However, if you look north you'll see not every ATV enthusiast has to deal with the same problems. ATV.com headed to Ontario, Canada to see what our neighbors to the north have to offer for off-road aficionados. What we found is almost too good to be true.Not only are ATVs and off-road vehicles (namely snowmobiles) welcomed, they are, in fact, embraced to a degree that's hard to imagine. Snowmobilers are largely to thank for this. In case you didn't know, Ontario has nearly 25,000 miles of mapped, groomed and maintained snowmobile trails that generate billions (not a misprint!) of dollars in revenue. Entire communities thrive off of this industry.What does all this have to do with ATVs? Well, contrary to what you may think, for the majority of the year snow is nowhere to be found in Ontario. Instead of having all the trails lay dormant for eight months each year, many snowmobile-dependent communities have turned to ATVs to fill the void. The result is a burgeoning ATV tourism industry.When it comes to planning an ATV trip to Ontario, the best place to start is the Go Ride Ontario website. The website breaks down the province into different areas and can help you plan out everything, from food and lodging to ATV tours.We've already made stops in Parry Sound and Haliburton. The third stop on our ATV tour of Ontario brings us to Elliot Lake. While Parry Sound and Haliburton are only about two hours from downtown Toronto, Ellliot Lake is a bit further off, but it is a drive very much worth making.Once you hop on Hwy. 400 North and get about an hour out of the city, the geography changes dramatically. Gone are the skyscrapers and urban sprawl. In its place are trees as far as the eye can see and fresh water lakes seemingly around every corner. Once you pass the city of Barrie, you just take Hwy. 69 North to Sudbury and Hwy. 17 West from there for more scenic driving across the Trans-Canada Highway – an absolutely beautiful drive in the Fall. Elliot Lake is off the main highway about 20 miles, but the route is well signed and easy to find.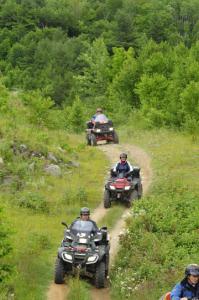 The most striking thing about arriving in Elliot Lake is that the city looks as if it just appears out of the middle of the woods. You simply don't expect to see a thriving city of 12,000 out in the wilderness like this, but there it is.Elliot Lake used to be a mining community, but when the mines closed down city organizers built shopping centers, a hospital and turned the city into an attractive retirement community. Also, because the city is surrounded by pristine lakes (about 1,300 within the city limits) and forests, it began attracting cottagers and outdoor enthusiasts."We're not a little town in the bush," says Brad Parsons, a town representative. "We're a full fledged city with all the amenities a city has."Unlike most cities, however, Elliot Lake is surrounded by a fantastic network of ATV trails. Also, the trail system is all looped, which means you can go riding all day, never ride the same trail twice and never be more than 20 minutes from the city. You can explore as much as you like and you can confidently do it without a guide."We have 300 kilometers (186 miles) of trails all within about 50 kilometers (31 miles) of the city," says Parsons. "Those are signed, marked, mapped, insured trails amongst an endless amount of logging roads and other trails that are accessible by ATV."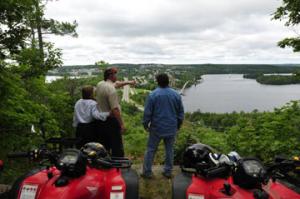 With some 1,300 lakes within the city limits, views like these are not hard to come by.Elliot Lake is an attractive ATV destination for riders of all skill levels. It's great for beginners because of the easy-to-read maps and looped trail system. Trails range from easy to hard, but you're never forced to go the hard way to reach your destination. There's always an easy-to-handle route.For more experienced and adventure-seeking riders, though, Elliot Lake is about as good as it gets. Sure, some of the marked trails are black-diamond tough and you'll find no shortage of water crossings and mud to play around in, but the key for avid riders is that the trails are located almost entirely on Crown Land forest. In Canada, Crown Land is owned by the government and recreational access on Crown Land in this area is encouraged. Unlike riding on private land, if you want to explore off-trail here, you are welcome to."We have more to offer the more experienced rider," says Parsons. "When you venture out, you're going hardcore into the bush here. That's the Crown land aspect. If you see a big bank and you want to try it out, or you want to go down a small trail that's not a signed or mapped trail, go right ahead."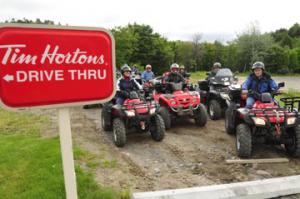 Tim Horton's is an institution in Canada for coffee and donuts. In Elliot Lake you can zip through the drive-thru on your ATV!Beyond the riding itself, the city of Elliot Lake caters to off-road enthusiasts like few others."From an ATV perspective, we have everything an ATVer needs," says Parsons. "We have multiple ATV and snowmobile service businesses and dealerships. Gas is available in a number of places. Not only that, the trail goes to every place. We've built trails to the door of every relevant business."As well, a longstanding bylaw is in place that allows ATVs to use nearly every street in the city. Need to fuel up, grab some or catch a nap at your hotel? Just hop on your quad and go.Speaking of lodging, Elliot Lake has no shortage of ATV-friendly accommodations. Traditional hotels like the new
Hampton Inn by Hilton
are plentiful, but for a unique treat, consider one of the many beautiful Northern Ontario lodges. The Laurentian Lodge offers everything from a large four-bedroom cottage to a single room. No matter what you choose, you'll find yourself close to (or even on) the ATV trail network with all the amenities and services you could ask for.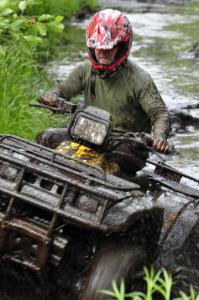 If you're thinking about making an ATV holiday to Elliot Lake, you should know that the surrounding area also has much to offer. Elliot Lake is part of an area in Ontario called Algoma Country. Algoma Country includes other communities like Sault Ste. Marie, Wawa, Chapleau, White River, and many others. Not only can you find awesome ATVing throughout Algoma Country, but it's also an outdoorsman's paradise. Fresh-water fishing in this area is second to none. Why not try a bike-in fishing trip? Go for a ride and throw a line in the water and you may reel in a Northern Pike, Walleye, Lake Trout, Small or Large Mouth Bass, Salmon, Whitefish, or any number of other species. If you're a hunter and you haven't visited Algoma Country, you don't know what you're missing. Moose, deer, and bear are all in abundance, not to mention small game and water foul.Elliot Lake and Algoma Country really do offer everything an ATV enthusiast and lover of the great outdoors could ever want.To help get you more excited about ATVing in Ontario, Ontario Tourism has put together a very cool contest that will give somebody the trip of a lifetime. The Choose Your Dream Ride contest is a package worth well over $5,000 that will allow you and a friend to experience ATVing in Ontario. The winner will receive round trip air transportation to and from Toronto and ground transportation between all the stops on your chosen itinerary, accommodation at one of six different locations, the use of rental vehicles for any guided tours, as well as all meals and other on-site activities.Related Reading Touring Ontario – Parry Sound Touring Ontario – Haliburton Lucas Cooney
I have been working exclusively in digital media since 1997. I started out with TSN.ca, spending nearly nine years creating and editing content on Canada's leading sports website. I left to join VerticalScope, Inc., one of the world's largest online publishers, to start a number of powersports publications. While at VerticalScope, I've helped create and oversee content for a wide variety of different publications, including ATV.com, Off-Road.com, ArcheryTalk.com, Tractor.com, RVGuide.com, and many more.
More by Lucas Cooney
Published January 18th, 2010 2:41 PM
Top Brands
Popular Articles