6 Views
ATV Trails: Touring Ontario's Algoma Country [Video]
July 3rd, 2015 12:02 PM
Share
We're committed to finding, researching, and recommending the best products. We earn commissions from purchases you make using links in our articles. Learn more here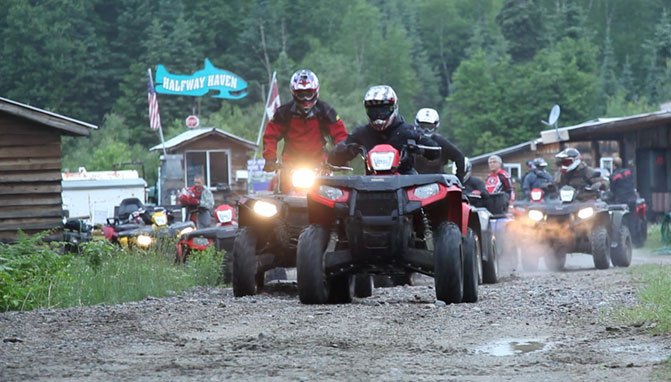 Train rides, secluded trails and outstanding hospitality
Working for ATV.com has provided us with a lifetime of experiences in a few short years. Sometimes it feels like we've been just about everywhere and done about everything there is to do on an ATV. All it took was a trip to Ontario's stunning Algoma Country to show us that we couldn't have been more wrong.
This trip was organized by Polaris so we could test out its 2012 lineup of ATVs. We flew into Sault Ste. Marie, ON and were greeted at the airport by a shuttle that was provided by the Algoma's Water Tower Inn & Suites, where we were staying.
After checking in and relaxing for a bit, we headed downstairs where Polaris showed off its new off-road lineup. Following the presentation, we had a bite to eat in one of the conference rooms.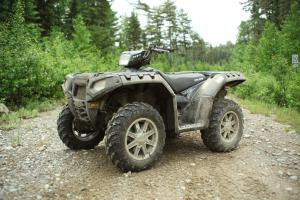 The Updated 2012 Polaris Sportsman XP 850 EPS is what brought us to Algoma Country.
A couple of us decided to go out after dinner and hopped in a taxi for a trip to the OLG Casino Sault Ste. Marie to try our luck at the tables. The cards were not exactly kind and it soon became clear we weren't going to be paying off our mortgage so we headed back to the hotel to rest up before we hit the trails the following day.
One of the things that really made this trip unique is that we didn't head directly for the trails in the morning. Instead, we met up with our guides from Algoma Sled Tours at a train station. As we arrived the Polaris team was loading up all the new 2012 ATVs onto the train! This is known as the Tracks to Trails Train Ride and we can't emphasize enough how cool it is.
After boarding the train we headed north towards Wawa. The folks from Algoma Sled Tours brought along plenty of food and drinks to enjoy on the ride up. Algoma Sled Tours provides a variety of ATV and snowmobile tours. The two-day tour we were on costs $510 (Canadian dollars) and includes everything – meals, accommodation, train fare and guide.
It was a relaxing and spectacularly scenic train ride on the way to the ATV trails.
If memory serves the ride took four or five hours, but it really flew by. We played cards, chatted and even got to hang out in the ATV car with the new machines. But the real star of the show is the awesome scenery. The train meanders through the beautiful Agawa Canyon where the magnificent Canadian Shield is on full display. Rivers and lakes could be seen at every turn, along with thick forests and huge rock formations. We even passed by a huge waterfall and the train slowed down enough for everybody to take pictures.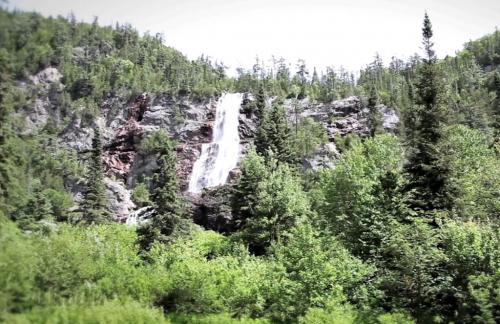 Views like this were not uncommon on the train and off.
Our train ride stopped a little short of Wawa and we unloaded the ATVs seemingly in the middle of the bush. We were already well into the afternoon and a little surprised to learn we had about 60 miles to ride before the end of day. Fortunately, this ride happened in the early part of summer and the daylight lasts well into the evening so darkness would not be a major issue.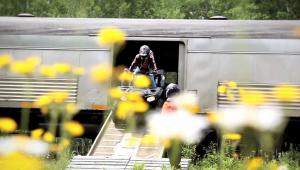 The train stopped in the middle of the bush near the trail head and let us off.
Once everybody geared up (and covered in bug spray) we fired up the ATVs and headed south through the Northern Ontario wilderness. Everything we saw from afar on the train we got to experience up close and personal on the ATVs. Water crossings were frequent and the terrain was incredibly varied, though the trails were not particularly challenging – not surprising on a guided ride like this tries to cater to as many people as possible. Still, there was plenty of opportunity to put the ATVs through their paces while taking in the surroundings.
We pulled up to a lake early on near some cottages to take a few pictures and breathe in the fresh air. Life feels awfully good at a time like this. The rest of the day saw us travel over a mixture of grassy powerline fields, tree-lined trails and some deep water crossings. It was a fantastic first day of riding and we didn't see another soul until we pulled into Halfway Haven, our accommodations for the night.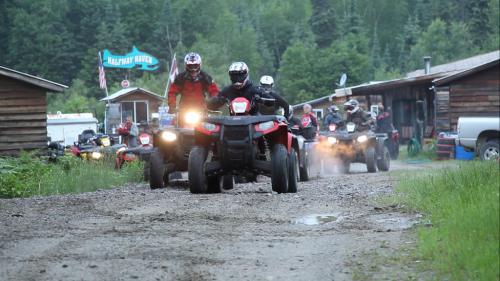 Halfway Haven was a fantastic place to rest our heads and fill our bellies.
To be honest, our expectations were not high for our lodging. It's located in the middle of nowhere and has no competition. We're pleased to report Halfway Haven was much better than we thought possible. As soon as we walked through the front door we were greeted by hot appetizers, which we greedily consumed before taking a hot shower and getting changed for dinner. The food was outstanding! Salad bar, soup, prime rib, an assortment of sides and a selection of pies and cakes for dessert left us all with full bellies. After dinner we enjoyed some cold beer, watched satellite TV and surfed the Internet on the free Wi-Fi before turning in.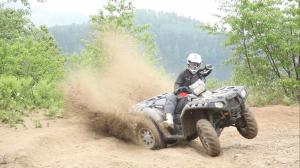 It's not exactly Glamis, but this deep sand was a fun spot to stop and play around.
Our alarm clock woke us early the next morning for our 90-mile ride toward Sault Ste. Marie. Before riding off we were treated to a hot breakfast that rivaled the previous night's dinner. Halfway Haven also has fuel, so we gassed up the ATVs and were off and riding again.
Rain fell on our second day and cooled things off, but it wasn't enough to stop us from having a great ride. Early in the day we stumbled upon an area with deep, silty sand that overlooked a gorgeous and secluded lake. We kicked up sand like we would in a California dune and played around for quite a while before continuing on our journey south.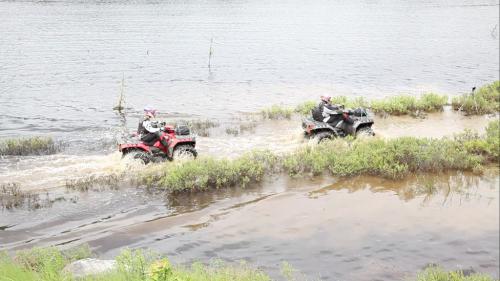 Here's just one of the many water crossings we encountered on our two-day journey.
Our guides led us to some picturesque rapids before heading down a little-used trail. Here the trees hugged the sides of the trail and occasionally crept onto it. A windshield came in awfully handy to help deflect the small branches while breaking through the trail. We also came across a number of bridges that were surprisingly well made and sturdy – the local snowmobiles clubs likely deserve the thanks for these.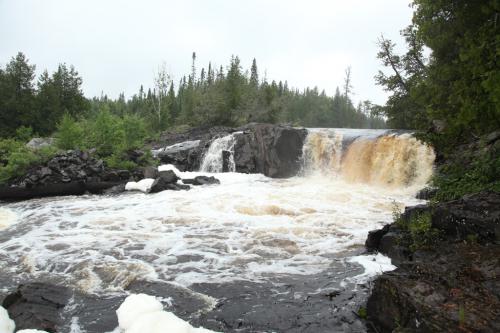 We got to ride right up to this beautiful river to snap some pictures.
The rest of day we spent roaming through some of the finest ATV trails you'll find anywhere before reaching our destination in Searchmont, just outside of Sault Ste. Marie, where we were met by a shuttle that took us back to the Water Tower Inn & Suites.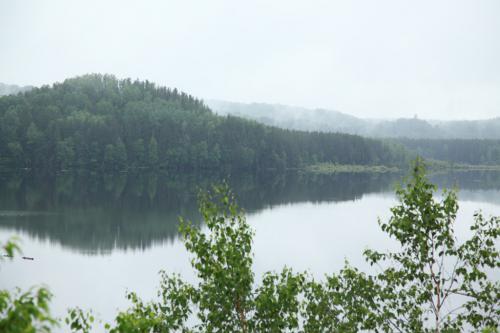 Lucas Cooney
I have been working exclusively in digital media since 1997. I started out with TSN.ca, spending nearly nine years creating and editing content on Canada's leading sports website. I left to join VerticalScope, Inc., one of the world's largest online publishers, to start a number of powersports publications. While at VerticalScope, I've helped create and oversee content for a wide variety of different publications, including ATV.com, Off-Road.com, ArcheryTalk.com, Tractor.com, RVGuide.com, and many more.
More by Lucas Cooney
Published August 17th, 2011 2:10 PM
Top Brands
Popular Articles