36 Views
2012 Polaris ATV and Ranger Lineup Preview [Video]
July 3rd, 2015 12:08 PM
Share
We're committed to finding, researching, and recommending the best products. We earn commissions from purchases you make using links in our articles. Learn more here
New Ranger Crew Diesel and more powerful Sportsman XP 850
Only Polaris could unveil an off-road lineup with one new machine and 19 updated models and leave you thinking it was a fairly quiet year, but that's exactly what happened with its 2012 ATV and Ranger lineup.
Polaris has been so active in recent years building completely new machines and giving others almost total overhauls that its 2012 lineup seems to lack the punch we've come to expect. But if you sit back and think about it, that's pretty much the definition of being spoiled. It's like Polaris is our parents and we're a bunch of whiny kids unhappy that all we got for our birthday was a brand new bike when last year we got a pony, an X-box and a trip to the Super Bowl. Quick, somebody call the authorities and report this appalling case of neglect!
Editor's Note: Mere moments after publishing this article, Polaris threw us a curveball by unveiled yet another new machine – the trail-capable Ranger RZR 570. You can read all about it here.
Get the Flash Player to see this player.
Ranger Crew Diesel
For 2012 the only completely new machine is the Ranger Crew Diesel – the second diesel model and third multi-passenger model in the Polaris family.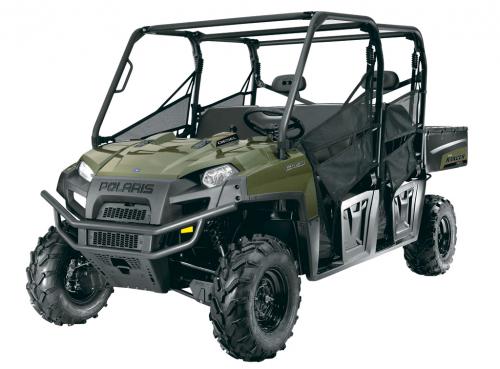 It was no surprise that Polaris would choose to find another platform for its diesel engine.
The Ranger Crew Diesel ($13,999) shares the same 904cc, three-cylinder Yanmar diesel engine as the Ranger Diesel ( introduced one year ago), with the ability to carry six adults. The engine is rubber-mounted to transfer minimal vibration to the operator, and provides low-speed torque to work harder. The fully-sealed, fixed center distance clutch driveline is designed to keep water out of the clutches.
The Ranger Crew Diesel can seat six comfortably.
A 55-amp alternator gives the operator the ability to run many hard working, higher electrical load accessories, such as plows, extra lights, cab heaters and fans at the same time. It also boasts a monstrous one-ton of towing ability and comes standard with a two-inch hitch. Also, its rear dump box can hold 1,000 pounds and features gas-assist dumping operation.
To help keep the ride smooth and comfortable, the Ranger Crew Diesel comes outfitted with a four-corner adjustable suspension system that features Dual A-arms with top-mounting-point adjustability. This allows the user to adjust to a softer setting for recreational riding or a stiffer setting for heavy-duty work. The Ranger Diesel Crew offers 9.6 in. of travel up front and 9.0 in. of travel in the rear to go along with 11.5 in. of ground clearance.
Other Ranger Crew Diesel features include On-Demand True All-Wheel Drive with VersaTrac (including the grass-saving VersaTrac Turf Mode), a slide-through cab design, leaned seatbacks, and 10 in. of tilt steering travel. The Ranger Crew Diesel is available in Sage Green.
Ranger HD 800 EPS
Engine braking was added to the hard-working Ranger HD 800 for 2012.
We first got behind the wheel of the Ranger HD three years ago at Polaris' 2009 model line introduction. This machine is billed as the pure utility workhorse of the Ranger family and it's easy to see why. With features like ultra-smooth electronic power steering and self-leveling Nivomat rear shocks, riding with a full load in the back doesn't get any easier.
While Polaris hasn't made wholesale changes to the Ranger HD 800 for 2012, it did receive a significant upgrade in the form of Polaris' engine braking system. This system is designed to control downhill braking to give the operator more control and to provide smooth, even deceleration during descents. We've tested out Polaris' engine braking system on other machines and it seems like a natural fit on the Ranger HD 800, especially when you consider the heavy loads this unit was designed to haul. The biggest question we're left with is why hasn't always been part of the Ranger HD package?
It should also be noted that the Ranger HD 800 ($12,999) and the rest of the full size Ranger family offers better heat-shielding in the cockpit, so less heat from the engine will reach the driver and passengers.
With self-leveling Nivomat rear shocks and electronic power steering, the Ranger HD 800 is easy to drive even with a full load in the bed.
The 2012 Ranger XP 800 Limited Editions include Magnetic Metallic, Pearl White, Boardwalk Blue and the first-ever Ranger XP 800 with a shock package, the Ranger XP 800 Walker Evans edition. The Ranger XP 800 EPS Limited Editions include Sunset Red and Browning Edition Pursuit. The Ranger Crew 500 comes in a Turbo Silver LE model, while the Ranger 500 EFI is available in a Sunset Red LE model.
Ranger RZR Family
Tool-less suspension adjustment is just one of many changes Polaris gave to the Ranger RZR XP 900 for 2012.
You can't talk about Polaris without mentioning the Ranger RZR family. Polaris turned the side-by-side world in its ear when the original Ranger RZR was introduced for the 2008 model year. It was by far the sportiest side-by-side available from a major manufacturer when it was first unveiled and even today it has only been topped by Polaris. While we don't have a brand new Ranger RZR model to talk about for 2012, Polaris has still been busy tweaking the successful platform.
Oddly, it is the newest RZR – the Ranger RZR XP 900 (15,999) – that received the biggest changes for 2012. Though it was just introduced in January, Polaris has given the RZR XP 900 a host of improvements. Suspension tuning is made simpler with the addition of compression adjustment knobs on the Fox 2.0 shocks for tool-less adjustment. Additionally, driveline noise has been reduced thanks to a new, rubber-isolated prop shaft. When we tested out the RZR XP 900 we noted that it took a lot of effort to steer and Polaris has addressed this by redesigning the front geometry (though we'd still like to test out a unit with power steering). As well, a new passenger grab bar features an anti-rattle bushing to help reduce noise.
The Ranger RZR 4 received a less noisy passenger grab bar, as well as improved dust and heat protection in the cockpit.
As for the rest of the Ranger RZR family, the RZR 800 ($11,299), RZR S 800 ($12,699), RZR 4 800 ($14,499), and RZR 4 800 EPS ($15,799) will all receive the new passenger grab bar, improved cockpit fit and finish designed to reduce dust and heat on the operator, a front drive cage made from zinc for added durability, a dual clutch inlet for low- and high-speed cooling and a 33-percent thicker skid plate for improved protection. The RZR 800 also receives a rubber jounce bumper in the shock assembly for added durability, while the RZR 4 800 gets the improved Fox 2.0 adjustable shocks with compression adjustable knobs.
All Ranger RZRs are available in Indy Red as a standard color, with the Ranger RZR 800 also available in Polaris Pursuit Camo. Limited Edition models include White Lightning with Red Rally Accents, Magnetic Metallic and Boardwalk Blue with electronic power steering for the RANGER RZR 800; White/Orange Madness and Liquid Silver/Red for the Ranger RZR S 800, both featuring Fox Shocks, back by popular demand; White/Orange Madness Robby Gordon with electronic power steering for the Ranger RZR 4 800; and White Lightning and Orange Madness for the Ranger RZR XP 900.
Sportsman XP 850
Polaris improved airflow to the engine of the Sportsman XP 850, resulting in significant power gains.
First introduced in 2009, the Sportsman XP 850 is Polaris' flagship ATV and we were instantly impressed with its power. However, this is an industry that always craves more grunt and Polaris has done just that for 2012.
Surprisingly, Polaris did not achieve the power gains by messing with the fuel-injected, V-Twin engine. Instead, it is a new airbox and new throttle bodies that combine deliver more air to the engine to increase power by about nine percent to 77 horsepower. According to Polaris, with this new intake package the Sportsman XP 850 now boasts 20 percent more acceleration off the line. This power upgrade is available on the Sportsman XP 850, Sportsman XP 850 EPS, and Sportsman Touring 850.
Always a comfortable and capable ATV, the Sportsman XP 850 now boasts improved acceleration.
We had a chance to spend some time on the 2012 Sportsman XP 850 ($9,999) on a two-day ride in Northern Ontario and it remains an outstanding performer. Power felt great and acceleration was impressively sharp. It felt quicker than the 2009 version did, but we haven't ridden that in a while so it's hard to say exactly what the difference is. The bottom line is that this is one of the best performing big bore ATVs in the industry.
Sportsman Value Line
Polaris just gave its Sportsman Value Line a significant makeover for the 2011 model year, but it didn't stand pat for 2012. Functionality has been improved across the Sportsman Value Line with the addition of integrated storage on the Sportsman 800 EFI ($7,499), Sportsman Big Boss 6×6 800 EFI ($9,999), Sportsman 500 H.O. ($6,199), Sportsman Touring 500 H.O. ($7,399) and Sportsman 400 H.O. ($5,699) The new integrated storage offers 6.5 gallons of capacity, which allows the rider to stow loads of gear and still have access to it, even with items tied to the lid.
Not only does the Sportsman Value Line receive more storage for 2012, but you can get the Sportsman 500 and Sportsman 800 in Yellow again.
The storage upgrade represents a 21-percent increase in capacity versus the Lock & Ride box that was standard on last year's Sportsman 500 H.O, Sportsman Touring 500 H.O. and Sportsman Big Boss 6×6 800.
For Model Year 2012, the Sportsman 400 H.O. will be available in Indy Red and new Boardwalk Blue. The best-selling Sportsman 500 H.O. will be available in Indy Red, Green and new, back-by-popular demand, Yellow option, the Sportsman 800 EFI will be offered in Indy Red and Yellow, and the Sportsman Big Boss 6×6 800 will continued to be offered in Green. The Sportsman Touring 500 H.O. will be available in Green and Red. The Sportsman Touring 850 H.O. EPS will be offered in Boardwalk Blue and new Solar Red, while the Sportsman Touring 550 EPS is available in Boardwalk Blue and the new Solar Red. The Sportsman X2 550 will be offered in Sage Green and Indy Red with Maxxis tires and steel wheels standard.
Polaris also will offer several Limited Edition models, including an Orange Madness Sportsman XP 850 H.O. EPS and Sportsman 550 EPS, Browning Edition Pursuit Sportsman XP 850 H.O. EPS/550 XP EPS, Sportsman Touring 850 H.O. EPS Bronze, and Sportsman 500 H.O. in Polaris Pursuit Camo with Polaris' Engine Braking System.
Also offered for 2012 will be the Scrambler, Trail Blazer and Phoenix which will sport a new White/Blue plastic and the Trail Boss will be available in Blue.
Goodbye Outlaw
Notably absent from Polaris' 2012 ATV family are the adult-sized Outlaw Sport ATVs. While the Outlaw 450 MXR and Outlaw 525 S were left off of the 2011 lineup, one of our favorites – the Outlaw 525 IRS – has been shelved for 2012. We really enjoyed riding the only Outlaw with IRS and are a little bummed out that it won't be returning.
The Outlaw name lives on, however, in the Polaris Youth ATV family with the Outlaw 90 and Outlaw 50. The Youth lineup is completed by the Sportsman 90 and Ranger RZR 170 with new one-piece side nets.
The Outlaw name lives on with the Outlaw 50 and 90 Youth ATVs.
The Ranger RZR 170 received one-piece side nets for 2012.
2012 Polaris Off-Road Lineup
Polaris Ranger Family
Full Size Rangers
Ranger XP 800 ($11,399)
Ranger XP 800 EPS ($12,299)
Ranger HD 800 EPS ($12,999)
Ranger 6×6 800 ($12,599)
Ranger Diesel ($12,999)
Midsize Rangers
Ranger 500 EFI ($9,299)
Ranger 400 ($8,299)
Ranger EV ($10,999)
Multi-Passenger Rangers
Ranger Crew 800 ($12,399)
Ranger Crew 800 EPS ($13,999)
Ranger Crew Diesel ($13,999)
Ranger Crew 500 ($10,299)
Ranger RZR
Ranger RZR 800 ($11,299)
Ranger RZR S 800 ($12,699)
Ranger RZR 4 800 ($14,999)
Ranger RZR 4 800 EPS ($15,799)
Ranger RZR XP 900 ($15,999)
Ranger RZR 570 ($9,999)
Polaris ATV Family
Premium ATVS
Sportsman XP 850 ($8,799)
Sportsman XP 850 EPS ($9,999)
Sportsman 550 ($7,699)
Sportsman 550 EPS ($8,699)
Value ATVS
Sportsman 800 EFI ($7,499)
Sportsman Big Boss 6×6 800 EFI ($9,999)
Sportsman 500 H.O. ($6,199)
Sportsman 400 H.O. ($5,699)
2-Up ATVs
Sportsman Touring 850 EPS ($11,999)
Sportsman Touring 550 EPS ($9,299)
Sportsman X2 550 ($8,999)
Sportsman Touring 500 H.O. ($7,399)
Entry-Level ATVs
Scrambler 500 4×4 ($9,999)
Trail Blazer 330 ($4,399)
Trail Boss 330 ($4,399)
Phoenix 200 ($3,599)
Youth
Ranger RZR 170 ($4,299)
Sportsman 90 ($2,699)
Outlaw 90 ($2,699)
Outlaw 50 ($1,999)
Related Reading
2011 Polaris Ranger RZR XP 900 Review
2011 Polaris Sportsman 500 H.O. Review
2009 Polaris Sportsman XP 850 EPS Review
2011 Polaris Limited Edition ATVs and Side-by-Sides Lucas Cooney
I have been working exclusively in digital media since 1997. I started out with TSN.ca, spending nearly nine years creating and editing content on Canada's leading sports website. I left to join VerticalScope, Inc., one of the world's largest online publishers, to start a number of powersports publications. While at VerticalScope, I've helped create and oversee content for a wide variety of different publications, including ATV.com, Off-Road.com, ArcheryTalk.com, Tractor.com, RVGuide.com, and many more.
More by Lucas Cooney
Published July 26th, 2011 1:46 PM
Top Brands
Popular Articles