1 View
2011 Polaris Sportsman 400 H.O. Review
June 17th, 2015 4:08 PM
Share
Affordable 4x4 gets improved ergonomics, fresh look and full-size frame
Over the last two years, Polaris has made significant changes to 90 percent of its ATV lineup. One of those models to benefit from the changes is the new, larger 2011 Sportsman 400 H.O. The mid-bore utility quad lost its official mid-size stature and received similar upgrades as the Sportsman 500 H.O. The newly resized 4×4 is more attractive, tougher and more affordable than ever.
We rode the latest version of the Sportsman 400 H.O. at a private ranch in Montana as part of the 2011 Polaris press event. The Sportsman didn't blow us away, but we enjoyed our seat time and understand why Polaris chose to improve it. Polaris said its customers get "a hell of a value out of this machine." Let's closely examine this new bargain 4×4.
New For 2011
• Lower Price: $5,599 (This may just be the biggest feat in the ATV industry; reducing a machine's cost despite a redesign)
• New front end configuration
• Stronger chassis rigidity
• Improved full-size ergonomics (more like the new Sportsman 500 H.O.)
• Better sight lines for operator (chassis and front rack changes)
• Radiator raised up and angled back
• More efficient drivetrain (addition of low range and park)
• Quieter CVT
• Lock & Ride front and rear racks
• Sportsman XP-styled bumper headlights
• Lowered winch mount
Engine/Drivetrain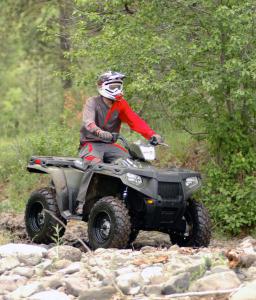 The hearty High Output 455cc single-cylinder four-stroke engine was carried over from the old Sportsman 400. The liquid-cooled mill is fed via a carburetor and is mated to a reworked Polaris Variable Transmission. The continuously variable transmission went under the microscope and was improved to be more efficient. Buyers will appreciate the addition of low range, which improves its abilities in working situations and gives the engine more heart in difficult terrain (rocks, mud, etc.). Polaris said small changes to the CVT led to a quieter operation, too.
The engine should also run cooler as the radiator was moved upward three inches and is now angled to the rear. This small change, said Polaris, reduces the amount of mud on the radiator. Shaft drive moves the rear wheels for simple two-wheel drive performance. Four-wheel drive — Polaris calls it an all-wheel drive system (AWD) — mode is engaged via a switch on the right side of the handlebar. It's an easy-to-use setup and proven to be very popular. Engine braking (available as an accessory) and hill descent control are not standard on the 400.
Chassis/Suspension
The biggest change for the Sportsman 400, year to year, was to its frame. The 2011 model now features a full-size chassis, borrowed from the 500 H.O. That also means it added extra weight (688-lb. dry weight). A closer look at the front of the chassis will also reveal a new placement for the integrated winch mount. You'll get greater pulling force with the reduced winch height.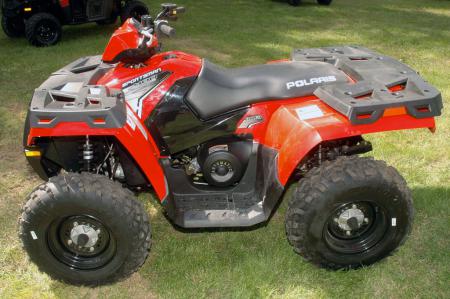 The "Value" Sportsman quads (800/500/400) each use MacPherson Struts with the front suspension design as opposed to a double A-arm setup with shocks. Up front, the struts supply a pleasant 8.2 inches of travel. On the rear, Polaris added its proven fully Independent Rear Suspension with dual A-arms and two shocks that supply 9.5 inches of travel. Combine the plush suspension with a huge 11.25 inches of ground clearance and the Sportsman 400 H.O. is very capable in rugged terrain.
Ergonomics/Miscellaneous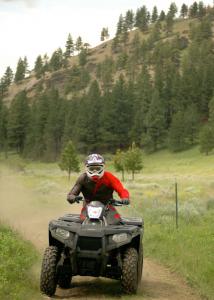 Being that this ATV is now a full-size 4×4, it's far more comfortable for bigger (taller and heavier) riders. It's not like the previous 400 version was overly small, but the new configuration is more appealing to a wider spectrum of buyers, at least in our opinion. Even with its new size, the Sportsman 400 has a respectable 33.75-inch seat height, which keeps it rather low to the ground. Combine that stat with its 48-inch width and 50.5-inch wheelbase, and it's clear why the machine is so stable. Also, Polaris said the front rack was moved back 3.5 inches and narrowed for a more streamlined look and reconfigured to accept its Lock & Ride accessories.
Ride Report
The 2011 Sportsman 400 H.O. is what it is. That's not a knock on the machine; it's a simple fact. It's meant to be a budget friendly 4×4 with middle-of-the-road performance. If you need more power and capabilities, you can go larger in this budget family (500 or 800) or explore the XP line of Polaris ATVs. However, with that said, the new 400 H.O. is superior when compared to last year's unit. This '11 400 instantly shouts SPORTSMAN, where as the previous model gave off a weaker, less formidable Sportsman persona — and was seen as THE OTHER Sportsman, if you will.
In terms of engine performance, the 455cc four-stroke has more work to do in the new chassis (which gained 90 pounds from a year ago). However, it proved more than capable during our testing in Montana. It's not super quick or overly fast, but Polaris is OK with that and so are we. Why? We get it; it's a mid-level quad with good power.
We will say the addition of low range was huge. No longer do you need to worry about powering through the slop or up challenging rocky trails and trying to find the appropriate throttle control and torque in high range. Low range simplifies this type of riding situation and certainly makes working with the 400 H.O. more appealing, too. It's also needed because engine braking is only available as an accessory on the 400. For hill descents, we used low gear, skilled braking and appropriate body positioning.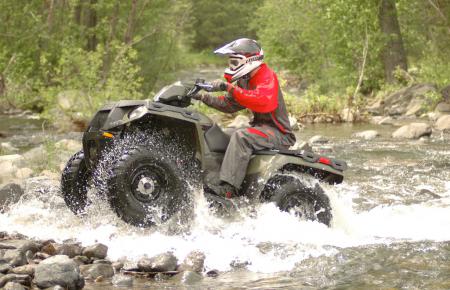 A few deeper creek crossings, with hidden holes and large, moss-covered rocks were an ideal test for this ATV and its 4×4 system. We had no concerns or issues while riding the 400 in this section of the test trail. Although the Sportsman could tame the waterway in high range, we opted for low for more torque and precision throttle control. The new Sportsman also did well keeping us dry in the water sections. The floorboards offered full foot and leg protection, but also drained well and the foot pegs are just aggressive enough to keep a hold of wet-soled boots. We crossed a few of the streams at a quicker pace and were pleased with how well the fenders kept us dry.
We also tested this quad's overall speed on a few two-track roads and felt happy with its ability to entertain. We'd still like to see it called a Sportsman 450 — because that's what it is — but understand the 400-class name offers more space between the 500 model and lets it appeal to both 400cc and 450cc buyers. While we adore the Sportsman XP model's front suspension, we think the MacPherson strut front suspension has its place in the market and is a good fit for a machine of the 400's caliber and value. When pushed hard over rough terrain or around corners, the front end bounced down the trail and caved a bit, but it never got out of control. In fact, the front suspension and IRS do a great job of smoothing out ruts and unforeseen, square-edged hits.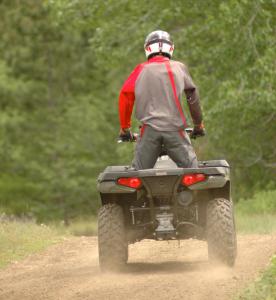 For the 2011 400 H.O., comfort and ergonomics are its biggest selling features (sans the new price). Measuring 6-foot tall and weighing 200 pounds, we were very comfortable on the quad. We feel it will fit a wide assortment of riders of various sizes and experience levels. The CVT and single-lever braking (though we appreciate separate controls) make it easy to ride — just gas and go! Combine that simple platform with its accommodating size, supple seat and sofa-like ride and it's easy to see why so many buyers love their Sportsman ATV. And now Sportsman 400 owners can truly appreciate what their Sportsman 500 owners have known for ages.
The 400 also carries on the Sportsman family tradition with full floorboards, headlight pod, Lock & Ride convenience, automotive-like transmission lever, unique riding posture and large, thumb throttle and housing.
Better Off
Polaris already tried the mid-size route with its old Sportsman 400 and the end result was a good machine that felt too small and somewhat odd when compared to its full-size Sportsman brothers. It just didn't seem to represent the family name. Well, now it does.
The 2011 Sportsman 400 H.O. is far more impressive, roomier and comfortable than its predecessor. Not only can it work harder, thanks to low gear and improved rack capacities, it can also entertain a wider variety of riders with its big-bore-like size and attributes. Better suspension performance and 25-inch tires are an added bonus. Toss all those upgrades in a bowl and throw in an even more affordable price and you have recipe for success, Sportsman style!
Polaris Sportsman 400 Year-To-Year Changes
2010
2011
Chassis
Hawkeye type, steel
Sportsman type, steel
Transmission
F/N/R
P/F/N/R/L/H
Engine Braking
Standard
Accessory
Suspension, f/r (in.)
7/8
8.2/9.5
Tires/wheels, front
24 x 8-12
25 x 8-12
Tires/wheels, rear
24 x 11-12
25 x 10-12
Wheelbase (in.)
46
50.5
Length/Width/Height (in.)
72/45/45.5
83/48/48
Seat Height (in.)
33
33.75
Ground Clear. (in.)
9
11.25
Dry Weight (lbs.)
598
688
Fuel Capacity (gal.)
4.5
4.1
Rack cap. (f/r, lbs.)
70/100
90/180
Hitch tow rating (lbs.)
750
1,225
Lighting
2 bumper lights Hi/Lo
2 bumper lights Lo, 1 Pod light Hi
Price (USD)
$5,699
$5,599
Published October 6th, 2010 1:54 PM