87 Views
2010 Polaris Ranger Lineup Preview
June 17th, 2015 4:48 PM
Share
We're committed to finding, researching, and recommending the best products. We earn commissions from purchases you make using links in our articles. Learn more here
Age of electric
ATVs and side-by-sides are big business, but Polaris Industries, Inc. also thinks of the industry as a big contest – one the Minnesota-based manufacturer wants desperately to win.
It's that competitive spirit that drove Polaris, despite a weakened economy, to introduce two brand new Ranger side-by-sides in 2010 and make significant upgrades to seven other vehicles in the Ranger line. All 2010 Ranger and Ranger RZRs also come standard with a ROPS Certified Cab.
"We continue to innovate our Ranger line to offer the most extensive side-by-side
offering in the industry," says Matt Homan, vice president and general manager of Polaris' off-road division.
Going Green
Perhaps the most shocking (please pardon the pun) new model we'll see from anybody in 2010 is Polaris' first electric off-road vehicle, the Ranger EV ($10,699).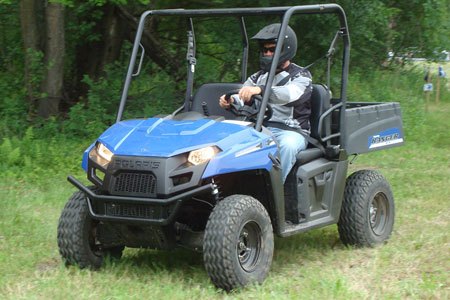 The first of its kind from a major ATV manufacturer, the Polaris Ranger EV is an all electric side-by-side.
The EV is based around a smaller, two-seat chassis that fits in the back of a pickup truck. It features what Polaris is calling the largest battery pack in the industry (11.5 kilowatts) and Polaris claims it has the longest range of any electric midsize. Its 30 horsepower electric motor has an estimated range of 35-45 miles and a top speed of 25 mph. According to Polaris, it should take about eight hours to recharge the batteries using a 110V outlet.
Batteries are positioned near the bottom of the chassis, which noticeably lowers the center of gravity.
You won't need any of that here.
An interesting option for hunters and other outdoorsmen who don't want to make a lot of noise, the Ranger EV is virtually silent. Beyond its ultra-quiet motor, the Ranger EV is still very much a Ranger. Thanks to its 500-pound Lock & Ride cargo box, 1,200-pound towing capacity and 1,000 pounds of total payload, transporting hunting gear and game should be a snap.
We got to spend a short time in the Ranger EV and it proved to be a very unique experience. It's strange piloting a vehicle that doesn't make any noise, but it doesn't take long to get used to the quiet. Also, like other electric-powered vehicles, the Ranger EV has 100 percent of its torque available at any moment. This makes for impressive low-end grunt, but we found the throttle a little notchy – kind of like it wanted to go all out or not at all. Keep in mind, though, we were driving a pre-production unit and Polaris likely still has some fine tuning to do.
You can choose between three drive modes ; High for speed, Low for towing and hauling, and Max for maximum range. If you drive around in High mode all the time, your batteries will drain a lot quicker, but the other modes don't offer as much speed and performance. We didn't have enough seat time to test out Polaris' range claims, but we'll report back after we spend some more time behind the wheel.
It will be interesting to really put the handling of the Ranger EV to the test. The eight 12-volt batteries add quite a bit of weight, but it's all at the bottom of the chassis so the center of gravity is very low. We didn't have the opportunity to really tear around the corners, but the Ranger EV should be able to hug the turns like few other side-by-sides can. That said, this is a 1,700-pound vehicle (dry weight) and it's not intended for overly aggressive driving.
To help prolong battery life the tires on the Ranger EV don't feature a very aggressive tread. However, this is not the type of vehicle you'd go mud-bogging in so tire tread shouldn't be a huge issue.
New Mid-Size Ranger
Sharing the same chassis as the Ranger EV is the brand new Ranger 400. Powered by a 455cc liquid cooled single cylinder engine, this Ranger has a friendly price tag of just $7,999. That's $800 less the Yamaha Rhino 450 and the same price as the Kymco UXV 500, positioning Polaris right at the bottom of the side-by-side price scale among major manufacturers.
Polaris may have hit the nail on the head with the new Ranger 400. Solid performance and enticing price could combine to move a lot of units.
Despite the lower price, the Ranger 400 is not lacking in features and it's a blast to ride. Like the Ranger EV, the 400 has 500 lbs of cargo capacity, 1,000 lbs of total payload and can tow 1,250 lbs. The newest Ranger also comes with on-demand true all-wheel drive, independent rear suspension, class-leading eight inches of travel up front and nine inches in the rear, and 10 inches of ground clearance.
We really enjoyed our brief time behind the wheel of the Ranger 400. Though the engine is not fuel injected, it produced a lively 29 horsepower and a top speed of 40 mph. Compared to the other Rangers it was noticeably narrower and felt at home playing around in the Minnesota woods.
The Ranger 400 is narrow enough to fit in the back of a pickup truck.
A full line of PURE Polaris products is available so you can outfit the Ranger 400 in any number of ways. Choose from an assortment of Lock & Ride accessories, cabs and plows. It's a versatile machine and looks to be a great price-point model.
More Power
Power steering is now available on the Ranger 800 XP EPS.
Among the rest of the Ranger line, the running theme was "More Power." The Ranger 4×4 has been rebranded and is now called the Ranger 500 H.O. ($9,799). Polaris says it increased the power by 13 percent with the 500 H.O. engine, which now produces 36 horsepower and has a top speed of 47 mph, compared to 41 mph in 2009.
An 800 EFI engine has been added to the Ranger XP – now called the Ranger 800 XP ($10,999). The new engine boosts power by a claimed 15 percent. This engine has 46 horsepower at its disposal and the Ranger 800 XP can reach speeds of 50 mph – up 3 mph from last year.
Polaris introduced power steering on the Ranger HD ($12,399) in 2009 and for 2010 it's also available on the Ranger 800 XP EPS ($12,399). We've tested this power steering system out and Polaris' claim that it allows for one-finger steering at low speeds isn't off the mark. Also, feedback from trail debris is greatly reduced, which helps lessen rider fatigue.
Six Passengers or Six Wheels
The Ranger 800 Crew and 6×6 received the same 760cc 800 H.O. engine as the Ranger XP, as well as a handful of other upgrades. Both models feature more seat and leg space, including an additional two-inches of leg room for back-seat passengers on the six-passenger Crew ($11,799). Other updates include reoriented gas and brake pedals, new angled-back seat and a relocated brake lever.
Back-seat passengers have more leg room and the driver has more available power in the Ranger 800 crew.
The steering wheel was redesigned for better steering with gloves. Tilt steering is also now standard on both the Crew and 6×6. Both models also feature what Polaris calls "50 percent easier steering effort," much like you'll find on the Ranger 800 XP. We spent some time behind the wheel of both vehicles and it's shocking how easy it is to steer such large machines and how little kickback you get from hitting rocks and ruts in your path. Neither are quite as smooth as the Ranger 800 XP, but both make for a surprisingly comfortable ride.
Polaris is targeting the Ranger 800 6×6 ($12,299) as a working vehicle and it comes standard with a new truck-like job box between the cargo box and the cab. The job box can hold up to 250 pounds (39 gal.), while the cargo box on the 6×6 is rated for an impressive 1,250 pounds. All told the 6×6 has a 2,000-pound payload capacity, as well as a 2,000-pound towing capacity.
With a 1,250-pound bed capacity and the ability to tow 2,000 pounds, the Ranger 800 6×6 might just be the ultimate work-related side-by-side.
Both the Ranger 800 Crew and 6×6 have also been outfitted with adjustable dual A-arm front suspension. Motion ratio and preload suspension adjustment is available front and rear – the Ranger 800 6×6 offers Independent Suspension with motion ratio adjustability on all six wheels.
Polaris says the new suspension allows both units to maintain full ground clearance (12-inches) and suspension travel (9.6 inches front, 9 inches rear) when carrying heavier loads and using accessories like plows and cabs for work applications.
RZR Gets Faster
While the Ranger utility line gets most of the attention for 2010, Polaris didn't completely stand pat with its popular Ranger RZR ($10,999). Always a company to cater to the go fast crowd, Polaris tweaked the RZR so it achieves a new top speed of 60 mph. That's up 5 mph from last year and is only 3 mph behind the dune-inspired RZR S ($13,999). Speaking of the RZR S, it received a new Pearl White paint job that gives it a sharper look.
2010 Polaris Ranger Lineup
Name
MSRP
Full Size
Ranger 800 XP
$10,999
Ranger 800 XP EPS (Sunset Red LE)
$12,399
Ranger 800 HD
$12,399
Ranger 800 6×6
$12,299
Ranger 800 Crew
$11,799
Ranger 500 H.O.
$9,799
Midsize
Ranger 400
$7,999
Ranger EV
$10,699
Sport
Ranger RZR
$10,999
Ranger RZR S
$13,999
Related Reading
2010 Polaris ATV Lineup Preview
2009 Polaris Ranger HD Review
2009 Polaris Ranger RZR S Review Lucas Cooney
I have been working exclusively in digital media since 1997. I started out with TSN.ca, spending nearly nine years creating and editing content on Canada's leading sports website. I left to join VerticalScope, Inc., one of the world's largest online publishers, to start a number of powersports publications. While at VerticalScope, I've helped create and oversee content for a wide variety of different publications, including ATV.com, Off-Road.com, ArcheryTalk.com, Tractor.com, RVGuide.com, and many more.
More by Lucas Cooney
Published July 23rd, 2009 2:52 PM
Top Brands
Popular Articles