94 Views
2009 Polaris Ranger RZR S Review
June 17th, 2015 5:08 PM
Share
We're committed to finding, researching, and recommending the best products. We earn commissions from purchases you make using links in our articles. Learn more here
Taking side-by-sides to a whole new level
After first laying eyes on the 2009 Polaris Ranger RZR S in June, it's hard to quantify exactly how much we wanted to take it for a ride.
We spent a little time behind the wheel at Polaris' press intro in the Minnesota woods in June, but tight, wooded trails are not the natural environment for this super sporty side-by-side. With its powerful engine, beefed up suspension and wider footprint, the RZR S demands to be driven fast and aggressively with ample opportunity to mash the pedal to the floor.
Polaris district sales manager Mike Carr suggested we head to Reno, Nev. and ride at Moon Rocks. With its mix of whoops, steep hills, rock crawling and wide open trails it proved to be an ideal spot to put the RZR S to the test.
RZR History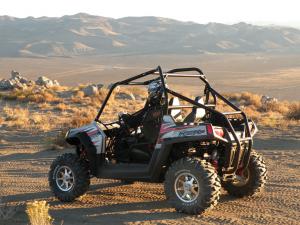 As you might expect, the RZR S is a souped-up version of the very popular Ranger RZR which Polaris just introduced for the 2008 model year. When it was released, the original RZR struck a chord with people who wanted a more sports-oriented side-by-side. It had a top-speed of 55 mph and was trail capable, thanks to its 50-inch width. It proved so popular that Polaris had trouble keeping up with demand.
It didn't take long for the aftermarket to start introducing accessories and modifications to make the RZR faster and more stable and some of these upgrades cost thousands of dollars.
Polaris certainly noticed its customers spending all this money to modify the RZR and with a new revenue stream in its sights, Polaris decided to try to give its customers what they wanted right off the showroom floor. Polaris built the Ranger RZR S and outfitted it with a host of upgrades.
Features
Let's start with the powerplant. The RZR S comes equipped with a 760cc, fuel injected high-output engine. After making some modifications, Polaris was able to increase the top speed from 55 mph to a whopping 63 mph, which is considerably quicker than any other stock vehicle from a major manufacturer.
Powering through the whoops was a blast on the RZR S.
The biggest change, however, is in stability and handling. Width was increased 20% (10 inches) to 60 inches. While this would be a problem for tighter trails, it offers a huge boost in cornering and the wider footprint should mean fewer rollovers.
When it comes to suspension, Polaris cut no corners. Front and rear independent suspension is complimented by Chrome-moly front A-arms and Fox Podium X reservoir shocks, which are both compression and preload adjustable. All told, the RZR S has a very plush 12 inches of travel and a whopping 12.5 inches of ground clearance.
Thanks to its 60-inch width and long-travel suspension, the RZR S is capable of a little rock crawling when you're tired of going fast.
If you were to upgrade the original RZR with a comparable setup it could cost upwards of $5,000. While the stock suspension on the original RZR isn't nearly this good or costly, it's certainly not free for Polaris to build. The beauty of the RZR S, however, is that you're not wasting money by simply throwing it away.
Connecting the RZR S to the ground is a set of Maxxis Bighorn tires wrapped around 12-inch aluminum rims. These are a very good all-around tire and to purchase a set of four can set you back more than $600.
Performance
The RZR S was fun to drive in muddy Minnesota, but it was at home in Nevada.
When we first drove the RZR S in Minnesota it was immediately evident that this was a big improvement on what was already a very good vehicle. But it wasn't until we unleashed it in the Nevada desert that it started to show its teeth.
Pinning throttle in a long straightaway sends the engine screaming to life. We never saw 63 mph on the speedometer, but we were riding at altitude – from 5,500 to more than 6,000 feet. That lack of oxygen robs the RZR S of some of its power. Not too much, however, as we did cross the 60 mph threshold on more than one occasion. Acceleration was also a little off compared to what we felt closer to sea level in Minnesota, but just barely.
Once we got comfortable the suspension got a major workout. Though we couldn't find much in the way of jumps, there was no shortage of whoops sections to hammer through. Even at high speed, the shocks soaked just about up everything. Check out the video to see this in action.
A bit of vibration could be felt at high speeds, but large ruts and bumps often went unnoticed. Early on we'd brace ourselves for a jolt, but it wouldn't happen. Eventually you just take for granted that you're going to have a smooth ride.
Stability, when compared to the original RZR, is vastly improved. Power slides around the corners were simple to do after a little practice and we never got the feeling that we were going to tip over. We even did a little rock crawling, which is not something we felt comfortable with on the RZR.
The only time we got a little nervous about tipping was while heading down a very steep, winding trail. Because the trail was uneven and off camber, it felt like we were side-hilling – not something we like to do in a side-by-side. Instead of trying to negotiate our way through that trail, we took the road less traveled and shot straight down the hill, giving the brakes a good test in the process.
Speaking of brakes, they went pretty much unnoticed during our ride time. They didn't stand out in any way, but we had no trouble stopping or slowing down so no complaints here.
Ergonomics
The interior of the RZR S is very similar to the RZR. It's a little tight compared to the Kawasaki Teryx, but the seats are comfortable and the side netting gives you that 'race-car' feeling. Tilt steering does just what you'd expect it to, allowing you to easily get in and out and find a comfortable position, even for taller riders.
Seeing as this is a performance-driven machine, we would like to have seen a four-point harness instead of the standard three-point belt found in the RZR.
For the passenger, the front grab bar, which many of you know by a more colorful name, is still the best in the business for our money. As a passenger, having something to hold onto where a steering wheel would be makes us feel a little more in control and less exposed than using a grab bar over our heads and on the roll cage.
Conclusion
As far as stock side-by-sides go, it's tough to find an adequate comparison for the RZR S. The original RZR was by far the sportiest stock model available when it was introduced and the RZR S is on an island by itself. Keep in mind, however, that it retails for $13,999, $3,200 more than its predecessor. That's a lot of cake, but if you're the type that would make engine, suspension and tire upgrades anyway, it starts to make a lot of financial sense.
There are far worse ways to spend a day.
Though it is a multi-billion dollar company and a major force in the ATV world, Polaris is still small in scale compared to its Japanese brethren like Yamaha and Kawasaki. That allows them to push the envelope and get creative when designing and building new products. While Yamaha may have fired the first salvo in sporty side-by-sides with the Rhino, Polaris took things in an entirely new direction with the original RZR and took that a step further with the RZR S.
While much of the industry is suffering through slower economic times, Polaris is thriving, thanks largely to its innovative Ranger line. Already Kawasaki has responded with its beefed up Teryx 750 FI 4×4 Sport and who knows what Can-Am will bring to the table with its side-by-side offering in 2010.
ATV.com would like to thank Reno Cycles & Gear in Reno, Nev. for hooking us up with Polaris vehicles to ride. They're a Polaris dealer and have a huge showroom full of ATVs and motorcycles. Click here for find out more about them.
2009 Polaris Ranger RZR S Specs
Engine:
760cc liquid-cooled twin-cylinder four-stroke
Induction:
Electronic fuel injection
Transmission:
Automotive PVT
Drive System:
Four wheel shaft drive
Front Suspension:
12in. FOX Podium (comp adjust/res.) Double A-arm/ 30 cm
Rear Suspension:
12in. FOX Podium (comp adjust/res.) Rolled Independent W/anti-sway bar/ 30 cm
Brakes:
Four-wheel hydraulic disk
Front Tires:
26 x 9-12 Maxxis Bighorn
Rear Tires:
26 x 12-12 Maxxis Bighorn
Length/Width/Height:
106 x 60.5 x 70.5 in
Dry Weight:
1,000 lbs
Wheelbase:
77 in
Ground Clearance:
12.5 in
Fuel Capacity:
7.25 US gal.
Turning Radius:
149.5 in
Cargo Bed Capacity:
300 lbs
Towing Capacity:
1,500 lbs
Skid Plate:
Full
Base MSRP:
$13,999
Related Reading:
2008 Polaris Ranger RZR Review
Polaris reports record third-quarter sales Lucas Cooney
I have been working exclusively in digital media since 1997. I started out with TSN.ca, spending nearly nine years creating and editing content on Canada's leading sports website. I left to join VerticalScope, Inc., one of the world's largest online publishers, to start a number of powersports publications. While at VerticalScope, I've helped create and oversee content for a wide variety of different publications, including ATV.com, Off-Road.com, ArcheryTalk.com, Tractor.com, RVGuide.com, and many more.
More by Lucas Cooney
Published November 7th, 2008 1:08 PM
Top Brands
Popular Articles