74 Views
2008 Yamaha Rhino 700 FI Review
June 17th, 2015 5:11 PM
Share
We're committed to finding, researching, and recommending the best products. We earn commissions from purchases you make using links in our articles. Learn more here
Lighter, more powerful and loaded with safety features
The second generation of the Yamaha Rhino debuts into a very different market than the one that greeted its predecessor in 2004. The side-by-side ATV is no longer an anomaly or considered just a knobby-tired golf cart.
In fact, with several competitors since launching models of this type of ATV, it may easily become the dominate body-style in the years to come. The 'why' of this is obvious; the easy-to-drive automotive style appeals to everyone—it carries two comfortably and costs almost the same as a single-rider machine. And, no one has to take a backseat to the driver.
For 2008, the new Rhino still shares its architecture with the Yamaha Grizzly as it did in 2004—engine and frame components—but the changes that have occurred in this update make the new Rhino just that much better than the original. The new Rhino 700 powerplant moves from 660cc to 686cc, which adds additional power through the entire rev range, but which is most notably in the low- to mid-range power. This engine hasn't just gained in the cc
Specifications FourTrax Rincon GPScape
Engine:
675cc liquid-cooled OHV single cylinder four-stroke
Bore x Stroke:
102mm x 84mm
Compression Ratio:
9.2:1
Carburetion:
Yamaha Fuel Injection (YFI), 41mm
Ignition:
32 Bit ECU
Starting System:
Electric
Transmission:
Yamaha Ultramatic V-Belt / H,L,N,R
Engine Braking:
All Wheel
Drive Train:
Yamaha On-Command push button 3-way locking differential, 2WD, 4WD, locked 4WD; Shaft
Suspension/ Front:
Independent Double Wishbone, 7.3″ w/ 5-way Preload Adjustment.
Suspension/ Rear:
Independent Double Wishbone, 7.3″ w/ 5-way Preload Adjustment.
Brakes/ Front:
Dual Hydraulic Disc, Twin Piston
Brake/ Rear:
Dual Hydraulic Disc, Twin Piston
Tires/ Front:
AT25x8-12 NHS
Tires/ Rear:
AT25x10-12 NHS
LxWxH:
113.6″x54.5″x73″
Wheel Base:
75.2″
Turning Radius:
153.5″
Ground Clearance:
12.1″
Fuel Capacity:
7.9 Gal
Dry Weight:
1124 Lbs.
Bed Capacity:
400 Lbs
Towing Capacity:
1212 Lbs
Instrumentation:
Digital LCD Multi-function display. Speedo, Odo, Dual Trip, Hour, Clock, Fuel, and Gear Position
Lighting:
Dual 30W Krypton Multi-reflector Headlights & Dual 21/5W Brake light
department—it also has a new forged piston; a new aluminum cylinder body with composite coating and new roller rocker arms are said to reduce friction in the valve train. These are some of the changes that have added durability and shaved weight in this engine, according to Yamaha.
Riding the backcountry in the Appalachian Mountains of Tennessee is where the truth in this last statement surfaced. Navigating long twisting uphill trails requires torque—but torque that is calibrated and controlled. With many of the grades covered in rocks, stumps and protruding tree roots, getting over and around them was an exercise in gas-peddle finesse—not too-the-floor excess—spinning wheels get you in more trouble than not.
This better torque control on the new Rhino is the result of a combination of upgrades, such as new fuel injection. The Yamaha Fuel Injection (YFI) system improves throttle response throughout the powerband. It also detects and compensate for changes in altitude, which means better fuel delivery which keeps the power consistent. YFI also eliminates the need for a choke and improves cold-weather starts.
Two other new items found on the Rhino speak directly to rider security—an issue that I wrote about after testing the original back in 2004. At the time, the side-by-side was a new concept and the new way of riding was only just starting to reveal which physical forces it was going to be subject to. What I wrote then was: "With the side by side setup, a whole new set of physics is involved while the Rhino is rocking through the bush—namely Yaw forces. In plain language, on rough terrain, it wants to throw you and your passenger out the side. While the driver has the steering wheel to hold, and can anticipate the sideways movement of the machine, the passenger may not be so lucky."
So, for 2008 Yamaha has added a set of tough polyethylene half-doors and a center mounted grab-handle for passenger and driver safety. But, these upgrades have also been engineered to attach to any year of Rhino; thus righting an old wrong. Yamaha is going as far as offering these free, including installation, to any Rhino owner for the asking. The inference here is obvious—they want to avoid any injuries that can be attributed to design. And frankly, that's good.
In the real world, such as down the hollers and across the ridge tops of Lewis County, TN, the doors hold your knee inside the vehicle regardless of the bumping and swaying on the trail. The grab-handle naturally has you lean towards the centre of the machine, again minimizing the exposure of your head, arm and chest outside the roll cage to passing trees, branches and boulders. The door also cuts down the amount of water and mud spray that previously landed in your lap. Lastly, if a rollover does occur, these upgrades, along with the seatbelt, will do a better job of keeping inside the safety of the cage.
The creek bottoms and hill tops we crossed during our testing required a thoughtful approach to traction; one that made use of the three setting and two powerbands on the Rhino. With a HI and LO range on the floor-mounted shifter, it's possible to pick what amounts to the torque required to get over, thorough or around an obstacle. Use this in combination with the selectable 4WD system and the traction tools at your disposal multiply. Rhino offers a 2WD setting (which makes for the easiest steering effort) an automatically engaged 4WD system (which kicks in when slippage occurs) and a 'locked' 4WD setting, which effectively give the machine real three-wheel drive, as it locks the front differential. I had a chance to use all the combinations on our rather muddy outing and where one selection was defeated, another would invariably overcome the obstacle.
Another safety concern, particularly in hilly terrain, is 'freewheeling.' A condition common to CVT belt-driven machines (reduced rpms going downhill causes the belt to go slack allowing the machine to run free with gravity) has been addressed in the 08 Rhino by Yamaha with its new Ultramatic system that keeps constant tension on the drive belt. This second mechanical clutch also helps avoid unnecessary belt wear on startup, as well as dealing with freewheeling. I noted that it did a good job of braking the 1,124 lb machine on the downhills, but because it is not really run off the engine the downhill speed does not top-out as it would with a real engine-brake. Instead, it continues to gain speed till you brake. Still, this better than the alternative—no braking at all.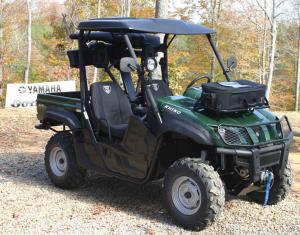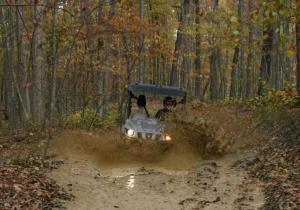 Braking itself was also a sometimes issue on the original Rhino, so the original three disc system has been upgraded to four full-disc hydraulic brakes with dual piston calipers. Also Yamaha has left the shaft-mounted disc from the original design as a parking-brake-only disc. This improvement is significant. Braking is aggressive when pushed and the centre mounted parking-brake will hold the machine easily even on the most severe grade.
Additional toughening on the 08 Rhino comes in the form of larger, heavier axles and stronger CV joints. But, as many ATV riders know, good CV joints mean nothing if the covering rubber boots don't keep the dirt and water out. So in addition to the new CV joint design, Yamaha has added a new boot material that is more resistant to impacts and tearing. Also new are front and rear A-arm guards that block debris from getting to the boots.
Fuel Capacity is up by more than a gallon, but the size, height, turning radius of the machine remain the same. The footprint is scarcely larger than that of a conventional four-wheeler—it just seems bigger.
A standard two-inch receiver means you can use the same hitch as the one in your pick-up truck to tow up to 1,200 lbs. There is also an optional front hitch receiver available, suitable for launching a boat into the lake. The cargo bed (which will support 400 lbs) now features tilt levers on both sides of the bed. This is a convenience when unloading your blind, game and equipment.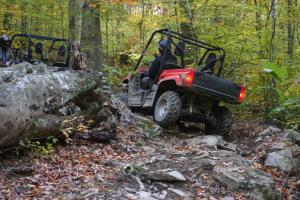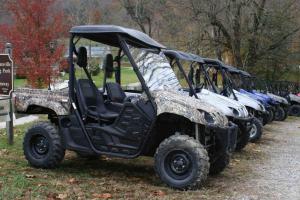 The new Rhino is also available with more models and customized options than previously. For instance, the 2008 Rhino 700 FI Automatic 4×4 will be available in hunter green, red and 'Realtree AP HD Camouflage.'
Along with the standard Rhino there will also be three special edition models available. These feature a combination of options that should appeal to a variety of users:
The Rhino 700 Special Edition, which has one-piece cast aluminum wheels, sport steering wheel, silver seats, sun top and special edition graphics. This model will also be available in Steel Blue.
The Rhino 700 Midnight Armor Special Edition features fully adjustable piggyback shocks, one-piece cast aluminum wheels, new injection-molded sun top, over fenders, Baja-inspired front carry bar and special black water-dipped body with flames and special graphic treatment. This version will be available starting December 2007.
The third edition will be the Rhino 700 Sport Edition with the fully-adjustable piggyback shocks, one-piece cast aluminum wheels, injection-molded sun top, sport edition silver seats and silver-accented shift knob and steering wheel. It will also carry the Baja front carry bar and the paint is brushed silver that looks water-dipped. It features sporty graphics and LED taillights with a reverse light function.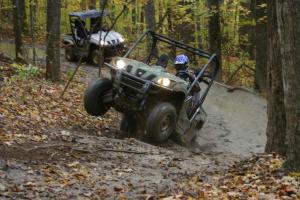 Prices start at $11,999 for the 450cc Rhino and top-out at $15,600 for the decked out 700cc FI Auto 4×4 Sport Edition
According to a Yamaha spokesperson, there are incentives intended to take the sting out of Canadian pricing as compared to what many potential buyers see on American dealer sites. Yamaha Canada also says that while it does not discourage cross-border shopping, there may be warranty issues that customers should investigate before making a US purchase. Published December 11th, 2007 6:37 PM
Top Brands
Popular Articles