7 Views
Yamaha Rhino Project – Part 2
April 15th, 2009 2:32 PM
Share
We're committed to finding, researching, and recommending the best products. We earn commissions from purchases you make using links in our articles. Learn more here
Follow us as we complete our Pro race Rhino Project
Back in February we posted a story called Yamaha Rhino Project – Part 1, where we documented our first Stock class race Rhino build, and gave you the scoop on how it performed throughout the season. We also promised that we would follow that story up with the second part of our race build; turning that little stock racer into one of the fastest, coolest looking race Rhinos in the short course UTV circuit. If you have ever wondered what it takes to build a pro level race Rhino, you have come to the right place – read on!
When we made the decision to jump headfirst into the Pro ranks, we had one series in mind initially – the Championship Off Road Racing Series (CORR, for short). At the time, this series regularly boasted a huge UTV turnout, and was home to the fastest UTV racers in the country. This series is where the big boys (and girls!) came out to play, and we had these races in mind throughout the entire build process.
Building a race Rhino is much like writing an essay or a book – first, you need to figure out a basic outline; start broad and work your way in, so to speak. Our first task was to come up with a basic chassis design for our Rhino, and for someone like me, who is an artistic perfectionist, this was only accomplished after researching and studying many race trucks, buggies, UTVs and even some competition rock crawlers. We wanted to be sure our Rhino design was not only functional, but that it was unique and looked great from any angle. Balance and proportion are sometimes overlooked by builders, and we wanted to be sure our Rhino looked as good as it performed.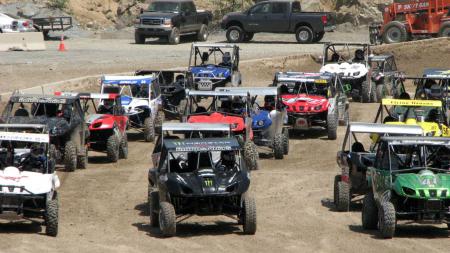 We also wanted to simplify our Rhino build; up until this time, most Rhinos and UTVs were almost overbuilt, with their fancy interiors, large and thick chassis tubing and a sometimes excessive amount of gusseting and triangulation. Our goal was to streamline and simplify this build – to give it only what it needed to be safe and extremely functional, and nothing more.
Last, but certainly not least, weight was a huge consideration for us when coming up with our final design. At the time we built our chassis, there was a minimum car weight of 1,200 lbs (without driver) required for the CORR Series. Not only were we taking aesthetics and safety into consideration, but we were also looking to build the lightest car possible at the same time.
Chassis
Once we had our chassis design drawn out and finished, we partnered up with Dave at Induced Fabrication, located right down the street from our shop in Chandler, Ariz. While we were perfectly capable of doing our own fabrication, Dave has some mad skills when it comes to TIG welding and he was looking forward to the opportunity to build his first race Rhino chassis.
However, before we could have Induced get started on our build, it was necessary to take our stock racer and strip it down completely to the frame. UTV regulations everywhere require the main frame to be a production frame, so no build can be done without having the OEM frame as a base. Many organizations also require stock shock and a-arm mounting points, which helps to keep things on a more even keel. Without some restrictions, builds can start to get really crazy and show up with 40" shock towers, stretched tube frames and custom rear trailing arms. For our build, we wanted to be sure we were in compliance with all race series out there, so we made sure we used all of Yamaha's factory mounting specs for our suspension.
We designed our chassis to be low and as wide as possible without the body extending past our wheels in order to obtain the lowest center of gravity possible. In order to do this, we had to have new seat mounts fabricated as well as a new steering shaft made in order to expand with the width of our race chassis. We left our pedals in their stock location, as it was actually comfortable to have them slightly to the right when all was said and done.
We chose to build our chassis from 1 1/2 " OD (outer diameter) .095 chromoly tubing, both for its lighter weight and excellent strength properties. This was also the norm for most series build rules. It's important to fully understand the rules and specifications for any series you are looking to race in, as each series can be a little different. As a general rule of thumb, if you build to the strictest of specs, you should be able to pass ANY tech inspection in any series you choose to race in.
Overall build
Once our frame was mocked up, notched, and welded, it was time to add the "skin" to our Rhino build. When we designed our chassis, we kept in mind the fact that we would have to build aluminum panels all around, so we designed it in such a way as to keep our panel designs simple and easy to form.
When UTVs are your business (as it is ours), it's understood that the easier something is to work on, the better. We built our Rhino to be easy to access all of the parts one might normally need to get to in a race – for repair as well as for maintenance. One thing to consider (and is sometimes overlooked) is that there needs to be an opening somewhere in the chassis that is big enough to fit a complete motor through easily. We designed our window openings to be just big enough to accommodate a full motor should removal ever be necessary.
We decided to do away with a full dash entirely, and instead made a small instrument console that surrounded our steering column and housed our gauges. This opened up the cab area considerably, and kept things light and simple. We also did away with the stock shift linkage (it weighs over 10 lbs!), and replaced it with a custom fabricated aluminum shifter that bolted straight to the shift shaft.
After experimenting with painting our previous aluminum panels (a method that works well until the panels get dented or roosted with rocks), we decided to have all of our Rhino panels powder coated for durability as well as looks. We chose to powder both the inside AND outside of our chassis panels which not only resulted in a great looking interior, but it was also very easy to clean after each race.
Color choice is one of the most fun and difficult choices to make when completing a project like this, and we went through several ideas before we chose to go with an all white Rhino and a silver frame. After looking at many photos on the web and in magazines, we found that there weren't many white race Rhinos around, and knew that white would look cleaner than just about any other color we were considering. We wanted to stand out from the field, look professional, and we wanted everyone to know that "that's a Weller Rhino!" whenever we rolled out onto the track!
To complement our white aluminum panels, Maier had just come out with a killer white, carbon fiber-look plastic for the Yamaha Rhino, which we immediately ordered and installed on our almost-finished pro racer. Looking like a Great White shark, our race Rhino was nearing completion, and we were thrilled with how it was turning out!
Suspension
When it came to choosing a suspension kit for our race Rhino, it was an easy decision to go with Xtreme Machine and Fabrication's +6 long-travel kit. Not only is XMF local here in Arizona, but they made some of the most dependable and best handling kits we had installed on our customers' Rhinos. Their A-arms are built similar to our chassis – clean, basic and tough – while the Walker Evans shocks they use for their kit came tuned almost to perfection for each order. Not only can these guys build a mean suspension kit that turns on a dime, but they can work magic with shims, springs and valving!
With our Rhino almost ready to be set on the ground, it was time to choose the wheels and tires we would "shoe" our racer with for the season. OMF is almost a household name in off road racing circuits, and it was to OMF that we went in order to find what we were looking for. "Bones" has been the go-to guy for OMF for many years, and thanks to his patience and ability to endure our never-ending questions, we settled on a trick looking set of black and red, 12" scalloped bead locks with a special mirror-effect backing on the front wheels. We also chose to have inside reinforcing rings installed on each wheel for added strength, as contact with other drivers is pretty much a guarantee on the race track!
The Ponies!
Once we had our chassis finished and our suspension completely installed, it was time to decide what we wanted to do with our stock 660cc motor. CORR tracks are what we call "horsepower tracks"- meaning there are long straights and high speed corners that require plenty of power to keep up with the field. While our stock racer was more of a technical, motocross racer, our pro CORR Rhino would need a motor that could put it out front of a very fast, very competitive field.
We decided to go with our fast but reliable Weller Racing 720cc stroker motor, which would give us around 54HP at the rear wheels when all was said and done. Weller Racing has been specializing in building Rhino and UTV motors for years, and has also developed some internal "mods" that replace the stock OEM parts in order to encourage motor reliability and longevity. Not only did our motor receive a bigger bore and high compression piston, but it also received custom cam pins, a billet differential support plate and more substantial cylinder head studs.
Mated with a nice, throaty sounding set of DMC Dual exhaust pipes as well as an aftermarket, dry-style clutch from Bronco Racing (gets the power to the wheels!), we fired up our 720 for the first time and listened to it rumble, smiling from ear to ear as we realized our pro race Rhino was finally finished!
True to form, we finished this project just in time to load it into the trailer and head to the final round of the 2007 Championship Off Road Series, which was hosted in Primm, Nev. Having ZERO seat time in our new race Rhino, we figured what better way to test it out than at the race itself!
Our new race Rhino drew quite a crowd as it was wheeled out of the trailer and parked it in the UTV pit are. Clean, sharp and without so much as a scratch, it was truly a thing of beauty – and would never be that clean again! With just enough time to get registered, go to tech and weigh our car in, we went over everything one last time in our mind to be sure we hadn't missed anything. "I think it's perfect." I said, and on that note, we headed for staging.
My first experience in our CORR Rhino was memorable for several reasons. One – I was thrilled with my newfound power! I wasn't used to hitting the gas and having to pull my head off the headrest, or having the ability to skirt the rear end around in the corners with just a little more gas. Two – the suspension was amazing! It took about 3 complete laps for me to STOP cringing and bracing for the landing when I was learning to jump my new pro racer. It's the weirdest feeling to brace for something that just doesn't come – and I quickly experimented with how high and how far I could jump my new Rhino. Three – this thing cornered like a champ! I had to be careful in the stock racer to not push it too hard in the corners, as it had a higher center of gravity and if I hit a rut sideways, things could get ugly. With our seats dropped almost to the floor, and our new Rhino's extra wide, extra low stance, corners were no longer an issue. I could now come hot into a corner, throw it sideways while staying on the gas, and power out of just about anything I was brave enough to tackle.
Before qualifying was over, however, I learned a lesson that is a general staple in the UTV racing world. With more power, comes more stress on other parts, and more breakage. Due to me hammering through the whoops, I had put too much stress on my front differential and it blew out the internal gears, busting the cases and leaving me with only rear wheel drive.
Since we didn't have a spare dif or the parts to fix our broken one, I would have to race the Main in two wheel drive! As the green flag came out signaling the start of the race, I got on the gas and found myself flying past everyone in front of me, and straight into first place! Imagine my elation at being in the lead for my first race in the Pro class, and in our new Pro racer! Keeping the hammer down, I led the field for over a lap before all "Hades" broke loose in the back end, sending me towards the wall and causing my Rhino to veer wildly all over the track! I had managed to break a rear axle (axles are an entire article in themselves!), which left me driving in "one wheel drive" – when this one wheel is your rear wheel, control goes right out the window! I managed to keep my Rhino under enough control to roll it around the track until the checkers came out, but had obviously lost my lead and wound up finishing towards the back of the field. But you couldn't wipe the smile off of my face!
Despite our finish, we couldn't have been happier with our new racer and the way we came out of the gate flying. We had given the entire Pro field something to talk about for the upcoming race season, and were already thinking of ways to improve upon what we had just built.
With the introduction of the Polaris RZR and its v-twin 8oocc motor, and Kawasaki's Teryx with its easily modified 750cc twin, the UTV Pro classes everywhere have become even more competitive. While the Rhino 660's single cylinder motor has to work much harder to keep up with the newer machines these days, Rhinos continue to podium and win races as well as bring home championships. For anyone looking to get into UTV racing, there are always good deals to be had on used, well built machines – or, if you are like us, it's a very rewarding experience to design and build your own race UTV from the ground up.
**We want to thank the following companies for their excellent products, which allowed us to be so successful with our Pro Race Rhino build.**
| | |
| --- | --- |
| Product | Company |
| Chassis | Induced Fabrication |
| Motor | Weller Racing 720, 760 and 800cc stroker motors |
| Suspension | Xtreme Machine and Fabrication |
| Shocks | Walker Evans Racing |
| Wheels | OMF 12" Scalloped bead lock |
| Seats | PRP Suspension |
| Tires | Maxxis BigHorn |
| Crank | Crankworks |
| Filter | K&N Intake/Filter |
| Plastics | Maier |
| Powder Coat | Precision Powder Coating |
| Graphics | BRM Offroad.com |
| Clutch | Bronco |
| Exhaust | DMC |
Related Reading
Yamaha Rhino Project – Part 1
2008 Yamaha Rhino 700 FI Review
2008 Yamaha Rhino 450 4×4 Review Published April 15th, 2009 2:32 PM
Top Brands
Popular Articles