3 Views
Yamaha YFZ450R MX Project – Part 3
November 8th, 2010 12:24 PM
Share
We're committed to finding, researching, and recommending the best products. We earn commissions from purchases you make using links in our articles. Learn more here
We add GYTR power and flair to our motocross racer
Yamaha's YFZ450R comes straight from the factory just itching to race. With its wide stance, excellent power, and comfortable ergonomics, it's got a fantastic foundation. With a few tweaks, however, it can be a champion.
In our previous installment, we looked to improve traction with a set of awesome Maxxis SYHP Razr MX tires and ITP T9 Pro Series Trac-Loc wheels. This time we'll focus on power and protection.
We decided to call up our good friends at GYTR. Fortunately for us GYTR was glad to help with the build and soon sent over a couple of boxes filled with goodies, including a front bumper, grab bar, racing lanyard, nerf bars, and a full exhaust system. We also received a Dynojet Power Commander and a GPR Steering Stabilizer. All of these products are available through Yamaha's official website.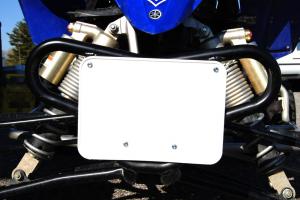 Let's start at the front of the YFZ450R. The GYTR Front Bumper gives the YFZ a true race feeling. With its aggressive design and included AMA regulation size number plate and mounting hardware, the GYTR front bumper is ready to be used at the track. The bumper is available in a black powder coat finish or ball-burnished aluminum. Yamaha Factory Racers Pat Brown and Dustin Nelson used this front bumper this year in competition. The GYTR Race Front Bumper retails for $144.95.
Working our way towards the rear of the YFZ450R, we also added a GPR Steering Stabilizer to improve our steering abilities. Often times when going through a whooped out or rough section, steering begins to fatigue your body from having to fight to keep the ATV on the right path. The GPR steering stabilizer was designed to reduce the effort it takes when steering through rough sections and allows the rider to stay on the throttle.
We recently entered the infamous Ironman GNCC on our Project YFZ450R. The GPR helped us keep the YFZ450R from wapping-out in the open freshly harvested cornfields. The stabilizer also helped with our endurance. It allowed us to stay on the throttle in sections where other racers were slowing down. The Ironman GNCC is a two-hour long race so keeping up your endurance is very important. The GPR steering stabilizer is available through Yamaha's extended accessories line and can be purchased at any participating Yamaha dealership. The GPR Steering Stabilizer retails for $495.00
We also added GYTR Nerf Bars to our build. These nerfs are a must not only for racers but average riders as well. We can't tell you how many times nerf bars have saved us from broken ankles and other injuries when missing the pegs. These particular GYTR Nerf Bars are new to the sport and combine the nerf bars, pegs, and integrated netted heel guards. The footpegs that are incorporated into the design are 2.5 inches wide and 0.75 inches longer than stock with two height positions (0.75 inches lower than stock or 1.25 inches lower than stock). Lower pegs means lower center of gravity which make for a better handling ATV. In our opinion, the netted heal guards is something that the industry has been in need of for awhile.
In the past we've chosen not to run heel guards because of their bulkiness, weight, and pension for accumulating mud. By using netting instead of metal or plastic as the heel guard, it allows the rider to have the same great protection as traditional heal guards yet are lightweight and do not collect nearly as much mud. For $424.95 (Black Powder Coat) and $474.90 (Brushed Aluminum) GYTR's Nerf Bars are much less than just one visit to the emergency room.
Another necessary item included in our box of goodies was a GYTR Racing Lanyard. By AMA rules it states that any ATV entered into a race has to have a working kill switch. This is not only a requirement for racing but if you are serious about riding this is something you might want to look into. A GYTR Racing Lanyard not only can save you from having a runaway ATV but it is also a safety precaution for fellow riders and spectators around you. The GYTR Racing Lanyard, which retails for $37.95, features a direct connect so no slicing or cutting of the electrical system is needed.
We also received a GYTR Race Rear Grab Bar. This grab bar is constructed of 1-inch aluminum tubing and is available in ball-burnished aluminum or a powder-coated black finish. Just like the GYTR front bumper the GYTR Race Rear Grab Bar comes complete with AMA regulation size number plate and mounting hardware.
Additionally, GYTR shipped us its Full Race Exhaust System. This add-on to our project YFZ450R was easily one of the best improvements we have done so far. The YFZ450R in stock form is a little different, especially for those who came off of a carbureted YFZ. The fuel injected system, though it has tremendous power, does not have the same snappy throttle response as the carbureted version. In stock fomm the power is very linier and smooth, which is ideal for most riders. However, adding the GYTR Full Race Exhaust System really woke the machine up for racing. Throttle response on our Project YFZ450R with the Full Race GYTR Exhaust System is remarkably snappy and the machine can almost pull a wheelie in every gear!
GYTR's Full Exhaust System was developed alongside leading exhaust manufacturer Dubach Racing Development (DRD) and Factory QuadCross champion Dustin Nelson. The end result is an exhaust that can win championships like Nelson did this year in the QuadCross Series. The full system retails for $574.95, but you can also opt for a slip-on for $349.95.
GYTR also chose to send along a Dynojet Power Commander V to pair with the GYTR Full Exhaust System. Adding the GYTR exhaust is one of the best improvements you can make, but coupling it with the easy-to-install Dynojet Power Commander takes things to a new level. In addition to providing even more oomph to the YFZ, the Dynoject Power Commander V gives the rider the ability to finely tune the machine and easily set it up for different racing situations. The Dynojet Power Commander V retails for $359.95.
If you've got a Yamaha ATV in your garage and you plan on adding some accessories, GYTR is the first place you should look. Not only are GYTR accessories made specifically to fit Yamaha ATVs, but they're built with Yamaha quality. We've used many GYTR products over the past few years and it's far and away the easiest way to improve the performance of Yamaha ATVs. Published November 8th, 2010 12:24 PM
Top Brands
Popular Articles