13 Views
2008 Yamaha YFZ450 Project
June 17th, 2015 4:36 PM
Share
Creating a motocross racer with a graphic theme
It seems these days that manufactures are stepping up more than ever to deliver more powerful ATVs, giving consumers the ability to simply buy quads that are ready to race right out of the crate.
Manufactures like Suzuki, Yamaha, Kawasaki, Honda and, most recently, KTM are all offering sport ATVs that claim to be race ready. They do this by adding more horse power, cutting down on weight and adding features like extended A-arms, aftermarket handlebars and more aggressive tires.
As good as these modern-day race quads are, there is no shortage of changes consumers can make to enhance the thrill of a factory-based machine. We decided to modify and build up one of the originators of the 'out of the box race ATVs' – the Yamaha YFZ450.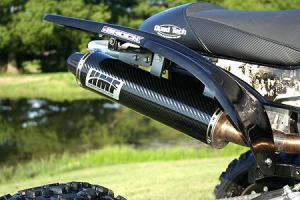 This HMF exhaust provides a sweet sound and some extra power.
The G-Force axle increased stance by four inches, while the Hiper wheels add style and strength.
The new front end from HydroDynamics was surprisingly easy to install.
We did this build strictly for motocross racing, as well as to grab the attention of the onlookers in the stands. We added several aftermarket products to the already well rounded 2008 YFZ450. We focused our build around four aspects: comfort, power, handling and overall looks.
As any rider knows, being comfortable while riding is the most important aspect to one's experience aboard an ATV. To make our experience more suitable for longer rides we chose to add a plush seat from Quad Tech. This seat features thicker foam with an additional hump in the rear. This hump helps conserve energy when accelerating and makes cornering easier by helping you to stay in a race position.
To add additional horsepower to this 'out of the box' power house engine, we added a full Sport Series HMF exhaust. This exhaust has a great sound, not to mention a boost in acceleration from the stock version. It delivers forceful power throughout midrange and top end and it makes the already light front end beg for attention.
We changed out the stock wheels and tires for a set of Hiper Technology carbon fiber wheels wrapped in the newly released Kenda Kutter MX tires. The new Kenda Kutters hooked up great in hard packed dirt, which is what they were designed for. The Hiper carbon fiber wheels not only added style to our build, but with the bead lock design we found we could hit rutted out sweepers and excel out of the corners with force without worrying about rolling the bead, unlike the stock tires and rims.
While doing this build we felt that the stock stance of 50.8 inches was not wide enough to keep all four wheels on the ground while ripping through tight corners, so we added 4 more inches of stance by adding a G-force axle and a long travel iShock front end from HydroDynamics. The front end kit was everything we needed all in one box. The i5500 LT Long Travel Complete Front Suspension System we chose from HydroDynamics came with extended A-arms, tie-rods, fully adjustable shocks, braided steel brake lines, as well as an instructional DVD to make installing this front end a breeze.
At first the shocks were a little stiff, but after making a few minor adjustments to the settings, the shocks had just enough give no matter where we were at on the track. We found that the braided steel brake lines included in the kit improved the stopping power and greatly reduced fading of the brakes we felt while using the stock brake lines.
Another change we made to this 08' YFZ450 was the handlebars. We chose to go with Fasst Co. Flexxbars. These handlebars are equipped with rubber bushings that let the handlebars literally flex underneath your grip. These bars take some getting used to, but after we ran them, we felt that it's a must-have component compared to the stock Pro Taper bars. Think of these bars as another set of suspension. We could no longer notice the vibration normally felt with a standard set of bars and we found that we were less tired in between motos.
We changed out the stock thumb throttle for a Motion Pro twist throttle. This was more a personal preference than a performance upgrade, but it did relive some arm pump. Also, to deflect some roost on those days when we're not leading the pack (it does happen from time to time), we mounted a set of PowerMadd hand guards.
The stock clutch cable, perch and lever were replaced with a Magura Hydraulic Clutch Kit. This kit makes it easier to pull the clutch and saves time because it never has to be adjusted.
Jeff Vanasdal poses for the camera on the updated quad.
To set the bars off even more, we added a set of Death Grip Moto Grips. These gripped surprisingly well and the skull design makes them look killer.
What is the point in having a fast quad that handles great if it doesn't look great? We decided to go with something different – a theme, per se. An ordinary race ATV just didn't fit the bill, so we chose a Whisky Runner theme. It is reminiscent of the Bootleggers during prohibition – people who ran the streets with their modified cars and trucks.
Here's the custom 'Bootlegger' graphics kit from Santor Design Co.
We started by throwing out Yamaha's traditional blue and white color scheme – tearing everything off until it was a bare frame. We shipped out the frame to get a flat black finish from Carrera Powder Coating. Then we gave the YFZ450 a fresh new set of black Laker Custom Plastics. We added a Quad Tech skid plate and carbon fiber hood to make this machine look like a modern day Bootlegger. We also added a one-of-a-kind custom graphics kit from Santor Design Co. With their attention to detail this kit is one that would make even some of the most notorious gangsters beg for more.
Even though manufactures today are producing well prepped race ATVs more than ever, it doesn't mean the base models have what it takes to be competitive, nor do they have what it takes to stand out. The stock models provide the customer with a good base to build upon. Whether the buyer is just a beginner or a novice moving up in the ranks, aftermarket products added to these race ATVs is not a necessity, but it does help to customize your machine to your specific needs and wants and have a great deal of fun while doing it.
The fully modified 2008 Yamaha YFZ450 in all its glory. Published June 20th, 2008 12:11 PM
Top Brands
Popular Articles