31 Views
Yamaha Raptor 250 Project – Overview
June 29th, 2009 10:08 AM
Share
We're committed to finding, researching, and recommending the best products. We earn commissions from purchases you make using links in our articles. Learn more here
You can win this modified monster!
If you've been following along at home, you'll know that ATV.com has been busy building up a Project Yamaha Raptor 250 that one of our lucky readers will get to take home.
Though the Raptor was already head and shoulders ahead of the rest of its 250cc sport quad competition, we thought it would be fun to outfit it with a variety of bolt-on accessories and replacement parts to boost the performance and give it a new look.
Our goal was to build a machine that just about anybody with basic set of tools and a little knowhow could duplicate for themselves at home without pulling their hair out from frustration. Also, since the Raptor 250 has a reasonable sticker price to begin with, we wanted to keep the budget within reason. The end result certainly isn't a full-on race quad, but it is a machine that has more power, improved handing and comfort, added protection and a much bigger "Wow" factor than what you'll find on the showroom floor.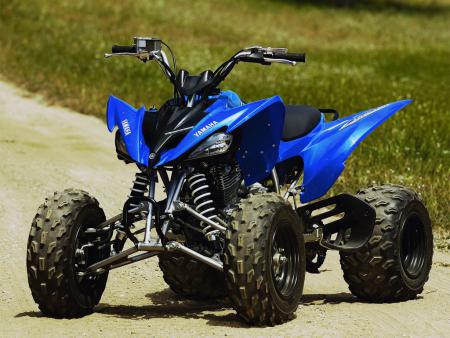 Best Fit
When it comes to accessories for Yamaha ATVs, GYTR is probably the best place to start. Not only does GYTR make a huge variety of great products for every Yamaha in the fleet, but everything always fits perfectly.
GYTR accessories are only made with Yamaha ATVs in mind. Not once did we have to worry about drill holes not lining up or bolts not fitting properly. All our GYTR accessories fit the Raptor like they were made by the same people. Go figure.
Biggest Bargain
Adding new wheels to your ATV is always a big expense, especially when you want some eye-catching alloy wheels with color inserts. Imagine our surprise when we called up MotorSport Alloys to ask about the striking S3 Redline wheels in Phanton Blue and found out a complete set of four costs less than $300! As a matter of fact, we did some searching and found one on-line dealer who had a set for $249.
Looks are subjective, but we love these wheels. You can find better performance wheels, but good luck finding anything that looks nearly as good for anywhere near that price.
Problems
Because we didn't mess around with the engine and stuck to easy-to-install bolt-on parts, we didn't really run into any major problems on this build. However, we did have a few issues that caused us to scramble.
First, we had mix up with our tire and wheel sizes. Initially we wanted to wrap our MotoSport Alloy wheels with Kenda Kutter tires. The problem was the Kutter rear tires were 8-inch, while the rims were 10-inch. Fortunately, Kenda quickly shipped out a set of Kenda Klaws that fit perfectly.
The V-Lite front bumper from DG Performance is a great looking piece, but the top brackets were a little too spaced out so the stock bolts wouldn't quite fit. This turned out to be a very easy fix. All we had to do was place the bumper in a vice and squeezed the top brackets a little bit. Problem solved.
Without a doubt our biggest problem was getting all the parts delivered at the right time. This was really only an issue for us because we were doing the build in stages and we had deadlines for each article. Ultimately, everything we needed was delivered and we were able to complete the build.
Last Minute Addition
Our Project Raptor builder/writer, Jeff Vanasdal, had some billet aluminum parts made specifically for the Raptor. He added a +1 billet bar clamp and riser in Part 4, but he was still waiting for one more part to get finished.
Just in time for this final article Jeff added a new Santor Design Co. billet parking brake block off, which included new O-ring and bolts. It's available in bare and black anodized finish.
According to Jeff, the parking brake block off is a must if you want to race, plus it looks trick, there's les clutter on your bars, and it's easy to install. You can pick one up from SDC for just $18.95.
If Money Was No Object
If money was no object, we'd probably buy everything anybody makes for the Raptor 250. For most of us non-lottery winners, however, money is indeed a very big factor.
A shock upgrade was probably the most obvious omission. A good set of shocks from Elka, Ohlins or Fox, however, would have added another 50 percent or so to our total build cost. It just didn't make sense for us to spend that kind of money. If we had, our build cost would have been more than the sticker price on the Raptor 250.
If the winner of the Project Raptor plans to use the unit for racing, then a shock upgrade makes a lot more sense. If he/she just wants to have some fun playing around the trails, the current setup is more than adequate.
Wait…There's More!
In addition to taking home the Project Raptor, the winner is also getting hooked up with the latest gear from Shift Racing.
The winner gets to choose between Shift Squadron pants and jersey or Shift Strike jersey and pants. Shift Racing is also supplying a DOT approved Agent helmet and a pair of Tactic or Strike gloves.
The Squadron jersey features fade-resistant sublimated graphics, screen-printed logos with woven outside patches and a unique collar shape for added comfort.
The Strike jersey is made with eight-panel construction for increased comfort and performance and a two-piece Lycra insert collar for added comfort. A full mesh back and vented underarms add breathability.
Squadron pants provide a baggy fit and go over the boots. The pants feature six pockets, including two large zippered cargo style pockets. The full-grain leather inner knee panels provide heat and abrasion resistance. For those hot days, the lower legs zip off and the pants are converted to long-length shorts. Published June 29th, 2009 10:08 AM
Top Brands
Popular Articles