6 Views
Yamaha Raptor 250 Project – Part 4
June 12th, 2009 11:07 AM
Share
We're committed to finding, researching, and recommending the best products. We earn commissions from purchases you make using links in our articles. Learn more here
Flexx handlebars, Quad Tech seat cover and more
ATV.com is building up a Project Yamaha Raptor 250. This is the fourth article in a six-part series. Once the build is complete we will be giving the modified Raptor to one of our readers. Click here to enter for a chance to win.
Safety & Comfort
Speaking from first hand experience, being comfortable while riding your ATV can make a world of difference. After coming out of past seasons with several broken bones and more than a few bumps and bruises, we knew we had to look for some products that would help reduce the risk of injury and improve our overall riding comfort.
With a shiny new Yamaha Raptor 250 in the garage primed for our project build, we decided to outfit this awesome machine with some cool products that will hopefully spare the lucky winner the heartache of riding the bench while nursing preventable injuries. Well, at least that's the idea.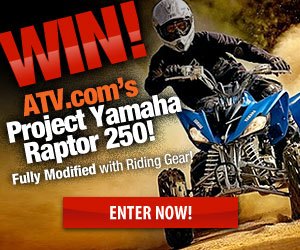 To achieve our safety and comfort goal we installed a set of Fasst Company Flexx Handlebars, Powermadd Star Series handguards, Santor Design Co. +1-inch billet bar clamp and risers, Moto Grip Death Grips, and to further cushion the ride a seat cover supplied by Quad Tech. Also, when we picked up the Raptor 250 Yamaha included a kill switch from Pro Armor. We've found most of these products very useful on our race quads, so it only made sense to include them on the Raptor 250 project.
Before we could install the Flexx bars, we decided to add a billet bar clamp and risers from Santor Design Co. This bar clamp and riser combination adds one inch to the height of the handlebars compared to stock, making the riding stance while on the Raptor a bit more comfortable. Also, the billet clamp is stronger than stock, which may come in handy if and when you do find yourself in a situation where you "test" out the strength of the bars. Santor Design Co. also offers standard height billet clamps for those who prefer not to raise the bars.
As for the Flexx handlebars, it's obvious that Fasst Company did its research. We've ridden with Flexx bars on several machines over a variety of terrain and it honestly feels like you're riding with an upgraded suspension.
The Flexx Handlebar System is designed to absorb the shock and vibration that is normally transferred to your hands, arms, elbows and shoulders. The secret to Flexx bars is the elastomers. These elastomers are what allow the Flexx bars to flex – almost like having two mini-shock absorbers on your handlebars. Before the vibration is transferred from the bars to you, it gets absorbed by the rubber elastomers. It's a brilliant concept and it works better than you'd imagine.
The Flexx bars have just enough give to absorb some of the shock from hitting big bumps, going over logs, rocks, or even going trough whoops. They really help relieve that choppy feeling you can get with a set of standard bars. However, the biggest advantage we get from running these bars is an increased sense of comfort, as Flexx bars drastically reduce arm pump and rider fatigue.
Anybody who has ridden on a motocross track knows what it's like when you realize you're going to come up short on a jump. You get those butterflies in your stomach and if you've got time you probably mutter a swear word or two right before landing extremely hard and jarring your wrists and arms. This just isn't the cast when you ride with Flexx bars. It feels like you can attack obstacles with ease, just like you would if you had a set of $1,500 shocks. With Flexx bars you can concentrate more on your riding experience and worry less about getting tired or hurt.
When adding new handlebars on your ATV, it's a given that you are going to have to replace the grips. We chose to add a little style to our Raptor project by going with a set of Death Grips from Moto Grips. These grips not only have a unique look, but surprisingly the skull pattern grips work extremely well – even in wet conditions.
Whether you ride in the woods or on the track you always want to try and protect your hands. An inexpensive way to do this is by adding a set of handguards from PowerMadd. In the woods you have to worry about that hanging limb that is lying low or a sticker bush along the trail that seems to be drawn directly to your hands. That hurts! Or even on the motocross track when you get a bad start and you're not at the front of the pack you have to protect your hands from getting hit from flying rocks and roost. We installed a set of PowerMadd's black and silver Star Series handguards and they will block it all.
When we originally picked up the Raptor 250 the Pro Armor kill switch was mounted on the handlebars, but when we added the handguards we ran out of room. To remedy this we decided to mount it between the bar clamps, which worked out well.
Finally, to add a little more grip to that slick stock seat, we installed a Quad Tech seat cover. Quad Tech builds some of the best products in this industry and the quality of the products is out of this world. All Quad Tech seat covers are hand constructed and feature a gripper-like material that helps keep your butt planted on the seat instead of sliding around.
ATV riding is a ridiculous amount of fun, but it does have its hazards. Fortunately there are plenty of ways you can protect yourself from injury and prolong your riding experience by making your ATV much more comfortable. We recommend you check out these products first and see for yourself just how much longer you can ride without getting tired or without breaking ATV…or yourself! Published June 12th, 2009 11:07 AM
Top Brands
Popular Articles