1 View
Yamaha Raptor 250 Project – Giveaway
September 16th, 2009 1:37 PM
Share
Joe Shinsky wins ATV.com's Raptor 250 contest
Some times in life the odds are stacked against you – be it winning the lottery or even in some cases getting struck by lightning. For Joe Shinsky it was a combination of both. Joe was the lucky winner of ATV.com's Project Yamaha Raptor 250 Giveaway. He couldn't believe it; he was shocked that he of all people was the lucky one to be given such a tricked out ATV for FREE! Who could blame him? More than 5,000 people entered the contest and he was the lucky winner.
Joe hails from Northern Ohio and is 19 years old. He has been riding ATVs almost his whole life. He still has home videos of his dad walking along side of him riding his first ATV – an ATC 70. He has since honed his riding skills and now rides a limited edition 2008 Yamaha Raptor 250. Yes, Joe already has a Raptor 250, which he now plans to use a practice bike.
Sunday, September 6 was the day we scheduled to drop off the Project Raptor 250. Me and my girlfriend, Olivia Shuff (who also test rides for the site) loaded up and headed out east to Ohio. We planned to meet up with Joe at the Maumee State Forest, which is located about 30 minutes east of Toledo. The plan was to have Joe rip it around the trails for a quick photo and video shoot. It sounded like a pretty simple plan, but it certainly didn't turn out that way.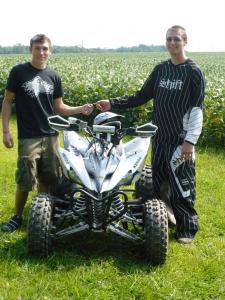 As we pulled into Maumee State Forest the park ranger immediately greeted us. Apparently he did not believe that Joe had won the quad and wanted to see proof. The ranger wanted to know what, when, where, and why we were in his park, and this was all before we even had a chance to touch a tie strap holding the Raptor securely in the back of my truck. As the ranger continued to interrogate us I noticed off to my right a Honda 250R manned by TWO riders pulling out of the woods and into the lot. The 250R then took a path through the lot that just so happened to cross in front of the park ranger's view. The ranger did not acknowledge them as doing any wrong and continued to ask us questions. It appeared that some of Joe's good luck was fading before we even had a chance to unload his new quad, so we made other plans.
We decided it was best to find another place to ride so we headed about three miles down the road from Maumee State Forest to one of Joe's friend's property. It was finally time to let the Project Raptor 250 rip with its new owner.
Joe seemed overwhelmed with excitement when he first set eyes on the Project Raptor 250. He had been telling his friends about it for weeks and finally was seeing it in person for the first time.
"I can't wait to ride this thing," he said when he saw the Raptor in the back of the truck.
Joe, all suited up in his new Shift Squadron gear, through a leg over the Project Raptor 250 and hit the trails. He was already familiar with the ergonomics of the Raptor 250, so pulling the front wheels off the ground immediately was no problem for him.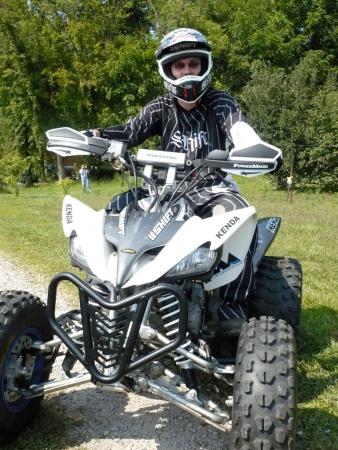 "I really like the Flexxbars, it's my first time riding on them and I'm amazed how much of a difference they make compared to regular bars," said the lucky winner.
There were many key components that made the build stand out for Joe, one of which is the looks
"The Maier plastic and the Santor Design Co. graphics give it an awesome look with a lot of style," says Shinsky.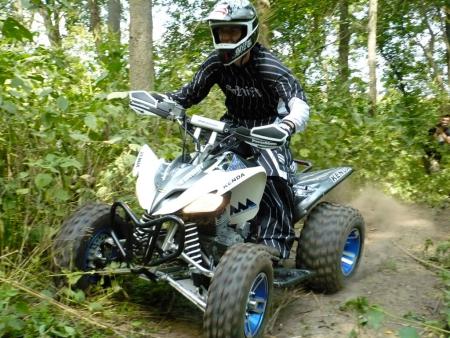 He looked at home on the Project Raptor 250 and seemed like a little boy on Christmas day. From the time he set eyes to it I could tell it was something that he would always remember.
The Project Raptor 250 was a one of a kind ATV and I built it up with my own two hands. Although it was a little hard for me to see it go, I'm glad to went to someone who was so passionate about the sport and really wants to get into the race scene a little more. It made Joe's day and possibly even his year.
I'm sure Joe will put many miles and many hours of seat time on this Raptor 250 and that's really all we can ask for.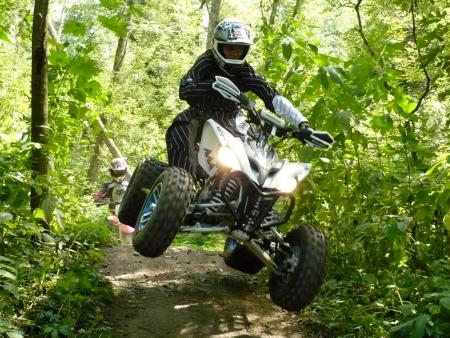 Published September 16th, 2009 1:37 PM
Top Brands
Popular Articles