8 Views
Yamaha Raptor 250 Project – Part 2
May 13th, 2009 11:00 AM
Share
We're committed to finding, researching, and recommending the best products. We earn commissions from purchases you make using links in our articles. Learn more here
Motosport Alloys wheels and Kenda tires
ATV.com is building up a Project Yamaha Raptor 250. This is the second article in a six-part weekly series. Once the build is complete we will be giving the modified Raptor to one of our readers. Click here to enter for a chance to win.
Shortly after installing all the GYTR power accessories we featured in Part 1 of our Raptor 250 project, we realized we needed a way to get that extra power to the ground. We solved this dilemma by adding some tricked out Motosport Alloys wheels and set of Kenda tires.
We've heard about Motosport Alloys before and we knew about its reputation for manufacturing some of the most stylish and slick looking wheels in the powersports industry. We wanted to check out some product for ourselves and decided to throw a set of Phantom Blue S3 Redline wheels on our Yamaha Raptor 250 Project!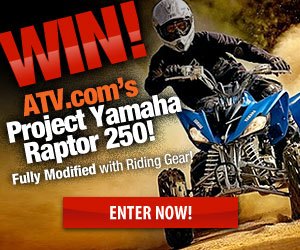 Like kids on Christmas morning we were eager to open the package that read "Motorsport Alloys" on the shipping label. When we ripped open the first box to investigate its contents we were pleasantly surprised about what we saw inside. Immediately we could see chrome and metallic blue start to shimmer under our fluorescent shop lights as we pulled out the first wheel.
After taking a few minutes to admire the wheels we gently set them aside and began to open another box postmarked Kenda USA. Inside was a full set of Kenda tires. We ordered these to give our Raptor 250 a little more bite than the stock tires.
We've run Kenda tires on a variety of terrain, including several years riding GNCC, Maxxis 12 Hours of ATV America, and many motocross tracks throughout the United States. Originally we chose to go with Kenda Kutters, but we found out quickly that we would have a bit of trouble trying to mount these eight-inch tires to our 10-inch rims. Kenda doesn't make rear Kutters in 10 inch so we chose to go with the Kenda Klaws instead.
Where the Kutters are more of a motocross tire, the Klaws are better for riding in the woods and on rough trails. The Klaws are a taller tire so you sacrifice a little low-end power, but you gain ground clearance, which is great for getting over roots and rocks. We called Kenda to return the Kutters and order the Klaws and they were shipped the next day! Kenda customer service was fantastic.
After getting our fresh rubber in we began our installation. If you're going to do this at home please be sure you have the right tools. If you do find yourself having problems mounting the tires to the rims keep in mind you can always take them to your local tire center and have them mounted professionally.
The first step to any installation is to make sure you have a clean work area and the parts you are working on are clean as well. We found it easy on our knees to place a piece of carpet underneath and set the wheels on a piece of cardboard to avoid scratches. Published May 13th, 2009 11:00 AM
Top Brands
Popular Articles