5 Views
Yamaha Rhino Project – Part 1
February 25th, 2009 12:11 PM
Share
We're committed to finding, researching, and recommending the best products. We earn commissions from purchases you make using links in our articles. Learn more here
Rhino Racing 101 - Building a stock racer
We are pretty sure that back in the early part of this decade, when the engineers at Yamaha were putting their heads together to design and plan the first production Yamaha Rhino 660, they couldn't have imagined what would become of their humble (yet fully functional) hunting/utility vehicle.
People stared in awe at the first 'duner' Rhinos appearing in 2004 at sand dunes around the country, amazed at the creativity and deep pockets that helped create some of those first tricked out, four seat conversions that continue to dominate holiday weekends at dune areas everywhere. However, those Rhinos pale in comparison to some of the first full race Rhinos that appeared soon after, as an entirely new breed of racing was born.
Gone were the four seat cages, and in their place were low profile, extra wide and fully gusseted custom frames which were welded with great care to the original Rhino chassis. Custom designs, excellent aluminum work and trick looking custom suspension packages turned these purely functional UTVs into some lean, mean, racing machines – and began one of the most entertaining forms of racing today.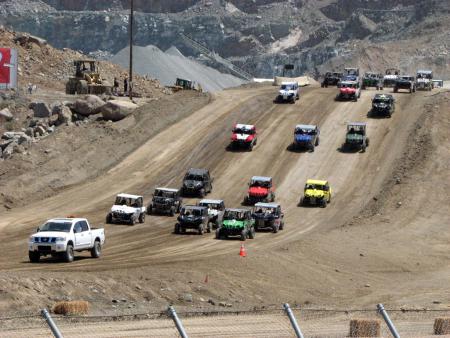 TYPES OF RACING
Rhino racing first attracted those who were drawn to the challenge of creating and racing a machine for a totally different purpose than what it was originally intended for – sort of like lawnmower racing, we suppose. However, as it gained in popularity and recognition, Rhino racing began attracting a wider spectrum of racers, ranging from people who had raced dirt bikes or quads previously and were ready for something safer, to individuals who had suffered injuries that wouldn't allow them to race MX anymore, and even included those brave souls who had just never raced anything at all.
Motocross
For anyone looking at getting into Rhino racing at the beginner level, there are several different forms of racing to choose from. The first form of racing Rhinos was Motocross, simply because the only places available to race Rhinos in the early years were at the same tracks that the bikes and quads raced on. Motocross racing in a Rhino can be a very interesting and challenging experience, depending on the modifications made to the Rhino and class chosen to run in. It is definitely the 'busiest' type of racing, as it requires quick reflexes and excellent throttle/brake control at all times.
Desert
Shortly after Rhino racing began on the tracks, there were Rhinos being built to race in longer distance desert races such as the
SCORE
and
Best in the Desert
series' out West. Desert Rhinos are typically much heavier and fully loaded in order to comply with the strict roll-cage design rules that come with the dangers of racing in the dust with the bigger desert trucks. Desert Rhinos also are made to carry several spare tires, radios, spare parts, a passenger and tool kits as well. Over the years, as the desert racers have progressed, they have become a bit more streamlined and racers have found what it takes to get a Rhino (or any UTV) to the finish line – even in some of the longest races on the continent.
Short Course
Short course racing is similar to motocross racing, except short course racing doesn't typically have as many jumps, and the tracks are much less technical. In short course racing, having the most motor and knowing how to keep the pedal to the floor in the corners is key to winning races – as is being able to stay away from the big wrecks that typically occur in the more crowded and competitive classes. Short course racing has been one of the most popular forms of Rhino racing in the past few years, and has even been a part of such well-known race organizations as the
Championship Off Road Racing Series
, and the newer West coast based
M4SX Series
.
GNCC
As recently as 2008, the
GNCC Series
has decided to give UTV racing a try – and it makes perfect sense since there are so many UTVs on the East side of the country. GNCC races typically have a huge number of stock racers who show up, usually with the minimum safety requirements to be allowed to race and some extremely brave passengers! GNCC races consist of a course that is cut through the woods, mountains and streams, giving the racers their own challenging course alongside the normal ATV GNCC courses. These are probably the only Rhino races where spectators are not only allowed on the course, but are also able to help racers if they feel up to the challenge.
WORCS
For the last few years,
WORCS
is a another form of racing that has welcomed the Rhinos and other UTVs with open arms. WORCS racing is unique in that it is a mix between MX racing and desert racing, and is a great way to test your skills and your machine in several areas at once. These races typically run for 50 minutes, and almost always draw a good crowd of spectators.
SAFETY FEATURES
For anyone looking to get their start in racing a Rhino or other UTV, there are usually at least a minimum amount of safety features necessary to be allowed onto the race course, no matter what type of racing is done. As a bare minimum, these features usually include 4 or 5-point harnesses, wrist restraints or window nets, some form of side bar or door for occupant protection, and a helmet, goggles and gloves. Depending on the organization, there can also be many more required safety features, including some type of head and neck restraint, a modified roll cage with proper gussets and triangulation, and different colored rear -facing lights.
PROJECT RHINO I – STOCK RACER
For our Stock Rhino racer, we only needed the minimum in safety modifications, as we would be racing in the Stock classes in the Rhino Racing League and CORR for the season. In the Stock class, we were not allowed to make any performance modifications to the Rhino, leaving our only 'mods' to be the required safety ones.
To begin with, we decided to modify the stock cage by lowering the height a few inches and adding some triangulation – this helped to lower the center of gravity and strengthen the cage in case of a rollover. We used Arizona based Induced Fabrication to remove a portion of the stock roll-cage, and fabricate a great looking 'sport' cage that was attached to our stock chassis with factory bungs, giving it a nicely finished look and adding some strength.
Along with the modified cage, we also installed the required side bars and panels to our Stock racer, giving the driver (that's me!) some added protection in the event of a side hit or a 't-bone'. We then decided to finish our side bars off with full aluminum side panels to give our racer a more polished, professional look and have a nice area for our sponsor stickers.
Once the cage and side bars were done, we replaced our stock seat belts with a set of padded Crow 5-point harnesses, which would help to keep driver and passenger snuggly in place when landing a hard jump, taking a hit from another racer or finding oneself on one's lid, which happens more often than you'd think. It's important to keep your harnesses tight at all times, and an experienced racer check the harnesses throughout a race event to make sure they stay as tight as possible.
We added another required safety modification with a set of Crow wrist restraints which were easy to take on and off and keep stored in our glove box between races.
Since we would be racing our Stock Rhino on a motocross track with plenty of turns, we decided to install 2-inch aluminum wheel spacers on the rear wheels of our Rhino for a bit more stability in the corners. These were allowed in our Stock class, and they would definitely help out in the corners. Along with the spacers, we also purchased a full set of stock SE Sport edition shocks off of a 2007 SE Rhino. While the non-adjustable shocks that came with our Rhino worked well in most normal applications, we wanted the adjustability of the Sport shocks for our Motocross experience, while still retaining the required stock components for our class. Our Sport shocks took jumps much better than the regular edition shocks, and it was easy to tune them for our needs and the track conditions.
The last thing we did to our Rhino racer was to tack-weld the factory bed to the frame, and remove the rear tailgate. If the bed is not fully secured, it can come unlatched and bounce around during a race. The tailgate can also come unhinged and fly out onto the track; therefore, removing it entirely not only keeps that from happening, but also saves some weight as well.
GOING RACING!
Once we had gotten our race Rhino prepped with all of the necessary safety features, we loaded it up and headed out to Canyon Off-road Park (COP), located north of Phoenix, Ariz., for Round 1 of the 2007 Rhino Racing League. Our Rhino was built for Motocross and Short Course tracks, and COP was a perfect location for its first foray into the world of Rhino racing.
We were curious to see how well our Sport Edition shocks would handle the various jumps and whoops on the track, and we were looking forward to racing wheel to wheel with all of the other stock Rhinos in our class.
After checking out the track, we decided to race in 4-wheel drive for our first time out in order to get the maximum amount of traction, and we double checked to make sure our gauge read '4-hi' as we waited on the line for the flagman to signal that our race was about to begin.
After the track officials made sure everyone was ready, the green flag dropped, and a sea of stock Rhinos surged into the first turn with tail lights ablaze as everyone jockeyed for the holeshot. We got a great start and were the first ones into the corner, where we fully tested our two-inch spacers as we pushed the laws of physics, yet still managed to keep all four wheels on the ground as we pulled out of the corner and headed for the first big table.
With everyone being identical in speed and power, the racing was as close and as fun as it gets, as drivers bounced off landings, two-wheeled it through turns and rubbed quite a few fenders. Tail lights that hadn't been removed prior to the start became casualties for some as the racing continued in earnest, and the fans that were lining the fence could hear the giggles and laughter coming from drivers and passengers alike as the racers when motoring by.
Our Sport Edition shocks proved to be an excellent choice, and soaked up some of the bigger landings that we dared to try with just a slight bounce from the weight of the fully intact bed. Of course, they had their limits, and we were careful not to push those limits too far during our race. We were also grateful for the harnesses and neck roll we were using, as we got a little out of shape on some of the more technical portions of the track (i.e. the whoops!) and things got a bit rough at times! The spacers we had installed were very noticeable, particularly on a difficult, off-camber turn found at the front of the course. We were able to take that corner just a little bit harder than the Rhinos that didn't have spacers, and this helped to keep us in the lead.
Our stock motor was able to power out of all but the tightest of corners without any issues, and the only time we noticed our stock CDI was on the long straight in the back, where we would hit our rev limiter just before a huge downhill table. Four-wheel drive was a great choice for this race, and we realized how much of a difference it made after switching into two-wheel drive for one lap. While four-wheel drive is harder on the front diff, it not only helped with traction and turning, but it helped to keep our Rhino tracking straight after some harsh landings as well.
Racing stock Rhinos is not only about keeping up your momentum in order to be fast, it's about driving smooth and keeping your machine intact (and upright!) throughout the race. Over-jumping, landing on or off the gas, and jarring your drive train too much can lead to problems as well as time lost per lap, so it's important to race not only a fast, smooth race, but a smart one as well. Wrestling a stock Rhino around a full MX track is a challenge in itself, but when you toss in another ten or twelve racers on that same track all looking to get to the front – well…..then you have some real fun!
Our project Rhino performed extremely well throughout the season, winning a spot on the podium at every round, and bringing home a championship in the Stock Rhino class at the end of the series. After such a great run, we knew it was time to step it up, and decided to take our little stock racer to an entirely new level – yes, that's right – the PRO level! With our eye on the huge Pro/Mod UTVC class in the Championship Off Road Racing Series, we pulled our sturdy little blue stocker into the shop at Weller Racing one last time, and began its transformation into one of the coolest Pro racing Rhinos in the country. Keep your eye out for that story in the coming weeks. Published February 25th, 2009 12:11 PM
Top Brands
Popular Articles