1 View
2009 Yamaha Rhino 700 FI Sport Edition Review
June 17th, 2015 4:48 PM
Share
This Rhino can take as much as you can dish out
It's been three months since Yamaha launched a free repair program for all Rhino models which included adding two-inch spacers on each of the rear wheels and removing the rear anti-sway bar. To prove that these repairs did nothing to take away from the Rhino's off-road capability, we were invited to the San Bernardino Forest in southern California to test out the 2009 Yamaha Rhino 700 FI Sport Edition for ourselves.
Oftentimes when a manufacturer invites the media out to test drive a new vehicle we don't end up getting a great deal of seat time as we're focused on getting pictures and talking to the people who helped design it. Also, because they don't want to put us or their expensive machines in harm's way manufacturers sometimes avoid the gnarliest terrain. To Yamaha's credit, this was absolutely not the case this time.
We were led on a near 80-mile trek that had our adrenaline pumping and at times tested our resolve. We beat the holy hell out of our Rhino 700 to see exactly what it was capable of. At the end of our ride our bodies ached and we were completely exhausted, but we came away wholly impressed.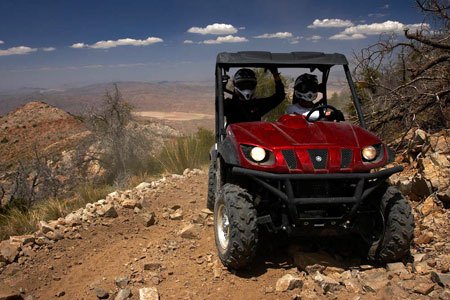 We threw everything we could think of at the Rhino 700 FI Sport Edition.
Why the Changes
Rhino Safety Recommendations
• Drivers must be 16 years or older and have a valid motor vehicle license. Children under 16 should never drive a Rhino.
• To ride in a Rhino, a passenger must be tall enough to place both feet flat on the floorboard with his or her back against the seat back and be able to reach the passenger hand holds.
• Driver and passenger should always wear seatbelts and protective gear/clothing including: Helmet, Eye protection, Gloves, Over-the-ankle boots, Long sleeves and Long pants.
• Drivers and passengers should stay completely inside the vehicle at all times.
• Rhinos are designed for off-road use only. They should never be operated on public roads or paved surfaces.
• As with any motor vehicle, safety features are no substitute for driving responsibly. Avoid aggressive or reckless use of the Rhino.
• For more safety recommendations, visit
ROHVA.org
.
The vast majority of responsible Rhino owners, enthusiasts and most everybody associated with the popular side-by-sides that we talk to really didn't feel like adding the spacers and removing the anti-sway bar was a necessity. If you ride the Rhino like you're supposed to, your chance of tipping over and injuring yourself is not particularly high – certainly not noticeably higher than other sporty side-by-sides. Of course, we don't always ride off-road vehicles like we're supposed to, do we?
"If you ride the Rhino like you're supposed to, your chance of tipping over and injuring yourself is not particularly high…"
We'll get more in depth on this in a future article, but suffice it to say a small percentage (Yamaha says far less than 1 percent) of Rhino customers were involved in rollovers with serious consequences. It didn't take long for plaintiff attorneys to take notice and start looking for money/clients in every way possible (billboards, Google ads, television commercials) and tried to get the Consumer Product Safety Commission (CPSC) to issue a recall. After looking at a number of accident reports the CPSC (much to the chagrin of the plaintiff attorneys) couldn't find anything that warranted a recall. In fact, in nearly all the cases the CPSC looked in which somebody was killed (96%) the victim either wasn't wearing a helmet or was doing at least one warned against act (no seatbelt, driving on paved road, driving under the influence, no driver's license, too young, too small, etc.).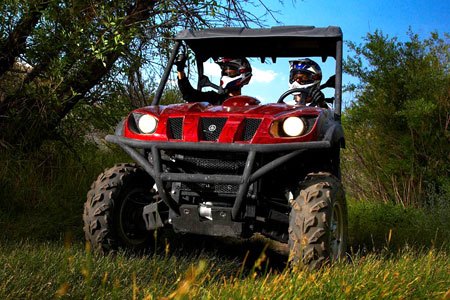 A Rhino is an adult-sized vehicle with power that demands your respect. If you drive with a little care and follow Yamaha's safety recommendations you're as safe in a Rhino as you are in any other adult sized ATV or side-by-side.
The CPSC, in cooperation with Yamaha, did decide to issue a free repair program for the Rhino 450 and 660 and Yamaha included the Rhino 700 on its own. The CPSC believes these modifications "may help reduce the chance of rollover and improve vehicle handling in certain situations."
Still a Rhino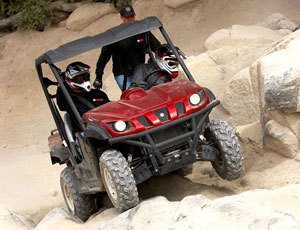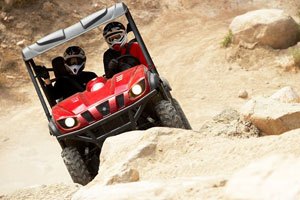 The Rhino handles rock climbing like a champ.
Yamaha's ultimate goal for inviting us to ride its modified side-by-side was to show us that it is still a Rhino. Yamaha didn't want the changes to turn the Rhino into something else – either closer to a competitor's unit or just plain less capable. After almost 80 miles of rocks, roots, water and dirt we can indeed assure you that this Rhino is still, well, a Rhino.
The Rhino is powered by a 686cc liquid cooled, fuel injected engine. We spent our day riding between 5,000 and 7,500 feet above sea level and didn't have a hint of trouble. Because of the lower levels of oxygen at that altitude you will lose some power, but for the trial riding we were doing it was not particularly noticeable.
Throttle response was instant and felt nice and torquey in the low end. That low-end power came in very handy throughout the day, especially when we were led over the toughest rock crawling section we've ever attempted in a side-by-side. We're far from true rock crawling aficionados, but fortunately Yamaha Testing Supervisor Pat Bilosi was there to show us the right lines. From the driver's seat some of these lines were concerning, but with a little faith, four-wheel drive, a fully locked differential and a press of the gas we got over everything without incident. We wouldn't try it again on our own, but pushing the Rhino to the edge and coming through with a rapid heartbeat and big smile was an experience to remember.
Not every trail was as butterfly-inducing as the rock crawling section, so we did get a few chances to pin the pedal and burn up some quicker trails. While four-wheel drive offers a little more confidence in the rough stuff, we prefer two-wheel drive for fast trail riding. It really frees up the back end to slide around corners and kick up some dust.
Yamaha has a speed limiter on the Rhino 700 models set at about 40 mph. If you're riding around tight, wooded trails or getting some work done on your property this is more than enough speed. However, for wide open desert riding or other high-speed applications this might be somewhat limiting. No need to fear, though, as a visit to a forum like Rhinotalk.net will help you find a solution or lead you to any number of aftermarket companies that can help you uncork your Rhino in a heartbeat.
It's obvious the engine has a lot more speed to give, but Yamaha has the limiter on for a reason – the faster you go the more likely you are to get into trouble. If you decide to uncork your Rhino you're doing so at your own risk.
Comfort, Safety & Other Features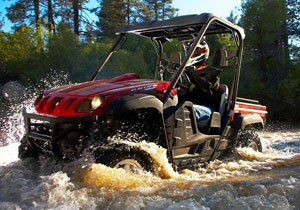 The doors help keep your feet inside and water and trial debris outside.
After such a long, grueling day it's safe to say the Rhino provides a reasonably comfortable ride. The seat provides good support and we didn't suffer from "numb butt" at any point. Our only gripe is the seat belt would dig into our shoulder, but that may have been the result of aggressive driving. Still, one day we'd like to see somebody offer a four or five-point harness on a "Sport" specific unit.
Doors come standard on Rhino 700 models and they come in handy. They help keep your feet from sliding out and trail debris from getting in. Yamaha offers a free door program for any Rhino that didn't come with them from the factory so if you've got an older model you should take advantage.
A digital instrument panel with multi-function LCD display provides everything you need, including an easy to read fuel gauge, speedometer and duel trip meters.
Though it's not nearly as fun as being behind the wheel, we did spend some time in the passenger seat to get a different perspective. So long as you've got a driver you trust, being a passenger is pretty relaxing. The center-mounted passenger handhold might be our favorite outside of the T-shaped bar on the Polaris Ranger RZR.
Sport Package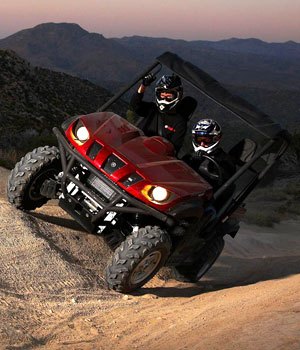 Opting for the roof, aluminum wheels and upgraded suspension of the Sport Edition makes a big difference.
Our Sport Edition proved to be an awesome trail riding companion. With an MSRP of $12,699, the Sport Edition will set you back $1,700 more than the base Rhino 700. For that you get fully adjustble piggyback shocks, aluminum wheels and a host of other upgrades.
The shocks were great for hammering through rocky, rutted out trails at high speed and crawling over huge rocks at a much slower pace. Despite taking a great deal of abuse, the one-piece cast aluminum wheels were certainly up to the challenge. Though we started out taking care to hit rocks head on and avoid any unnecessary damage, as the day progressed we were far less vigilant and started shredding through rocky fields with reckless abandon. The wheels and tires did not make it through the entire ride completely unscathed, but we can't think of any product that would have fared any better.
The Sport Edition also includes an injected-molded sun top, which was ideal for keeping the hot July sun off our necks. Also, a Baja-inspired front carry bar, red water-dipped body, dealer-installed LED tail lights, steering wheel cover, custom shift knob, over fenders, and black bed rails help set the Sport Edition apart.
One thing we'd add to the Rhino Sport Edition and every other Rhino is a more durable skid plate/underbody protection. This is not a big issue for desert riders, but for those of you who like tighter, more technical trails this is important. Admittedly we really put an abnormal pounding on our test unit, but the plastic skid plate didn't last long. GYTR manufactures a number of protection items that would make a world of difference, including a Baja Front Bash Plate ($150.95) that would be perfect for the Sport Edition. Aftermarket companies like DG Performance sell similar products that would no doubt help keep your Rhino safe, especially in conditions like we encountered.
Conclusion
It may not be as sporty as the Polaris Ranger RSR S, as fast as the Arctic Cat Prowler 1000 H2 XTZ, or possess the utility of a Kawasaki Mule, but the Yamaha Rhino 700 FI Sport Edition is among the most versatile side-by-sides available. The Rhino was the first of its kind and it's still a force to be reckoned with.
Related Reading
Yamaha offers free repairs for Rhinos
Yamaha starts Rhino website
2008 Yamaha Rhino 700 FI Review
2008 Yamaha Rhino 450 4×4 Review
Published July 7th, 2009 4:52 PM
Top Brands
Popular Articles