2 Views
2009 Kawasaki Teryx 750 FI 4×4 Preview
June 17th, 2015 5:09 PM
Share
Fuel injection and new sport models added to Teryx line
Just released in 2008, the Teryx 750 4×4 received great reviews from just about everybody who rode it. Kawasaki, however, didn't spend much time resting on the laurels of its sporty side-by-side and started working on making improvements for 2009.
ATV.com had a chance to put the 2008 Teryx through its paces and we loved almost everything about it. Fuel injection and digital gauges were really our only concerns and Kawasaki addressed both of those and more with the 2009 Teryx.
One of the keys to the Teryx's success last year was the mid-mounted 749cc 90-degree V-Twin engine. With the addition of digital fuel injection, Kawasaki says the already powerful engine has more performance and utility and is quicker revving than ever, giving it an edge over its rivals.
Though much of the character of the V-Twin was left untouched, Kawasaki did alter the ignition timing to boost low and mid-range torque and improve response at higher rpm.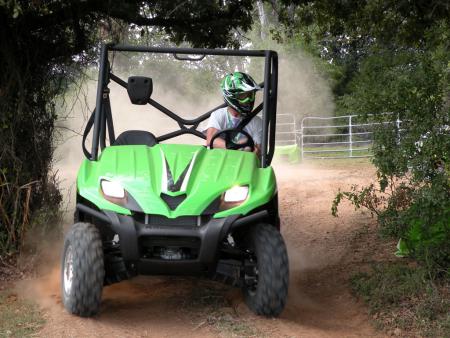 Kawasaki made major upgrades to the Teryx for 2009.
We got to spend a short time riding the 2009 Teryx and you could readily feel the difference fuel injection makes. Acceleration was the most noticeable improvement. As soon as you step on the gas you can feel the Teryx jump to life. It's difficult to say without a side-by-side comparison, but acceleration seemed on par with the Polaris Ranger RZR. A longer ride will tell us a lot more, but this feels like a very impressive machine.
The addition of fuel injection gives the Teryx noticeably better acceleration.
Kawasaki's continuously variable transmission (CVT) also received some changes. Both the intake and exhaust cooling ducts were revised to help prevent water or mud from finding its way to the drive belt area. Kawasaki says the new intake duct helps air flow into the CVT more effectively for better cooling while the intake air temperature is reduced due to heat shielding on the exhaust pipe located below the intake duct.
Improved acceleration and low-end torque should make for better climbing capability.
Throttle position sensor (TPS) data was added to the CVT belt protection system's sensor inputs. Gear sensor, vehicle speed (measured from rear wheel) and engine speed inputs aid in preventing tire freewheel and, according to Kawasaki, offer upgraded rock section performance with less belt overloading. For example, should the rear wheels become immobilized and the belt is slipping, Kawasaki says the system will automatically retard ignition timing and a belt warning lamp will begin flashing to warn the rider of the problem.
What stood out most for us on the original Teryx was the fantastic suspension. For a stock setup, it was very impressive, but Kawasaki did some tinkering there as well. The adjustable Kayaba gas-charged shocks have revised settings and a new stabilizer bar and Kawasaki says this will improve the ride quality.
It seems like a small change, but including a multi-function digital meter on the base Teryx gets a big 'thumbs up' from us. Also, the digital meter, which was available on the limited edition model, didn't include a fuel gauge last year and that has been added for 2009.
Gas-assisted tilting cargo bed is now standard across the Teryx line.
Another limited edition feature that has made its way to the standard model is the gas-assisted tilting cargo bed. Like the 2008 model, the Teryx bed has a 500-pound capacity, a cargo net and tie-down hooks in all four corners.
As nice as all of these upgrades are, there is a cost to the consumer. The base 2009 Teryx 750 FI 4×4 will retail for $10,899, which is $1,200 more than the 2008 version. However, when you consider that it now has fuel injection, digital gauges, tilting cargo bed and other improvements, as well as the increasing cost of raw materials like steel, the price is not out of line. In fact, the Teryx 750 FI 4×4, Yamaha Rhino 700 FI Auto 4×4, Polaris Ranger RZR and Polaris Ranger XP are all within $200 of each other. With all the major side-by-sides basically costing the same, price is no longer a deciding factor for the consumer – it's all about which vehicle they like best.
The limited edition Teryx ($11,599) is back for 2009, but the only difference between it and the base model now are dual retractable cup holders, a sun top cover, half-windshield and new painted graphics.
Hunters should be happy to see the return of the NRA Outdoors Teryx.
Also returning to the Teryx lineup are the limited edition Camo ($11,849) and the NRA Outdoors ($12,149) versions, as well as two new incarnations – the Teryx Sport ($11,899) and the Teryx Sport Monster Energy ($12,199).
Both Sport editions feature the same engine and body of the base Teryx, but come upgraded with fully adjustable, high performance suspension components and cast aluminum wheels. Kawasaki says the aluminum wheels reduce unsprung weight by about two pounds each and offer an increase in strength
The Teryx Sport Monster Energy features upgraded suspension components and a very nice black and green paint scheme.
Front and rear Kayaba shocks are aluminum bodied, gas-charged units with piggy-back reservoirs, which Kawasaki says reduces the tendency of the oil to froth under hard conditions. They provide adjustable preload and fully adjustable rebound and compression damping. This suspension is all about sport and Kawasaki is not afraid to point out that low-speed comfort was not a main design priority.
"The Sport's higher-grade suspension component's superior ability to soak up bumps translates to increased control and enhanced comfort on the trail," Kawasaki says in a release.
The Teryx Sport features a slick-looking lime green color scheme with black accents, while the Teryx Monster Energy takes it a step further with black bodywork and wheels and Monster Energy graphics.
2009 Kawasaki Teryx 750 FI 4×4 Specs
Engine:
Liquid-cooled, 90-degree, four-stroke V-twin
Valve System:
SOHC, four valves per cylinder
Displacement:
749cc
Starting System:
Electric
Bore x Stroke:
85 x 66 mm
Compression Ratio:
8.8:1
Fuel Delivery:
2 x Mikuni 34 mm throttle bodies
Ignition:
Digital DC-CDI
Transmission:
Continuously variable belt-drive transmission with high and low range, plus reverse, and Kawasaki Engine Brake Control
Final Drive:
Selectable four-wheel drive with Variable Front Differential Control, shaft
Frame:
Large diameter, thin-walled, high-tensile tubular steel
Front Suspension:
Adjustable dual A-arm with gas charged shocks / 7.5 in.
Rear Suspension:
Adjustable Independent Rear Suspension (IRS) with gas charged, reservoir shocks / 7.5 in.
Front Brakes:
Dual hydraulic discs with 2-piston calipers
Rear Brake:
Sealed, oil-bathed, multi-disc
Front Tires:
Maxxis 26×8-12
Rear Tires:
Maxxis 26×10-12
Length/Width/Height:
116.4 x 58.5 x 75.7 in
Curb Weight:
1,387 lbs
Wheelbase:
79.6 in
Ground Clearance:
11.7 in
Fuel Capacity:
7.4 US gal.
Lighting:
(2) 40W headlights, (2) 8W taillight, 27W stoplight
Cargo Bed Capacity:
500 lbs, 44.2 W x 32.7 L x 11.1 in. H
Towing Capacity:
1300 lbs
Instruments:
Multi-Function Digital Meter with speedometer, fuel gauge, clock hour meter, odometer, dual trip meter and parking brake, R/N/P/4WD, water temp and oil pressure indicators
Colors:
Sunbeam Red
MSRP:
$10,899
Related Reading:
2008 Kawasaki Teryx 750 4×4 Review
Published September 22nd, 2008 1:37 PM
Top Brands
Popular Articles