1 View
2012 Polaris Limited Edition ATVs and Side-by-Sides
June 17th, 2015 4:03 PM
Share
Polaris unveils 23 LE models for 2012
Polaris always seems to be pretty busy this time of year. It was just a short time ago that the Minnesota-based manufacturer released its 2012 ATV and Ranger Lineup. We attended the 2012 model introduction in Northern Ontario, Canada and had an opportunity to inspect the latest and greatest Polaris models.
Two brand new vehicles have already been released for 2012 – the Ranger Diesel Crew and Ranger RZR 570 – and many of the remaining machines saw performance or storage updates as well. It seems that Polaris is always trying to improve its product.
Of course, some consumers want to take things to next level with unique ATV accessories and parts and Polaris is a willing partner as its 2012 Limited Edition ATVs and Rangers attest. The 2012 Limited Edition Lineup includes a whopping 24 machines – six ATV models, nine Ranger models and nine RZR models.
Additional features on the limited edition model include:
* Photo-realistic Polaris Pursuit Camo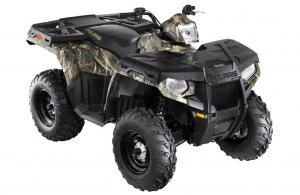 * Engine Braking System (EBS)
* Kenda K590 25-inch tires
Available July 2011
2012 Sportsman XP 850 H.O./550 EPS – Orange Madness
Additional features on the limited edition model include:
* Orange Madness automotive-style paint
* Black Carbon Fiber pattern side panels
* Custom cut & sew Orange and Black seat
* Color-matched painted front and rear suspension springs
* Electronic Power Steering (EPS)
* Lock & Ride front storage box
* 14-inch machined black cast aluminum wheels with Carlisle AT 489 II tires
Available October 2011
2012 Sportsman XP® 850 H.O./550 EPS – Browning Polaris Pursuit Camo
Additional features on the limited edition model include:
* Photo-realistic Polaris Pursuit Camo
* Electronic Power Steering (EPS)
* Rear work lights
* Rear rack extender
* Hand/thumb warmers
* 2500 lb. winch
* Lock & Ride gun scabbard
* 14-inch Polaris Pursuit Camo steel wheels with Carlisle AT 489 II tires
Available July 2011
2012 Sportsman Touring 850 H.O EPS – Bronze Mist
Additional features on the limited edition model include:
* Bronze Mist automotive-style paint
* Driver handguards
* Driver hand and thumb warmers
* Passenger hand warmers
* Mirrors
* Polaris 2500 lb winch
* Rear storage box
* 14-inch machined black cast aluminum wheels with Carlisle AT 489 II tires
Available August 2011
2012 Ranger 500 EFI – Sunset Red
Additional features on the limited edition model include:
* Sunset Red painted hood with custom-matched side decals
* Custom decal accent package
* Turbo Silver painted front and rear suspension springs
* Custom cut & sew stitched Black and Sunset Red deluxe seats
* 12-inch Black Crusher rims with Carlisle 489 tires
Available August 2011
2012 Ranger XP 800 – Magnetic Metallic
Additional features on the limited edition model include:
* Magnetic Metallic painted hood, dash and glove box with custom matched side decals
* Custom decal accent package
* Turbo Silver painted front and rear suspension springs
* Custom cut & sew stitched Black and Magnetic Metallic deluxe seats
* 12-inch black Crusher rims with PXT tires
Available July 2011
2012 Ranger XP 800 – Boardwalk Blue
Additional features on the limited edition model include:
* Boardwalk Blue painted hood, dash and glove box with custom matched side decals
* Custom decal accent package
* Turbo Silver painted front and rear suspension springs
* Custom cut & sew stitched Black and Boardwalk Blue deluxe seats
* 12-inch black Crusher rims with PXT tires
Available July 2011
2012 Ranger XP 800 – Pearl White
Additional features on the limited edition model include:
* Pearl White painted hood, dash and glove box with custom matched side decals
* Custom decal accent package
* Bright White painted front and rear suspension springs
* Custom cut & sew stitched Black and Pearl White deluxe seats
* 12-inch black Crusher rims with PXT tires
Available July 2011
2012 Ranger XP 800 – Walker Evans
Additional features on the limited edition model include:
* Premium Walker Evans shock package
* Black Metallic and Indy Red painted hood, dash and glove box with custom matched side decals
* Custom Walker Evans graphic package
* Passenger Indy Red painted front and rear suspension springs
* Custom cut & sew stitched Black and Indy Red deluxe seats
* 12-inch black Crusher rims with PXT tires
Available August 2011
2012 Ranger XP 800 XP EPS – Sunset Red
Additional features on the limited edition model include:
* Electronic Power Steering (EPS)
* Sunset Red painted hood, dash and glove box with custom matched side decals
* Custom decal accent package
* Turbo Silver painted front and rear suspension springs
* Custom cut & sew stitched Black and Sunset Red deluxe seats
* 12″ black Crusher rims with PXT tires
Available August 2011
2012 Ranger XP 800 EPS – Browning Edition with Pursuit Camo
Additional features on the limited edition model include:
* Electronic Power Steering (EPS)
* Exclusive Browning Edition Ranger with Pursuit camo hood, dash and glove box with custom-matched side decals
* Factory Installed Polaris 4500 lb. winch
* Dual Lock & Ride black gun scabbards, positioned above bed
* Custom cut & sew Browning seat with Buck Mark decal
* Matte Black steel rims with Polaris PXT tires
Available July 2011
2012 Ranger Crew 500 – Turbo Silver
Additional features on the limited edition model include:
* Turbo Silver painted hood with custom matched side decals
* Custom decal accent package
* Turbo Silver painted front and rear suspension springs
* Custom cut & sew stitched Black and Turbo Silver deluxe seats
* 12″ Black Crusher rims with Carlise 489 tires
Available August 2011
2012 Ranger Crew 800 EPS – Sandstone
Additional features on the limited edition model include:
* Electronic Power Steering (EPS)
* Sandstone painted hood, dash and glove box with custom matched side decals
* Custom Matte Black decal accent package
* Turbo Silver painted front and rear suspension springs
* Custom cut & sew stitched Black and Sandstone deluxe seats
* 12″ Black Crusher rims with PXT tires
Available July 2011
2012 Ranger RZR 800 – White Lightning/Red
Additional features on the limited edition model include:
* White Lightning painted dash and rear panels with Indy Red painted hood
* Custom Rally graphics package
* Color-matched painted front and rear suspension springs
* Custom cut & sew stitched Black and Indy Red seats with RZR emblem
* Maxxis tires on 12″ Black Crusher rims
Available July 2011
2012 Ranger RZR 800 – Magnetic Metallic
Additional features on the limited edition model include:
* Magnetic Metallic painted dash and rear panels with Liquid Silver painted hood
* Custom Rally graphics package
* Custom cut & sew stitched Black and Liquid Silver seats with RZR emblem
* Color-matched front and rear suspension springs
* Maxxis tires on 12″ Black Crusher rims
Available July 2011
2012 Ranger RZR 800 EPS – Boardwalk Blue
Additional features on the limited edition model include:
* Electronic Power Steering (EPS)
* Boardwalk Blue painted dash and rear panels with White Lightning painted hood
* Custom Rally graphics package
* Custom cut & sew three-color stitched Black, Blue and White seats with RZR emblem
* Color-matched front and rear suspension springs
* Premium Walker Evans Shock Package
* Maxxis tires on 12″ Black Crusher rims
Available July 2011
2012 Ranger RZR S 800 – White/Orange Madness
Additional features on the limited edition model include:
* White Lightning painted dash with Gloss Black painted hood and rear panels
* Custom three-color cut & sew stitched Black, Orange and White seats with RZR emblem
* Color-matched painted front and rear suspension springs
* Whtie Lightning painted control arms
* Premium Fox Podium X shocks
* Maxxis® Bighorn tires on 12″ black Crusher rims
Available August 2011
2012 Ranger RZR S 800 – Liquid Silver/Red
Additional features on the limited edition model include:
* Liquid Silver painted dash and rear panels with Indy Red painted hood
* Custom graphics package
* Custom cut & sew stitched Black and Indy Red seats with Red RZR emblem
* Color-matched front and rear suspension springs
* Premium Fox Podium X shocks
* Maxxis Bighorn® tires on 12" Black Crusher rims
Available August 2011
2012 Ranger RZR 4 800 EPS – White/Orange Madness Robby Gordon
Additional features on the limited edition model include:
* Electronic Power Steering (EPS)
* White Lightning painted dash with Gloss Black painted hood and rear panels
* Custom three-color cut & sew stitched Black, Orange and White seats with RZR emblem
* Color-matched painted front and rear suspension springs
* White Lightning painted control arms
* ITP 900 XCT tires on 12" Black Bruiser rims
Available August 2011
2012 Ranger RZR XP 900 – White Lightning
Additional features on the limited edition model include:
* White Lightning dash and Black painted hood
* Custom Xtreme graphics package
* Custom two-color cut & sew White and Black seats with RZR emblem
* Maxxis Bighorn tires on 12″ black Bruiser rims
Available July 2011
2012 Ranger RZR XP 900 – Black/Orange Madness
Additional features on the limited edition model include:
* Metallic Black dash and Orange Madness painted hood
* Custom graphics package
* Custom three-color cut & sew White, Orange and Black seats with RZR emblem
* White Lightning painted control and trailing arms
* Color-matched Orange Madness front and rear fenders
* Maxxis Bighorn tires on 12″ black Bruiser rims
Available August 2011
2012 Ranger RZR 170 – Polaris Pursuit Camo
Additional features on the limited edition model include:
* Photo-realistic Polaris Pursuit Camo
Published August 4th, 2011 8:52 AM