38 Views
2011 Polaris Sportsman Touring 850 EPS
June 17th, 2015 4:08 PM
Share
We're committed to finding, researching, and recommending the best products. We earn commissions from purchases you make using links in our articles. Learn more here
Flagship 2-up ATV returns with enhanced comfort and other upgrades
Polaris calls the 2011 Sportsman 850 Touring model its most powerful, and the industry's most comfortable, two-rider ATV. That may seem like a bold statement, but when you factor in the amount of changes (at least 10) for the New Year, it may be more fact than fluff. We didn't compare the 850 Touring model to other two-ups in the market to validate that claim, but we did get some valuable seat time on the reconfigured, purpose-built machine.
Before we get too far into this review, we must point out that the 850 may be designed for two riders, but it's also a very competent and comfortable single-rider machine. And for 2011, Polaris engineers made some key changes to its design to make it even more capable (and versatile) for both one and two riders. Here's a closer look at the 2011 changes.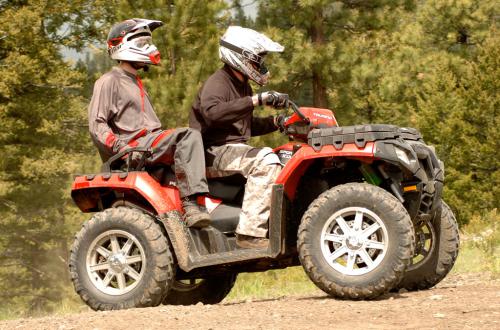 2011 Polaris Sportsman Touring EPS
New For 2011
• Larger fuel tank (5.25 gal.)
• LuK engine coupler
• Front mount electrical center for easy access and improved weight bias
• Digital/analog gauge
• Lock & Ride rear storage box accessory (in place of Pass. Seat)
• New Rear Suspension (10.25 in/26 cm travel)
• Passenger seat base design-improved comfort and stability
• Comfort ride-improved passenger spring and shock control
• Lock & Ride passenger handgrips removable for one-up operation
• Starting at $10,999
Engine/Transmission/Drivetrain
With a claimed 70 horsepower on tap, the Sportsman 850 Touring offers plenty of get-up-and-go for two.
The Sportsman Touring 850, which took on its new look in 2010 and is based off the Sportsman XP chassis changes, still features the same, proven liquid-cooled 798cc SOHC four-stroke powerplant and automatic transmission. The Polaris-made twin-cylinder mill can pump out a claimed 70 hp and entertain throughout the powerband. A LuK engine coupler was added this year to improve the drivetrain's durability and efficiency. The only minor complaint with this part of the machine was the look of the aluminum exhaust shield. Though effective, it seemed "cheap" for such a flagship model.
The Polaris Variable Transmission includes both low and high range as well as reverse, which was ideal for a machine of this much capability, maneuverability and versatility. To add to the entire package, Polaris included its top-of-the-line Engine Braking System with Active Descent Control feature. For us, these features are essential for two-up models where the driver is also responsible for the safety of his/her passenger.
Another change was made to the EPS motor. Polaris engineers repositioned it to allow for a larger fuel capacity — up 17 percent to 5.25 gallons from 4.5 gallons. The EPS system is variable, which means it adjusts the level of assist as speeds increase and decrease. The faster you go, the system supplies less assistance. For slow-speed situations, you'll notice more aid and an easier steering effort. Polaris also touts its EPS as having 30 percent more power assist than the competition.
The Polaris Touring model also features the On-Demand All-Wheel-Drive. This system is very simple to engage and much more than a limited-slip design as all four tires can pull the quad through difficult terrain. If you choose to run it in AWD, the front wheels will pull more when the rear wheels lose traction.
Suspension/Wheels/Tires Braking
Cast aluminum wheels and 26-inch Maxxis tires help add to the high-end feel of this unit.
The Touring 850 features the same double A-arm front suspension with anti-kickback configuration as the 850 XP, but received a tad more travel on the rear. The rear shocks now have 10.25 inches of travel, up a ¼ inch to match the XP. The rear end setup is called a rolled IRS, which, put simply, means the rear shocks point more rearward (not straight up and down) and thus have less squat during acceleration.
Cast aluminum wheels and Maxxis tires is one of the most attractive and competent combinations in the industry! The 14-inch wheels not only reduce unsprung weight, they also give this two-up a classier look to go with the higher-grade 26-inch Maxxis tires and luxury-like appearance.
Polaris makes it simple to stop its big two-up ATV. A single-lever hand brake on the left side of the handlebar controls all four hydraulic disc brakes (read: both front and rear). For those who prefer to slow the Sportsman with the rear brakes alone, a foot brake pedal is integrated to the right floorboard.
Ergonomics/Miscellaneous
The multi-position passenger handholds, along with the passenger seat, are removable for one-up riding.
This model received the most upgrades, most of which improve passenger comfort, in the ergonomics department. First, the passenger seat's base design was made more comfortable and more stable. Second, the exclusive Comfort Ride Suspension's spring and shock control was updated. Third, the passenger handholds are removable (as is the seat) to accommodate single-rider use or when replaced with the new rear storage box accessory. Also, both the rear footrests and the passenger handholds feature a soft, vibration-absorbing material for enhanced comfort. Finally, two other changes were to the 850's electrical system and its appearance. This included a new front mount electrical center for easier access and an improved weight bias as well as a redesigned digital/analog gauge.
Despite the fact that the Touring model is just three inches longer, 25 pounds heavier and has a four-inch longer wheelbase than the 850 XP, it's extremely spacious and obviously has a larger feel. The Touring 850 is not only roomy, but it's also strong with a combined rack capacity of 360 pounds (120/240 front/rear) and a 1,500-pound hitch tow rating from its 1.25-inch receiver.
This model is available in Boardwalk Blue and Indy Red as well as a Limited Edition Super Graphite Metallic ($11,999) that includes a winch, hand guards, storage box, Carlisle 489 II tires on machine black cast aluminum wheels and heated grips for the driver and passenger, among other upgrades.
From The Driver
Whether riding alone or with a passenger, the Sportsman Touring 850 will have you riding in comfort and style.
The Sportsman Touring 850 didn't feel that much different than the single-rider Sportsman 850, but clearly its longer wheelbase, rear suspension and overall weight contribute to a slightly different handling and ride. Can it still be ridden aggressively and in challenging terrain? Yes! Another bonus is this machine's narrow midsection, which not only improves the driver's comfort, but also gives it a sportier feel, even for a big fella!
"For me, as the driver of a two-up machine, it's easy to forget there's someone behind you," stated a tester, "and I attribute that to this machine's overall space and comfort. I love its wide, useable floorboards and narrow center. However, my butt hit the raised passenger seat a few times when I scooted rearward to adjust for the steeper slopes. Was this an issue? No. It was just something you don't encounter when riding alone on a machine made for one rider. However, at least the machine has the ability to swap out the rear seat and become a one-up model."
The strong engine, even in this larger platform excels for single-rider work and play. It's also very stout for two-rider touring and high-speed exploration. "The Sportsman has good power, and low range, and can entertain riders who need it for work or play," a tester said. "When you combine that muscle and a very plush suspension with the reliability of EFI, light throttle and the steering ease created by the EPS, this quad takes comfort to the next level."
The Sportsman Touring 850 seems to be the ideal offering for a consumer who still yearns for the freedom and maneuverability of a traditional ATV, but also needs the two-person transportation skills of a UTV. "With this model, Polaris has a machine for every conceivable buyer," exclaimed a tester. "It's a huge deal to give the buyer the ability to own two models in one."
The rear suspension seat feels nearly as comfortable as your recliner at home.
"I was pleasantly surprised by the comfort of the passenger seat. If the trail was smooth and flat enough I probably could have had a little nap," our passenger said. He also said the suspension in the seat, although comfortable, was a little too soft for his liking. "When the XP was accelerated quickly, it felt like I was going to tip right off the back of the unit as the seat moved back and down at the same time," he explained. "This was a little off putting at first until I got accustomed to it."
As a passenger, it seems better to us to have this forgiving integrated seat suspension that works with the machine's suspension. "Remember, this is a touring model, so it must provide all-day comfort," he continued. "I think the Touring 850 does just that despite the passenger 'bouncing around' more than the driver."
Our passenger said he was pleased with the amount of room he had as a passenger. "I never felt like I was crowding the pilot," he stated. "I truly appreciated the raised passenger foot holds and how I was positioned above the rider – stadium seating, if you will. The driver's vision is clearly the most important, but to be able to see over and around their helmet is a key ingredient for a comfortable passenger who wants to actively participate in the ride rather than just hang on."
Speaking of hanging on, our passenger called the Sportsman's hand holds positive. "They offered plenty of options for me to hold on and felt adequately grippy, so I never had the feeling that my hands were slipping off," he stated. "While I couldn't drink water during the ride, it was nice to have the secure cup holders for when we stopped to look at the scenery and take photos. This configuration meant no digging in a cooler bag for my water – simple but effective."
Comparable Vehicles: Polaris Sportsman 550 Touring, Arctic Cat 700 TRV GT, Arctic Cat 1000 H2 EFI TRV Cruiser, Can-Am Outlander MAX 800R EFI
Related Reading
2009 Polaris Sportsman 800 EFI Touring Review
2009 Polaris 850 XP EPS Review
2011 Polaris Ranger and ATV Lineup Preview



2009 Can-Am Outlander MAX 800R EFI XT Review



2009 Can-Am Outlander 500 MAX EFI Review Published December 7th, 2010 11:39 AM
Top Brands
Popular Articles