1 View
Can-Am ATVs and Side-by-Sides Earn Podium at 2012 Dakar
January 25th, 2012 11:02 AM
Share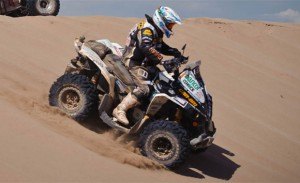 BRP's Can-Am ATV and side-by-side teams reached their respective class podiums in the 34th edition of the most famous rally in the world, the Dakar Rally.
This year's edition, noted by some as "the most challenging Dakar thus far," kicked off in Mar del Plata-Argentina, leading 30 hopeful ATV racers through approximately 9,000 kilometers (5,592 miles) of unparalleled terrains across Argentina, Chile, and finally, Peru. Only 11 teams crossed the coveted finish line, among them BRP racers Daniel Mazzucco, Barry Cruces and Petar Cenkov (Team Rally Raid / Can-Am), who finished first, second and third in the 4×4 Quad category.
"Out of my three Dakar participations, this was without a doubt the toughest," Argentinean pilot Mazzucco (Team AGO-MD / Can-Am) declared upon receiving his first-place trophy. "The ATV performed extremely well … the Renegades filled the podium on the 4×4, which was a great result! I also must commend my technical support team for providing excellent support and assistance."
Cruces, runner-up in the 4×4 Quad class for Team Nextel by Can-Am and Dakar newcomer, agreed, stating, "The Renegade did not give me any issues, and our technical team was absolutely great. Being the novice at this event, I raced at my own pace with only one goal in mind: finish the race. On many occasions, I was ready to give up, but people back home, my teammates, and their support kept me going … and I did it!"
The 2012 Dakar will forever leave its mark on side-by-side racing segment. Ten side-by-side vehicles attempted to conquer the Dakar, but only three reached the finish line in Peru. Team Nextel by Can-Am racers, and Dakar side-by-side racing pioneers, Claudio Hidalgo and Claudio Troncoso, second and third respectively, tested their off-road racing skills in the gruelling terrain in Can-Am Commander side-by-side vehicles.
"People were surprised to see this little 'car' complete the Dakar," stated second-place co-pilot Sebastian Palma. "At times we felt we were not going to make it. It was really brutal! They nicknamed us the 'Rats of the Desert' because we were impossible to put down. Coming in second and third was a great testament for the Commander side-by-side… a great accomplishment by the team considering this is was our first Dakar appearance ever."
Published January 25th, 2012 11:02 AM
Top Brands
Popular Articles