1 View
2012 Can-Am ATV and Side-by-Side Racing Team Announced
January 23rd, 2012 3:43 PM
Share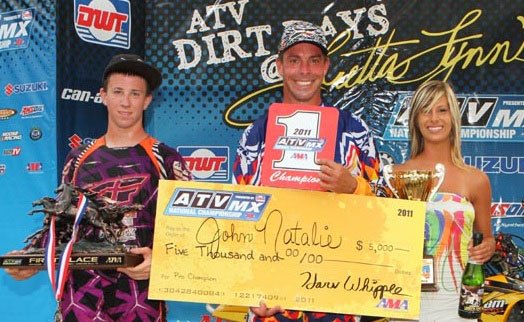 Looking to build upon its racing success in 2011 – a season that saw two Pro-class championships, two manufacturer's cup titles, several amateur-class titles and a successful debut with the Commander side-by-side racing efforts — BRP will again field a team of Can-Am racers on both ATVs and side-by-sides in off-road racing series in the U.S. and Canada in 2012.
"I'm very excited to see the start of a new season and feel very confident that our riders and teams will be very well prepared to do battle aboard their Can-Am machines, including an AMA No. 1 plate on John Natalie's DS 450," says Jimmie O'Dell, race manager, Can-Am. "Overall, I feel we have assembled a race team with talented, determined and dedicated pilots and team personnel; I'm proud to have them competing aboard our Can-Am products."
Team Motoworks / Can-Am
Team Motoworks / Can-Am and owner Johnny Leach begin their defense of the AMA ATV Motocross title with the Can-Am DS 450, offering factory support for reigning AMA ATV Pro Champion John Natalie. The 2011 Pro Rookie of the Year Joel Hetrick, who finished fifth overall and had won two overalls, was also added for the 2012 season.
Motoworks / Can-Am will also support Can-Am Grand National Cross Country XC1 Pro class racer Chris Bithell, who finished fourth in 2011 and is looking for his first GNCC ATV championship. This will be Bithell's fourth season racing under the Can-Am banner and first with Motoworks / Can-Am. Kyle Chaney will compete in all the GNCC side-by-side vehicle races for Team Motoworks / Can-Am. He will pilot the Commander 1000 X in the UTV XC1 Modified class.
In the World Off-Road Championship Series (WORCS), former champion and 2011 Pro class runner-up Josh Frederick looks to regain the No. 1 plate on his DS 450 in the ATV Pro class. He finished two points behind teammate and 2011 WORCS ATV Champion Jeremie Warnia, who will compete solely in Europe in 2012. Frederick will also expand his role with Motoworks / Can-Am by competing in a Commander side-by-side vehicle in UTV Class 1 at WORCS and also the UTV Pro class at selected races in both the Best in the Desert and SCORE series. Fellow Motoworks / Can-Am Pro class racer Dillon Zimmerman, who was sixth last year in the Pro class, will also compete full-time aboard the DS 450 in the WORCS series.
Team BCS Performance / Can-Am
Headlining Team BCS Performance / Can-Am is 2011 New England ATV Motocross Pro class runner-up Josh Creamer. The former AMA ATV MX Champion will compete aboard a Can-Am DS 450 in both the NEATV-MX series and at select AMA ATV Motocross series events. Creamer, who won five NEATV-MX Pro class events in 2011 and had the points lead going into the final race, finished just 15 points out of first place.
Team Gorilla Axle
BRP will once again support the Gorilla Axle Mud-Racing team this year. Racing the Can-Am Outlander 800R X mr, Renegade 800R ATVs and Commander 1000 side-by-side, the team will attend selected mud races and represent BRP.
Team UXC / Can-Am
Can-Am GNCC 4×4 ATV racers, Michael Swift and Cliff Beasley will represent Team UXC / Can-Am in the morning events aboard Outlander and Renegade ATVs, respectively. Swift won five rounds and finished runner-up in the 4×4 Open class. Beasley, who at one time posted 30 consecutive GNCC class victories, won the U2 class winning all but one round. This tandem also teamed with another rider to win the 2011 Heartland Challenge Pro Utility class aboard a Can-Am ATV.
X-Team
In addition to its full factory racing partnership teams, BRP offers amateur racers the ability to compete with factory Can-Am X-Team support. In the Can-Am GNCC series, 2011 4×4 Open Class Champion Bryan Buckhannon returns as a Can-am X-Team member. Buckhannon won six class overalls on his way to capturing the title. Other Can-Am X-Team members who will race in the GNCC series are 2011 4×4 Lites Champion Kevin Trantham, 2011 4×4 Senior Champion Forrest Whorton, 2011 UTV Limited Champion Team Travalena and GNCC fan-favorite and longtime Can-Am racer Mike Penland.
In the Courses VTT series in Quebec, Canada, Richard Pelchat will compete in both the MX Pro and UTV class as an X-Team member. Dave Larochelle is the other MX Pro X-Team member in the series. Another Canadian racer, DS 450 racer Eric Lamontagne, is on the X-Team and will compete in the Pro-Am ranks in the FMSQ series.
Brothers Cole and Chase Henry will each compete with Can-Am X-Team support in the AMA ATV Motocross series. Cole will run the Pro-Am Production and Pro-Am Unlimted classes aboard a DS 450. Chase also will compete in the Pro-Am Unlimited as well as the Production A class.
Another set of brothers, Cody and Hunter Miller, also will race for the Can-Am X-Team, but they will focus on two racing series (TQRA and TORN) in their home state of Texas. They will compete on the DS 450 in the Pro / Expert classes and together in a Commander side-by-side vehicle in both series.
Collins Webster, who won the 2011 WORCS Pro-Am class title, will again compete on a DS 450 in the same series for the Can-Am X-Team. Cam Reimers will race a DS 450 in the Expert class in both AMA District 22 (Iowa) and 23 (Minnesota) as a member of the Can-Am X-Team.
Three other racers earned Can-Am X-Team support for both the BITD and SCORE series in a Commander side-by-side. They are, Murray Motorsports, Michael Lansky and Cory Sappington.
Published January 23rd, 2012 3:42 PM
Top Brands
Popular Articles