1 View
Polaris Unveils More 2012 Limited Edition ATVs and Side-by-Sides
June 17th, 2015 4:03 PM
Share
More than 40 LE models now available
Though 2012 is just days old, Polaris has jumped out of the gate running. We've already seen the new Ranger RZR XP 4 900 (expect a review and video in the coming days) and now Polaris has introduced a new batch of 2012 limited edition ATVs and UTVs.
In August Polaris unveiled a whopping 24 limited edition models, so we logically thought we wouldn't see anything else until the 2013 LE vehicles rolled off the assembly line. Of course, Polaris always likes to surprise us and this was no exception. With 17 additional LE models, Polaris is now offering more than 40 variations to its already vast ATV and UTV lineup.
All the new units will be available in dealerships in February, so you won't have long to wait if you see something you like.
Additional features on the limited edition model include:
* Blue Fire automotive-style paint with Blue Fire painted front fang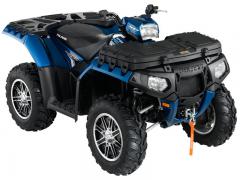 * Electronic Power Steering (EPS)
* Painted front and rear A-arms
* Painted suspension springs
* Custom Cut & Sew Black/Carbon seat
* Limited edition decal package
* Lock & Ride front storage box
* 2500 lb. winch
* 14-inch machined black cast aluminum wheels with Carlisle AT 489 II tires
2012 Sportsman Touring 850 EPS – Pearl White
Additional features on the limited edition model include:
* Pearl White automotive-style paint
* Electronic Power Steering (EPS)
* Painted front and rear A-arms
* Painted suspension springs
* Limited edition decal package
* 14-inch machined black cast aluminum wheels with Carlisle AT 489 II tires
2012 Sportsman 500 H.O. – Orange Madness
Additional features on the limited edition model include:
* Orange Madness plastic
* Limited edition decal package
* 12-inch black steel wheels with 25" Kenda K590 tires
2012 RANGER XP 800 – Black/Orange Madness
Additional features on the limited edition model include:
* Black and Orange Madness painted hood, dash and glove box with custom matched side decals
* Custom decal accent package
* Orange Madness painted front and rear suspension springs
* Custom cut & sew stitched Black and Orange Madness deluxe seats
* 12-inch black Crusher rims with PXT tires
* Electronic Power Steering model also available
2012 RANGER XP 800 – Black/White Lightning
Additional features on the limited edition model include:
* Black and White Lightning painted hood, dash and glove box with custom matched side decals
* Custom decal accent package
* Indy Red painted front and rear suspension springs
* Custom cut & sew stitched Black and White Lightning deluxe seats
* 12-inch black Crusher rims with PXT tires
* Electronic Power Steering model also available
2012 RANGER XP 800 – Sunset Red
Additional features on the limited edition model include:
* Sunset Red painted hood, dash and glove box with custom matched side decals
* Turbo Silver painted front and rear suspension springs
* Custom decal accent package
* Custom cut & sew stitched Black and Sunset Red deluxe seats
* 12″ black Crusher rims with PXT tires
* Electronic Power Steering model also available
2012 RANGER CREW 800 EPS – Pearl White
Additional features on the limited edition model include:
* Electronic Power Steering (EPS)
* Pearl White painted hood, dash and glove box with custom matched side decals
* Custom Matte Black hood accent details
* Bright White painted front and rear suspension springs
* Custom cut & sew stitched Black and Pearl White deluxe seats
* 12″ Black Crusher rims with PXT tires
2012 RANGER RZR 800 – Black/Liquid Silver
Additional features on the limited edition model include:
* Gloss Black painted dash and rear panels with Liquid Silver painted hood
* Custom graphics package
* Color matched painted front and rear suspension springs
* Custom cut & sew stitched Black and Liquid Silver seats with RZR emblem
* Maxxis tires on 12″ Black Crusher rims
2012 RANGER RZR 800 – Walker Evans
Additional features on the limited edition model include:
* Premium Walker Evans Shock Package
* White Lightning painted dash and rear panels with Gloss Black painted hood
* Custom Walker Evans graphics package
* Custom cut & sew stitched Black and Indy Red seats with RZR emblem
* Color matched front and rear suspension springs
* Maxxis tires on 12″ Black Crusher rims
2012 RANGER RZR 800 EPS – Sunset Red
Additional features on the limited edition model include:
* Electronic Power Steering (EPS)
* Sunset Red painted dash and rear panels with Liquid Silver painted hood
* Custom graphics package
* Custom cut & sew stitched Black and Liquid Silver seats with RZR emblem
* Color matched front and rear suspension springs
* Maxxis tires on 12″ Black Crusher rims
2012 RANGER RZR S 800 – Black/White/Red
Additional features on the limited edition model include:
* Gloss Black painted dash and rear panels with White Lightning painted hood
* Custom graphics package
* Custom three-color cut & sew stitched Black, Indy Red and White seats with RZR emblem
* Color matched painted front and rear suspension springs
* White Lightning painted control arms
* Maxxis Bighorn tires on 12″ black Crusher rims
2012 RANGER RZR S 800 – Orange Madness/Black
Additional features on the limited edition model include:
* Orange Madness painted dash and rear panels with Gloss Black hood
* Custom graphics package
* Custom cut & sew stitched Black and Orange Madness seats with Red RZR emblem
* Premium Fox Podium X shocks
* Color matched painted front and rear suspension springs
* Maxxis Bighorn tires on 12" Black Crusher rims
2012 RANGER RZR 4 800 EPS – Black/White/Red Robby Gordon
Additional features on the limited edition model include:
* Electronic Power Steering
* Gloss Black painted dash with White Lightning painted hood
* Custom graphics package
* Custom three-color cut & sew stitched Black, Indy Red and White seats with RZR emblem
* Color matched painted front and rear suspension springs
* White Lightning painted control arms
* Premium Fox Podium X 2.0 shocks with compression adjustment knob
* Maxxis Bighorn tires on 12″ black Crusher rims
2012 RANGER RZR XP 900 – Liquid Silver
Additional features on the limited edition model include:
* Liquid Silver painted dash with Gloss Black painted hood
* Liquid Silver painted cab frame
* Custom graphics package
* Custom two-color cut & sew White and Black seats with RZR emblem
* Color matched painted front and rear suspension springs
* White Lightning painted control arms, trailing arms and radius rods
* Premium 8-ply Baja Cross tires on 12″ Black Crusher aluminum rims
2012 RANGER RZR XP 900 EPS – Voodoo Blue
Additional features on the limited edition model include:
* Electronic Power Steering
* White Lightning painted dash with Voodoo Blue painted hood
* Custom graphics package
* Custom three-color cut & sew White, Voodoo Blue and Black seats with RZR emblem
* Color matched Voodoo Blue painted front and rear suspension springs
* White Lightning painted control arms, trailing arms and radius rods
* Premium 8-ply Baja Cross tires on 12″ Black Crusher aluminum rims
2012 RANGER RZR XP 4 900 – Liquid Silver
Additional features on the limited edition model include:
* Electronic Power Steering
* Liquid Silver painted dash with Black painted hood
* Liquid Silver painted cab frame
* Custom graphics package
* Custom two-color cut & sew White and Black seats with RZR emblem
* Color matched painted front and rear suspension springs
* White Lightning painted control arms, trailing arms and radius rods
* Maxxis Bighorn tires on 12″ black Crusher rims
Published January 11th, 2012 3:12 PM