5 Views
Dealer Expo Spotlight: O-Liminator
February 15th, 2010 11:00 AM
Share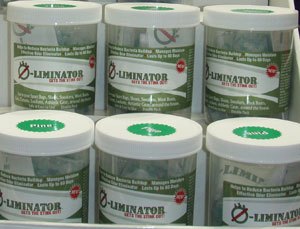 It won't make you ride faster, but O-Liminator will help your gear smell a little better.
O-Liminator was our favorite product at the Dealer Expo for under $10. For about $7, you get two pellet packs that you place in your gear bag or your boots to keep the stink out. According to the manufacturer, O-Liminator inhibits 100 percent growth of Staphylococcus (Staff) and E-coli. It helps absorb moisture and each pack lasts up to 60 days. Certainly not groundbreaking stuff, but you have to admit it would be nice have your gear smell a little less gross.
For more information, visit http://www.o-liminator.com.
Published February 15th, 2010 11:00 AM