1 View
ATV Trails: Rainbow Country's Hidden Gem [Video]
July 3rd, 2015 12:00 PM
Share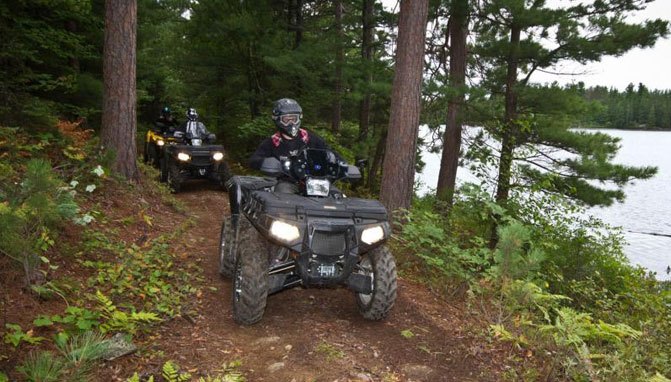 Visiting Sportsman's Lodge and its endless ATV trails
When we first rolled into the Sportsman's Lodge it was obvious to everybody that this was a special place for ATV riders. No doubt about it – this was going to be a heck of a day.
ATV riding in Ontario has a way of making you feel like you're alone in nature, far away from everything and everybody, and this was no exception. Of course, perception is often different than reality. Though Sportsman's Lodge and the surrounding trails feel secluded and light years from the bothers of city life, it's actually in the heart of Rainbow Country just a short drive from both Sudbury and North Bay (just head north on Kukagami Lake Road from Hwy. 17) and easily attainable from Toronto (take Hwy. 400 north to Hwy. 69 to Sudbury) on trailer-friendly roads.
Get the Flash Player to see this player.
We met up with our riding group as Sportsman's Lodge Owner George Robbins and his team gassed up the ATVs with the lodge's on-site fuel pump. Robbins knows the surrounding trails as well as anybody and he would act as our guide as we navigated a small portion of the available trails. Typically Robbins doesn't accompany his customers when they go on ATV rides from his lodge, but working for an ATV publication has its perks.
George Robbins (right) talks to his customers to see what type of riding they're interested in.
"I try to talk to the customer and find out really what type of riding they want," says Robbins. "Then we map them accordingly.
"It's a large area. We cover well over 1000 kilometers (621 miles) in trails and there's well over that that we don't actively use, but it's there and can be used. Some of our riders that have been up here multiple times start venturing out into these areas that I really don't map, but I can guide them to the right direction."
A huge bonus for ATV riders in this area is that the vast majority of trails are on Crown land, so you don't have to worry about private land issues. ATVs are also allowed to ride on most of the roads in the area, so it's quick and easy to get from one trail to another.
Expect to see plenty of trailside lakes and rivers when you visit Rainbow Country.
As Robbins led our group into the woods and through a variety of trails, it did not take long before we happened across our first secluded lake and the first of many stops we would make to take pictures and just enjoy our surroundings. Like so many other ATV destinations in Ontario, it's the natural beauty of this pristine wilderness that takes your breath away. Mark Hamerton, Marketing Director for the Ontario Federation of All Terrain Vehicle Clubs ( OFATV) was part of our group and he's had a chance to experience quite a lot of Ontario's ATV trails in recent months.
We rode all day without seeing another ATV rider or anybody else on the trails.
"This year I've had the opportunity to travel north to Wawa, about an hour and a half north of Sault Ste. Marie ( Algoma Country), where I was able to do a guided tour and saw some areas of the province I never knew existed and to be honest I don't think I would have come across without that guide," says Hamerton. "I've also had the opportunity to visit Haliburton this year courtesy of Back Country Tours. We had a fantastic day. My wife loved every minute of it. She got nice and muddy. They had her in all kinds of crazy situations, but made her feel very confident throughout."
Hamerton's experiences are all too familiar. Every time we go riding in Ontario we're greeted by helpful locals, impressive accommodations and amazing trails. We've had the opportunity to ride all over the United States and parts of Canada and it's awfully tough to beat what Ontario has to offer. This trip was certainly no exception.
When we weren't riding through technical, tree-lined trails we were motoring alongside lakes and rivers and whipping down old logging roads. Terrain was varied enough that the most experienced riders could challenge themselves while newer riders could comfortably and safely traverse the trails and take in the views.
As mid-day approached we stopped to eat lunch, provided by the Sportsman's Lodge, alongside the trail with a view of a winding river as our backdrop. We'll take that any day over sitting in a crowded restaurant.
Formerly a railroad, this wide, tree-lined trail is now a perfect spot for an easy ATV cruise.
After lunch we checked out even more trails, including an easy cruise down what used to be a railroad but is now a raised ATV trail. It was a good spot to kick up some rocks and have a little fun.
Unfortunately, the day eventually had to end and we made our way back to Sportsman's Lodge to load up and go home. An ATV washing station makes cleaning up a snap and if you happened to do a little damage to your machine while you were out on the trail, Robbins and his team are capable of minor repairs. That would come in handy if you planned on staying in one if the 70 beds at the lodge before heading out the next day for another ATV adventure.
Published September 30th, 2011 8:44 AM