18 Views
2019 Yamaha Wolverine X2 Review
June 6th, 2018 10:43 AM
Share
Fast Facts
Engine: 847cc Twin
Length x Width: 115 x 59.1 in.
Towing Capacity: 2000 LBS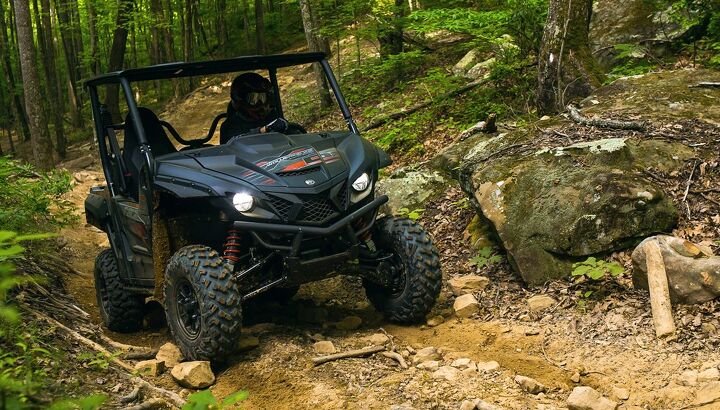 The 2019 Yamaha Wolverine X2 gets a power boost thanks to the new 847cc Twin cylinder engine originally introduced in the Wolverine X4.
"Ask and you shall receive", say the engineers at Yamaha's Newnan production facility. We knew that when the latest in Yamaha engine for off road was developed and stuffed into the Wolverine X4 platform just last year that it was only a matter of time before the mill would get into other machines. We didn't have to wait long, as Yamaha invited us to ride the brand new 2019 Yamaha Wolverine X2.
For the last few years the Wolverine R-Spec and variants have made it possible for that adventurous outdoor lover to find new ground and to conquer it. The original Wolverine set a place marker in the history of Yamaha's "realize your adventure" stance and brought even more to know what it is like to truly run into the wild with confidence. The next step in those adventures being realized is the new Yamaha Wolverine X2, which is ready for battle in the wilds of your favorite riding location. Our ride time, although brief, was spent in the Cumberland mountains at the home playground of the Brimstone Recreation crew. Made up of some of the most challenging terrain, it was a great choice by Yamaha to test this new rig against its foe.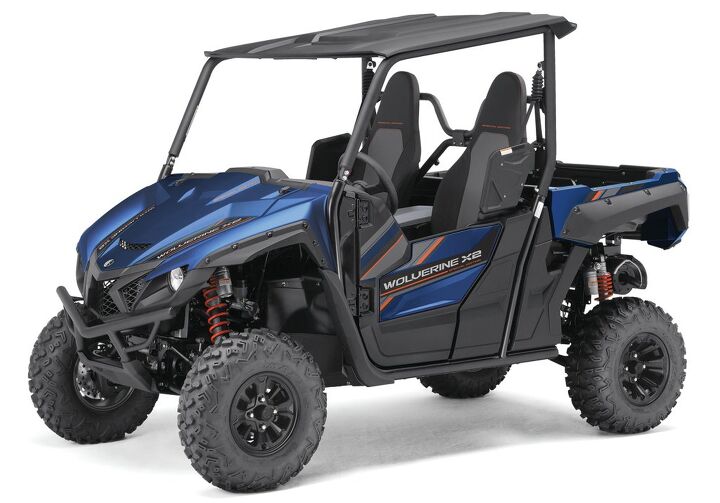 Although the weather in this middle Tennessee area had been wet, the rain did seem to hold off for most of the day. Starting with an early morning ride we each set out in the new Yamaha Wolverine X2 to try and get to know the machine. Reaching over into the door to grab the latch, we were reminded that Yamaha had done this to keep these handles from getting filled with mud as they sometimes do when mounted outside the cab. From the driver's seat it was very clear that even a six-foot tall operator could get comfortable behind the wheel. The tilt steering wheel really helps with that and raising the wheel to its highest position allows easy entry to the cab for us taller riders. Yamaha claims to have 12 degrees of adjustability, but it's clear that you have plenty of room for adjustment without looking at the spec sheet.
While seated in the cab we noticed the comfortable high back seats with side bolstering immediately. Every control and interface you need or want to have an eye or hand on is well within reach. The gated shifter and parking brake are comfortably located for easy access and both function well without any issue. That parking brake really grabs the Wolverine X2 and hangs on tight, giving us confidence in knowing that our machine would stay put even on semi-steep terrain.
This Wolverine has a dumping cargo bed. Yep, you read that correctly, Yamaha has added the dumping cargo bed for those days when there is more work planned than playtime. This bed is not only 15% longer, but it is also 16% wider for even more hauling room. It will carry a sufficient 600 lbs of cargo as well as tow up to 2000 lbs from the two-inch receiver hitch!
As I started the fuel injected 847cc twin cylinder long stroke mill up, we turned out towards the trail. For my initial impression of the new Yamaha Wolverine X2, I would say one word…quiet. It is simply amazing to me how far the off-road machines from Yamaha have come in the last few years. They achieved this low noise level with items like a closeout panel under the seats as well as improved insulation in key locations, like under the center console. Having driven all of the Side-by-Side machines from this company, I am truly impressed with its effort to make the cab a place for conversation and enjoyment for everyone inside. Yes, there is still noise, but it is so low that a normal conversation can be held with your passenger without yelling or even raising your voice. Even at trail speeds. The engine is smooth and delivers its power very fluidly. The power continues to build with plenty of torquey response and it is pretty impressive. If you have ever driven a Wolverine X4, then you know what I am talking about. Obviously, Yamaha has used its Ultra-matic CVT transmission in this new ride as it is one of the most bulletproof designs on the market today.
As we made our way up into the rocky sections of the Brimstone trails it was clear that the Wolverine X2 felt a bit narrower than the original Wolverine R-Spec. The X2 is actually 1.6 inches narrower (59 in.) in track width as well as 1.9 inches shorter in overall length (115 in.). The trail maintenance crew worked hard get the trails in order and had placed large boulders in some sections to keep the large Jeeps and unauthorized vehicles out of some trails. This is where the nimble Yamaha Wolverine X2 really shined. I wasn't sure with the initial look over the dash into that section of trail that we could make the gap, but this Wolverine X2 simply crept right through. I bet those rocks were no more than 60 inches apart.
The narrowness gives even the tightest of trees a run for the money and it is a true explorer's machine. The turning radius in the new Wolverine has also been shortened by almost four inches, giving us the ability to turn around in the tightest trails. Speaking of turning around, one thing that should be noted is the awesome LED tail lights with integrated back-up light. When I first spotted this it just grabbed my attention, as now folks will know you are reversing your Wolverine!
The longer we rode through the trails the more comfortable I became in the cab of this Yamaha Wolverine X2. I noticed the dash was easy to see over and approaching obstacles was made easier with this effective line of sight. You most definitely feel secure in the cab and it's a joy to drive as the Special Edition model I had driven was equipped with not only EPS (electric power steering), but it had the KYB fully adjustable shocks. Hitting some of the rock gardens at Brimstone proved that the KYB shocks can really be tuned to match any riding style. The steering is precise and although some would like more or even less assist, it felt pretty darn good to me.
I would say one of the only issues I faced was my gas pedal foot. I felt as if the pedal could have been located a few inches further from me as I did experience some discomfort as the ride continued. I remembered that the seat is adjustable, but after a quick check I realized it was set in the farthest position.
As we mentioned earlier, it was a short introductory ride but one that allowed us to experience not only the all new Yamaha Wolverine X2, but also the latest in GPS tracking/location technology. Magellan had jumped onboard as a product partner with Yamaha to develop and make each Wolverine X2 owner an Adventure Pro! Referred to as "Infotainment" by the YMMC Product Development Test engineer Tyler Hewitt, this new portable device is pretty impressive. Plugged into the ECU (via CANN bus) of your machine's computer, this Magellan can not only give you real time info on the Side-by-Side while on the trail, but it also records the information for future reference. This GPS device incorporates many of Magellan's TRX top features for marking maps of your ride and getting you in as well as out of trails without getting lost. It also includes a large digital "Dash" style display that can be switched around to show the information you deem most important. You can even find a local Yamaha dealer from the screen should you ever need service. There is also a challenge feature known as the "Timing Mode"on the Magellan Adventure Pro that gives you the ability to test your driving skills via timed laps and then offer up a challenge to your friends who have the same device.
The 2019 Yamaha Wolverine X2 is the next step in two-up riding for the Wolverine family. It is compact, nimble and very fun to drive and I can see it blending into any work or hunting adventures you might have as well. That comes in handy when you are trying to convince the significant other to turn loose the checkbook.
Published June 6th, 2018 10:33 AM
Top Brands
Popular Articles