1 View
2019 Yamaha Wolverine X2 R-Spec SE vs. Kawasaki Teryx LE: By the Numbers
June 18th, 2018 8:54 AM
Share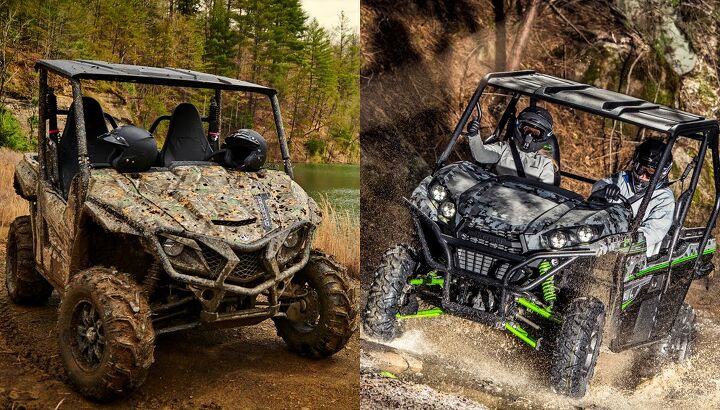 The 2019 Yamaha Wolverine X2 R-Spec and Kawasaki Teryx LE are two-seat powerhouse adventure machines from two of the biggest brands on the planet. Which one is most ready to take you on the adventure of a lifetime? Let's take a look…by the numbers.
Yamaha stunned the UTV world last year with the introduction of the Wolverine X4, a machine that made serious noise by being seriously quiet. When asked if the intention was to bring the new motor and technology to the two-seat Wolverine, Yamaha winked and said, "Maybe." The wait for the obvious answer didn't take long as Yamaha recently unleashed the Wolverine X2 R-Spec, an all-new two-seat Wolverine with the new motor and a dumping cargo bed.
The 2019 Kawasaki Teryx is the latest two-seat version of Kawasaki's recreational adventure machine. This seriously tough UTV has been on the market for years and has built a strong and very dedicated following among fans. Known for durability and an uncanny ability to go just about anywhere a UTV can possibly go, the T2, as it has come to be known, has come to define a market segment for users who are more concerned with where they can go more so than how fast they get there.
Twinsies
Both of these machines are powered by twin-cylinder engines. The Kawasaki still runs the 783cc V-Twin with dual fuel injection from two 36mm Mikuni throttle bodies. This motor provides the T2 with 58 horsepower, while the Wolverine X2 R-Spec comes in at 69 for those that want to know. Yamaha uses the 847cc Parallel twin that it first debuted in the X4 last year. This is by far the quietest motor we've ever heard in a recreational UTV.
When you think about those horsepower numbers and compare them to machines like Polaris' 100-horsepower General, it is an unfair comparison. If you're looking at just numbers, the General would best both of these machines when it comes to raw power. But when you compare actual real-world use, the horsepower advantage evaporates quickly. Both the Teryx and the Yamaha are extremely capable and powerful machines for real-world adventure. If quiet fun is what you want, look at the Yamaha. If you want to hear that fun, throaty growl of a V-twin, the T2 is for you.
Both machines run a CVT transmission that is very solid. Yamaha is so well known for its dependability that you almost never hear of a belt going bad. A local dealer has told me that he has only ever changed the belt on a Yamaha CVT because the owner asked him to. "It didn't need it," he said. "But the guy wanted it done, so we did it."
Suspension
The Kawasaki Teryx LE has color-matched dual A-arms front and rear with sweet Fox Podium 2.0 remote reservoir shocks. The shocks have 24-way compression adjustment and are preload adjustable as well. There is 8.0 inches of travel in the front and 8.3 in the rear. Action is solid and the T2 will hammer through very rough terrain and keep smiling.
The Wolverine X2 R-Spec has dual wishbone suspension front and back with sway bars to keep you steady. There are remote reservoir KYB shocks with 8.7 inches of travel up front and 8.9 inches out back. If you're really going to go out and hammer through the rough stuff, make sure you opt for the R-Spec package to get the best suspension setup Yamaha offers for this machine. You will not regret it.
Both machines have a locking differential option for added traction. The T2 will tow 1,300 pounds while the X2 will tow 2,000 pounds.
Beds, Tires and More
The Teryx has a dumping cargo bed that fits within the extended roll cage. The bed measures 27.6 x 43.3 x 10.4 inches and can hold up to 600-pounds of gear or other stuff. The Yamaha Wolverine X2 R-Spec gets a dumping cargo bed, something that consumers have been wanting since the original Wolverine debuted a few years ago. No official dimensions on the bed, but it too can handle up to 600 pounds of cargo.
Both machines roll on Maxxis tires. The Teryx runs on 27-inch Bighorn 2.0 tires. The Yamaha has special MU26 tires that measure 26 inches. The X2's tires were specifically designed for the Yamaha. With the LE package for the T2 and the SE package for the X2, you get aluminum wheels along with cool custom graphics and a few other nice features like roofs.
As for coverage, the Kawaskai Teryx LE comes with an industry-leading three-year warranty, while the Wolverine X2 R-Spec comes with a six-month warranty.
For more information on the Kawasaki Teryx LE (US$14,999 MSRP), go to your local Kawasaki dealership and tell them you want to see a Teryx for yourself. We just ran the Teryx4 in Moab at Rally on the Rocks and were as impressed as always.
If you want to learn more about the new Wolverine X2 R-Spec (US$14,499 MSRP), head to your local Yamaha dealership. They'll be more than happy to help you realize your adventure. We had the chance to drive one recently, so check out that review here.
Published June 18th, 2018 8:52 AM
Top Brands
Popular Articles