1 View
2019 Honda Pioneer 1000 LE vs. Yamaha Wolverine X2 R-Spec SE: By the Numbers
August 23rd, 2019 4:14 PM
Share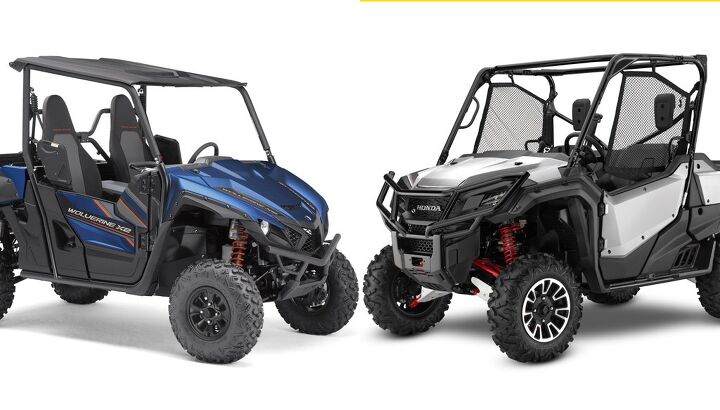 For the buyer looking at important things like reliability, usability and adventurous riding, the 2019 Honda Pioneer 1000 LE and Yamaha Wolverine X2 R-Spec SE have a lot to offer. Let's see how they shake down, by the numbers.
One of the truly great things about the internet is that is allows people everywhere to share their opinion on any and every topic. It's what makes writing these "By the Numbers" stories so much fun. We love to hear people's opinions and today's subject will hopefully spark another fun debate over two of our favorite machines – the 2019 Honda Pioneer 1000 LE and Yamaha Wolverine X2 R-SPEC SE. Based solely off the spec sheets, these two UTVs may not seem as close as they are in the real world. The reality is, however, that these are two machines that will appeal heavily to the same buyer. So, let's have some fun and see how they compare.
Addressing the Elephant
The first thing you'll notice is that these two machines have different-sized engines. The 2019 Honda Pioneer 1000 LE has a sweet 999cc Twin-cylinder Unicam motor it developed for its Africa Twin motorcycles. The motor is fully fuel injected and has a great power delivery. Is it the most powerful engine in the class? No, but it doesn't need to be for other reasons. This motor feeds out through a dual clutch system as opposed to a typical CVT automatic. The transmission has three modes, too, which will easily make you feel like it has more power. Automatic shifts the gears for you based on pre-determined mapping. Sport mode works as the Automatic, but lets the engine rev out more between shifts. My personal favorite is Manual mode, which allows you to shift gears via paddle shifter on the steering column. I've written about this before, but when you drop the Pioneer into low-range and in manual shift mode, you can literally crawl up, over and down anything. Best engine braking anywhere.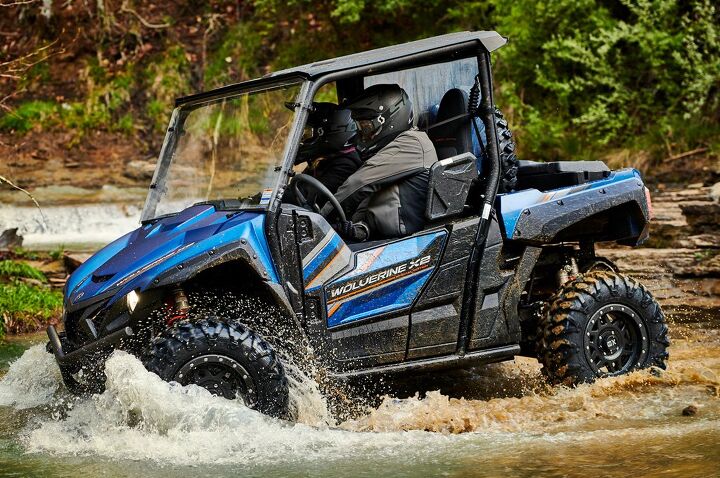 2019 Yamaha Wolverine X2 R-Spec SE in the water
The Yamaha Wolverine X2 R-SPEC SE is not as far off in engine size as the old Wolverine was. The Wolverine X2's new 847cc parallel twin is amazingly advanced and is right in there in terms of power delivery with the Honda, even with the Red machine's 152cc advantage. The engine is fuel injected, as you would expect, and the Ultramatic V-belt CVT transmission is a work of art. You must have seen the announcement the other day that Yamaha now has a 10-year warranty on its belts. Yeah, it isn't going to fail at all. Where the Honda works best when you control the power delivery by running through the gears, the Yamaha works best when you allow the silky-smooth transmission to do the work for you. Engine braking is about as good as a CVT transmission setup can get, too.
So yes, these are two different machines, with two vastly different engines, that somehow ended up being closer in performance than you'd expect. How close? The Pioneer produces a claimed 72 horsepower – just three more horsepower than the Wolverine X2.
Getting There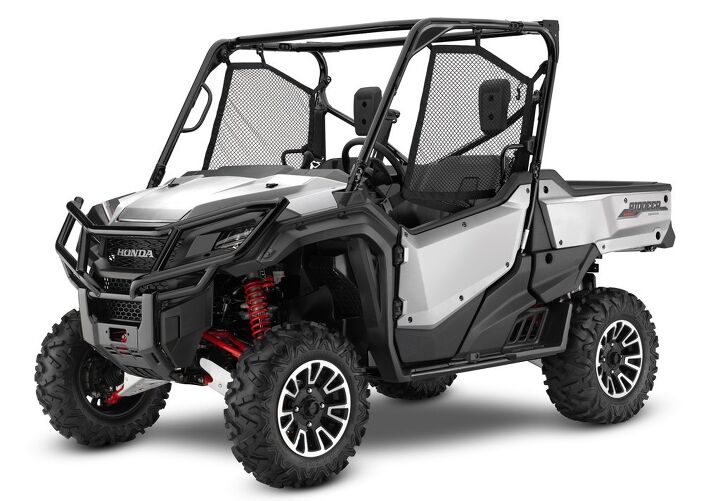 2019 Honda Pioneer 1000 LE
The old saying of getting there is half the fun, doesn't really work here. With the Wolverine and the Pioneer, getting there is almost ALL of the fun. We'll be fair and save a little portion of the fun for the destination just to be nice. These are two seriously well-equipped machines for the adventure-minded. The Yamaha rolls on its R-SPEC suspension package. It includes dual A-arms all the way around and KYB piggyback shocks using technology developed over years of highly successful sport ATV racing. Sway bars front and back keep you feeling connected and in control and the whole thing is smooth. The capability of what Yamaha has engineered into this machine is amazing. To that, you add in a seamless four-wheel drive system with a locking differential, and you've got a machine to go anywhere.
Honda ain't no slouch neither, my friends. The 2019 Honda Pioneer 1000 LE has its newest i-4WD system, which borrows technology from Honda's automotive side for a seamless system that detects wheel slippage and diverts power to the other wheels for amazing four-wheel drive performance. It works so well that you can't detect when it engages; you just know you got traction and made it over the obstacle. Add to that Honda's excellent hill-start assist and electronic brake-force distribution that helps adapt the brakes to the terrain and needs of the machine, and you've got a slick ride. For suspension, Honda has dual A-arms and Fox Podium QS-3 all the way around for a smooth ride. The fun thing with the Honda is, it lets you push yourself. Like the Yamaha, you can go find new places to go with the Honda, and have the confidence to know you're going to be able to make it there, and get back just fine.
Go Forth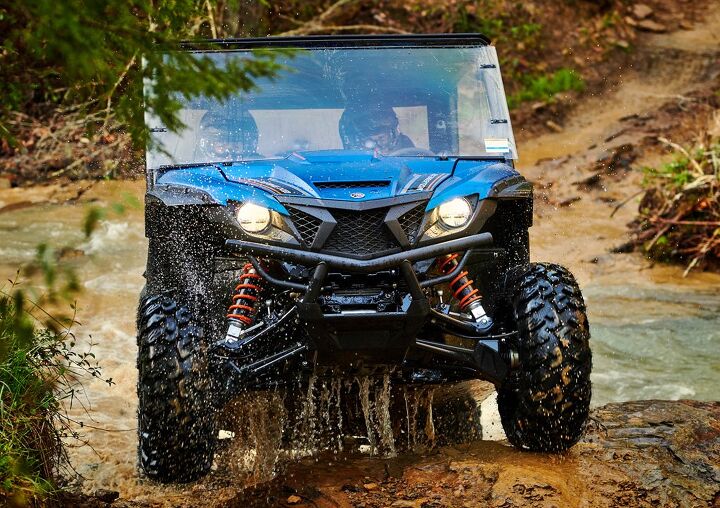 2019 Yamaha Wolverine X2 R-Spec SE Front
The 2019 Honda Pioneer 1000 LE comes in a sweet-looking matte silver finish and has a starting MSRP of $20,499. The Yamaha Wolverine X2 R-Spec SE comes in Tactical Black, or Backcountry Blue, and both have a starting MSRP of $15,299. The price is the biggest difference between these two winning machines. It's not capabilities, or engine displacement, or durability. They are both extremely fun and capable of whatever adventure you might wish to partake.
Published September 29th, 2018 11:18 AM
Top Brands
Popular Articles