1 View
Yamaha Announces 10-Year Belt Warranty
September 8th, 2018 12:00 PM
Share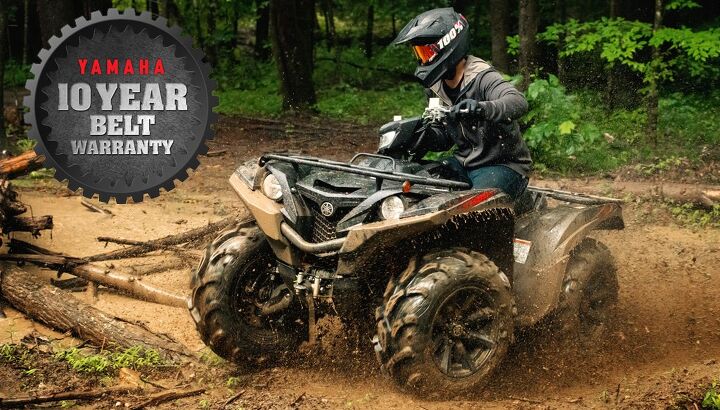 The idea of a 10-year warranty in the off-road world is basically unheard of, but that is exactly what Yamaha is offering on its Ultramatic transmission belts.
Yamaha has announced a new 10-year warranty on its Ultramatic automatic transmission belts for all 2019 ATV and UTV models that are assembled in the USA.
"We've always said Yamaha's ATV and Side-by-Side vehicles are Proven Off-Road and Real World Tough, and we're backing up those claims with the industry's first 10-year belt warranty," said Mike Martinez, Yamaha's vice president of ATV / SxS group operations. "This is an unprecedented move in the off-road industry, meant to provide the highest level of support to our customers, and send the message that Yamaha firmly believes we have the best, most durable and reliable belts and Ultramatic CVT transmissions in the industry."
Yamaha has long been known as a manufacturer of some of the most reliable off-road vehicles in the industry and its Ultramatic Transmission is well known for durability, but a 10-year warranty on anything off-road related is basically unheard of.
We'd think that if you went to check out ATVs or UTVs in a multi-line dealer and saw a "10-year warranty" sticker on only one brand, that would grab your attention.
"Yamaha's Proven Off-Road ATV and Side-by-Side vehicles provide customers with the capability, comfort and confidence to get out and enjoy the outdoors," Yamaha says in a release. "Whether it be for work or play, Yamaha owners can have faith their vehicle will not only get them where they want to go, but also get them back. With the new 10-year belt warranty, Yamaha solidifies its well-earned reputation for superior durability and reliability, and further sets itself apart from the competition."
According to Yamaha, eligible 10-year belt warranty units include the 2019 Wolverine, Viking, Grizzly, and Kodiak models. Qualified vehicles must be purchased for personal use within the contiguous United States and Alaska for coverage. Yamaha also notes that the warranty is wholly separate from and in addition to the Original Limited Warranty offered on Yamaha products.
Visit Yamaha10YearBelt.com for more information on eligibility and guidelines.
Published September 8th, 2018 12:00 PM
Top Brands
Popular Articles