1 View
Hitting the Trails at the 2018 Rally on the Rocks
May 24th, 2018 2:56 PM
Share
We're committed to finding, researching, and recommending the best products. We earn commissions from purchases you make using links in our articles. Learn more here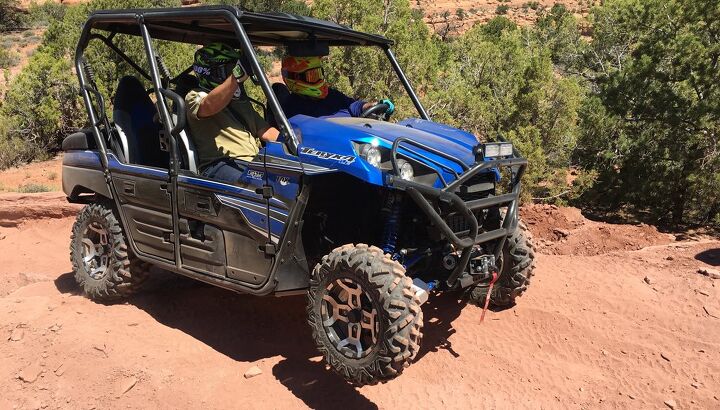 We got behind the wheel of a Kawasaki Teryx for one of the biggest UTV events in the U.S. Join us for a ride in Moab, Utah, at the 2018 Rally on the Rocks.
The phone rang and on the other end was Kawasaki's PR legend Jon Rall asking me if I was free to go to Moab, Utah for the 2018 Rally on the Rocks. He had me at Moab, but adding in the Rally was gravy. The Rally on the Rocks, sponsored by Discount Tire, has grown into the second biggest event in Moab annually, only surpassed by the Easter Jeep Safari that brings in tens of thousands or participants. The Rally brings in thousands of UTV enthusiasts of all skill levels and is something that you should not miss if you can help it.
Moab
Moab, Utah is a special place. There is a definite electric feel to going there, although that may come from the massive uranium ore deposits that were discovered there back in the 1950s. The area, which started as an agricultural hub for the cattlemen of the region quickly boomed, no pun intended, as the Cold War heated up. As that died down in the 1980s, Moab's population took a serious left turn and the region suffered serious economic decline. The saving grace came from geology. Close proximity to Canyonlands National Park, and with Arches National Park right outside city limits, people started returning. Lucky for us, off-roaders soon realized what Moab has in abundance – amazing trails.
Currently Moab is experiencing tremendous growth, surpassing anything from previous boom cycles. I was last there less than two years ago and I barely recognized the place. Hotel construction is flourishing at an amazing pace, and they can't keep up with demand. There is a bit of a divide between the motorized and non-motorized crowds of enthusiasts, so if you go, please be aware of others and above all, be respectful. Our local guide, Kent Green, the Moab Cowboy talked about the struggles between the off-road crowds. He suggests you "kill them with kindness," and offer to give them a ride when they get in over their heads.
The Rally
Rally on the Rocks gets bigger every year. It is open to all skill levels and the costs are very reasonable. If you are thinking of going next year, the dates are May 14-18, 2019. I would suggest reserving rooms and such now, as it fills up fast and rates can get pretty high. We heard of some room rates going for over $400 a night! There are quite a few camp grounds in the area, so that helps.
The Rally, aside from being a great gathering of people who ride the trails, is also a gathering of the latest and greatest machines and custom build projects. Several manufacturers were on hand with machines, technical support and some demo rides. Accessory sales were ongoing and I saw several places doing on-site installs of everything from seats and tires, to full-on suspension systems at the 2018 Rally on the Rocks.
Teryx'ing
My ride for the event was a 2018 Kawasaki Teryx 4 LE. It was loaded up with Kawasaki accessory skid plates, brush guard, Warn winch and a cool stereo system. The Teryx has long been a favorite as it is a serious go-anywhere beast on the trails. It's fitting to drive in Moab too, with dinosaur tracks being found all over in the rock formations. The Teryx took every trail and rock in stride. The only issue I had was all driver-error. I zigged when I should have zagged and got it hung up. I should have known better. With a Teryx, you just give it some gas and let it pound through the rough stuff.
Kawasaki brought out some other cool toys as well, including a custom-wrapped Teryx with the trail map from Moab splashed across the bodywork of the machine. But that wasn't the machine that garnered the majority of the attention. Kawasaki partnered up with several aftermarket manufacturers to create one serious machine. It had full HCR suspension and enough custom lighting options to brighten any situation. It was loaded up with custom seats and the entire dash was replaced with all the toggle switches needed to work the multitude of lights.
We joined a group ride along the Porcupine Trail. Our group consisted of 24 machines total with a mix of RZRs, Teryx, a few Textron machines and a Yamaha YXZ. To get to the trails, the Rally sets up police escorts to get the groups out of town and to the trail heads. Machines that are street legal are allowed to drive on the streets, but other machines have to be with the groups.
The Porcupine Trail has some tricky rock sections and follows a canyon around, giving you a beautiful view while you drive. As you can imagine, having such a large group with varying skill levels behind the wheels made for some slow going at times, but the ride was still quite fun. We packed a lunch for on the trail and went through a cooler full of water and Gatorade, as the temperatures crept up pretty fast at the 2018 Rally on the Rocks. In 2017, Rall said they dealt with freezing cold and snow on ride. I might have welcomed the temperatures at least.
If you are a UTV enthusiast, you owe it to yourself to try Moab at least once in your life. Hit the Rally if you can. There are some area businesses that rent machines if you don't want to haul your ride out there. If you aren't sure what you want to do, hit up the Moab Cowboy, as he'll point you in the right direction and probably tell you a story or two. Derrek Sigler
Derrek's love for all things ATV started when he was a mere 11 years old, growing up on his family farm. His mom gave him and his sister a choice - get a horse, or a three-wheeler. The sister wanted the horse, and Derrek wanted the ATV. Luckily he won out, and was soon burning up the trails on a Yamaha Tri-Moto 200. By the time he was 14, he had saved enough of his own money by working on the farm and in his folks restaurant to buy a new 4-wheeler. That happened the day he and his mom were driving past the dealership and saw 1987 Banshee. His mom had no idea what he was buying, and he never looked back. He's been riding ever since, and been writing professionally for many years. He has ridden all over North America and been behind the controls of just about every machine out there. And yes, he still has his 1987 Yamaha Banshee.
More by Derrek Sigler
Published May 24th, 2018 2:56 PM
Top Brands
Popular Articles