1 View
Touring Ontario – Haliburton
June 24th, 2015 5:04 PM
Share
We're committed to finding, researching, and recommending the best products. We earn commissions from purchases you make using links in our articles. Learn more here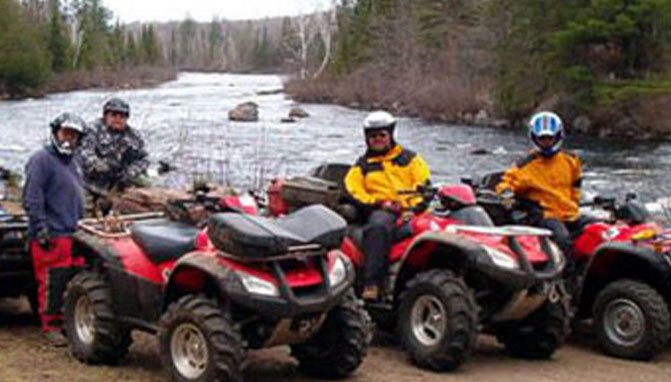 Two thousand miles of ATV trails at your disposal
As ATV trail closures continue to make headlines in the United States, ATV.com decided to head north of the border to Ontario to see what our Canadian neighbors have to offer. Turns out ATVs and other off-highway vehicles (like snowmobiles) are embraced up north and Ontario is home to a burgeoning ATV tourism industry.
When it comes to planning an ATV trip to Ontario, the best place to start is the Go Ride Ontario website. The website breaks down the province in different areas and can help you plan out everything, from food and lodging to ATV tours.
We've been using Toronto as our home base as it's fairly close to the U.S. border, has a major international airport and is only a short drive away from gobs of ATV-friendly trails. In November we looked at the Parry Sound Area. The second stop on our ATV tour on Ontario brings us to Haliburton. Like Parry Sound, Haliburton is only about a two and a half hour drive north of Toronto and is a popular cottage and camping destination for residents of Canada's largest city.
Shortly after you make your way out of the Greater Toronto Area, the landscape changes dramatically. Gone are the skyscrapers and bustling downtown streets – both have been replaced by a myriad lakes of all sizes, trees as far as the eye can see, and an abundance of fresh country air.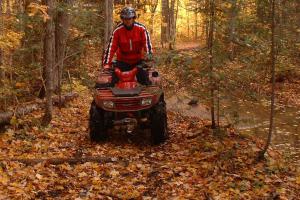 If you travel north of Toronto when the snow is falling, it seems like just about everybody is towing a snowmobile or two (or four!). However, once the snow is gone ATVs take their place. We'd guess a good number of those ATVs are headed to Haliburton, home to more than 3,200 km (nearly 2,000 miles!) of ATV trails.
Like many communities in Ontario, Haliburton has rolled out the red carpet for ATVers. The community, thanks largely to the Haliburton ATV Association (HATVA), has done a remarkable job making the area as welcoming as possible for ATV riders.
HATVA, which maintains the entire 3,200 km trail network, has been around for about six years now and after starting with just 20 members is currently up to about 850. You can ride these trails, which cover the Haliburton, Kawartha, Madawaska, Peterborough, Almaguin, and Muskoka regions, with peace of mind as they are all insured, mapped and well marked.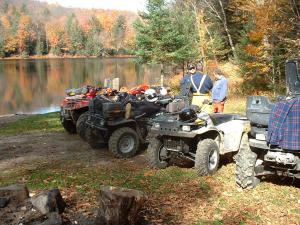 HATVA hosts group rides regularly so you can check out the terrain with the locals.
"We have a map and the trails are all numbered and we number our signs so you can follow a trail through the woods," says HATVA President Steven Skidmore. "We put up signs about every three kilometers and at every intersection. That way if somebody's coming up and they don't know where the trails actually are they can follow their way through with the map and the trial markers."
Sometimes the best way to check out a new area is to ride with the locals. HATVA hosts ATV rides about every second week that usually draws between 40 and 50 people, which is a great opportunity to tag along with the people that know the area best.
In order to ride HATVA trails, all you have to do is purchase a trail membership. Not to worry, though, as HATVA has a trial pass for everybody. Passes start at just $12 for a daily pass, but if you plan on sticking around for a while longer you can also purchase a weekend pass, a weekly pass, an annual pass or a family pass.
With such a vast trail network, you're sure to find something for everybody. Beginners might enjoy checking out old railway beds that are easy to navigate, but more experienced riders will surely take advantage of everything the rugged Canadian Shield has to offer. You'll find no shortage of mud and water crossings as you pass by many scenic lakes among the deep forest trails around Haliburton.
The Canadian Shield offers up a wide variety of trails.
"The scenery up here is just beautiful. Every trail goes by at least three or four lakes. In the fall we get a lot of people who come up just to drive though the woods to see the leaves," says Skidmore. I drove through here ten years ago and I knew when I drove through here that I'd be staying here for the rest of my life."
When the sun sets and you're ready to call it a day, there's no need to load up the trailer. Haliburton and many surrounding communities have opened up their roads to ATVs so you can ride right to a gas station, restaurant or hotel so long as you ride responsibly and use proper hand signals.
Local businesses are also very accommodating for ATVers, including a number of area resorts, lodges and campgrounds. Highland Stone Cottage is beautiful lakefront bed & breakfast where you can unwind in the evenings in the hot tub. For a little more pampering, consider one of the many lavish vacation spots like the Pinestone Resort where you'll find an on-site restaurant, full service spa, 18-hole golf course, and a total of 160 acres of meeting space. If you want to get a little closer to nature, the South Wind Motel & Campground allows you to ride right up to your room or campsite. For the true outdoorsmen, you can bring all your gear with you on the trails and stop for the night beside a lake.
Not everybody wants to take on a new ATV trail without a little guidance, which is where Back Country Tours comes in. Ontario's largest outdoor adventure company, Back Country Tours is the best place to go to get as much out of Haliburton's trails as possible. According to owner Dudley Hookong, the company provides "a mud bogging, river splashing good time for everyone."
Hookong says his company tries to make ATVing affordable for everybody, so he offers everything from one-hour tours to a multiple-day camping and riding packages. Safety, however, is imperative and Back Country Tours does its best to make sure everybody is prepared. All tours begin with a lesson followed by training on a technical course.
"Leaning is key, because none of our terrain is basically flat," says Hookong. "We're on the Canadian Shield, so it's either you're going up a hill or you're going through a mud bog."
If you choose one of Back Country Tours' overnight packages, the company basically takes care of everything for you except squeezing the throttle. You are provided with a fully automatic Honda Foreman 4×4 ATV or a sportier Kymco Mongoose 250, all your meals and camping gear. Fishing gear is also available if you want to try to reel in a trout for your dinner.
No matter what type of ATVing you do in Haliburton, you are unlikely to be disappointed. Between the fantastic trails and the hospitality of the community, you may never want to leave.
To help get you more excited about ATVing in Ontario, Ontario Tourism has put together a very cool contest that will give somebody the trip of a lifetime. The Choose Your Dream Ride contest is a package worth well over $5,000 that will allow you and a friend to experience ATVing in Ontario. The winner will receive round trip air transportation to and from Toronto and ground transportation between all the stops on your chosen itinerary, accommodation at one of six different locations, the use of rental vehicles for any guided tours, as well as all meals and other on-site activities.
Related Reading
Touring Ontario – Parry Sound Lucas Cooney
I have been working exclusively in digital media since 1997. I started out with TSN.ca, spending nearly nine years creating and editing content on Canada's leading sports website. I left to join VerticalScope, Inc., one of the world's largest online publishers, to start a number of powersports publications. While at VerticalScope, I've helped create and oversee content for a wide variety of different publications, including ATV.com, Off-Road.com, ArcheryTalk.com, Tractor.com, RVGuide.com, and many more.
More by Lucas Cooney
Published December 8th, 2009 1:01 PM
Top Brands
Popular Articles