10 Views
Explore New Places with These 5 Northern Ontario ATV Tours
April 26th, 2022 4:58 PM
Share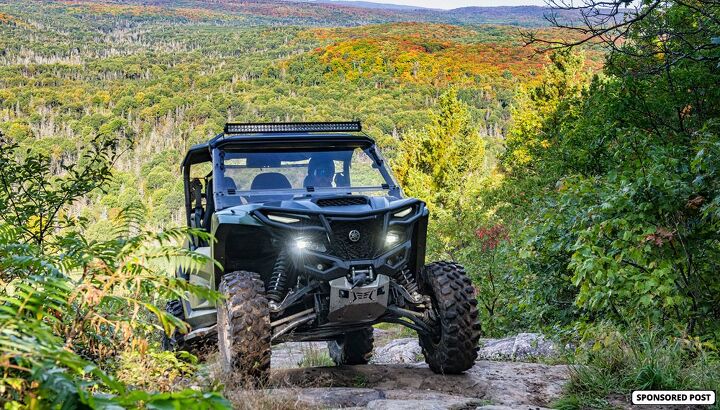 Let the local experts show you the best trails in the province
Do you have the desire to try something new with your family, friends or even perhaps your colleagues? Have you ever had so much fun that your cheeks and belly are soar from smiling and laughing all day? Do you want to let your wild side out and get a little dirty? How about have a day that you and your crew will remember forever?
ATV tours in Northern Ontario offer fantastic experiences and can be catered to your group experience or size! Check out these five outfits that each provide a magnificent opportunity to get outside and explore our great Canadian Wilderness!
Lead photo by Rob Stimpson
Mukwa Adventures
Photo Credit – Mukwa Adventures
"When was the last time you did something for the first time" is Mukwa Adventures slogan! Based in Northeastern Ontario, Mukwa Adventures guided ATV tours has access to thousands of kilometers of trails in Ontario. Mukwa collaborates with world class lodges and resorts offering clients the opportunity to experience both the ride and the luxuries of lodge stays. Mukwa provides all the gear needed to get out on the trails and offers packages including half day, full day, weekend, men's & women's, corporate and even bushcraft/ land based programming/cultural integrated ATV Tours. Guide Arthur Trudeau has extensive knowledge the land from a scientific background and of his First Nations background, making the tours truly unique and inspiring.
Mattawa ATV Tours
Photo Credit Rob Stimpson
Mattawa ATV Tours utilizes the outstanding Voyageur Multi-Use Trail System in Mattawa, Ontario which is just three hours from Ottawa and four hours from Toronto. This is where you will experience some of the best off-road trails anywhere, taking you into the foothills of the Laurentian Mountains and to majestic sites including Birds Eye View and the Mica Mine. These trails offer everything including epics vistas, sparkling creeks, majestic old growth forests all based out of one of the most ATV friendly communities in the world. Mattawa ATV Tours offers 3- or 5-hour tours, but can create custom tours upon request. Mattawa ATV Tours also offers complete guide services for your group if you have your own off-road vehicles.
French River ATV Tours
Photo Credit – Virgil Knapp
Based in beautiful Alban Ontario in the French River Region, French River ATV Tours has been in operation for since 2013. In addition to their ATV Tours, they also offer cottage rentals at Presquile Cottages and Boat Rental through French River Boat Rentals. Offering half day 5-hour ATV Tours that showcase the rugged beauty of the area including riding over barren Canadian Shield Rock, through quintessential Northern Ontario White Pine forests and of course an opportunity to drive through if you so desire the odd mudhole! They do note to limit environmental impacts there is always a way around if you prefer to stay dry! These tours are family friendly, be sure to check out this article on the experience offered here.
Outdoor Adventures ATV
Photo Credit Outdoor Adventures ATV
Located the Almaguin Highlands in South River, Ontario on the western edge of Algonquin Provincial Park, Outdoor Adventures ATV offers two themed packages. The Moose Package is a Guided ATV tour that is 3+ hours in length, the second tour the Bear Package is a full day and is 6+ hours in length. Both options include your ATV and all the needed safety gear. Rides twist through the forest, starting out easy and as riders get comfortable the pace picks up as you navigate through the wilderness and up inclines in the Algmaguin Highlands. This area is known for having an abundance of wildlife, so it's common to see deer, moose and even a bear on your ride. This operator also offers customized packages that can be catered to your group, including family outings, birthday parties, bachelor/bachelorette parties and corporate team building. If you have your own ATV or SXS they offer guiding services as well or can cater to blended groups using their vehicles and your own. Safe Off-Road Family Fun – No Experience Needed at Outdoor Adventures ATV.
Yamaha Riding Adventures
Photo Credit – Yamaha Riding Adventures
Located in Huntsville within the Muskoka Region and based out of beautiful Deerhurst Resort is Yamaha Riding Adventures. This operator has a private facility with dedicated trails and routes all nestled in the majestic yet rugged mixed Great Lakes St Lawrence Forest that shows its colorful pallet in the fall months. The adventures here are catered to groups of all sizes offering new ATVs, 4-seater passenger SXS vehicles and even youth sized ATVs. This is the perfect place to introduce your family to the wonderful activity of off-roading, and yes, they have all the right gear for the little ones! Each tour is led by expert instructors/guides who will outfit you and teach you everything you need to know to tackle the varied terrain, steep hills, rocks, and, of course, mud!
If you've always wanted to try off-roading on an ATV or SXS you now have the resources, so get off the couch, load up your family, friends or colleagues and head north for an adrenalin filled outdoor off-road adventure! Explore new places! You deserve it!
See you on the trail!
Published April 26th, 2022 1:49 PM
Top Brands
Popular Articles