48 Views
Best Guided ATV Tours in Ontario
September 28th, 2022 1:18 PM
Share
We're committed to finding, researching, and recommending the best products. We earn commissions from purchases you make using links in our articles. Learn more here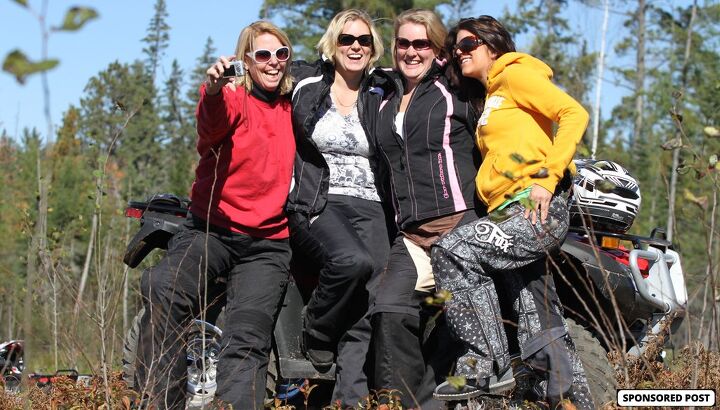 The best way to experience ATVing for the first time
Have you always wanted to experience an off-road ATV adventure but didn't know where to start? You've come to the right place. In this article, I will introduce you to some of Ontario's best Guided ATV Tours!
Before we learn about where to ride, I want to give you insight into the type of experience you, your friends, colleagues and or family will have!
The Province of Ontario is massive and home to extensive forests and off-road trail systems. With this grandiose size brings great diversity in terrain as well as scenery. No matter where you choose to ride, you will have the opportunity to take in the wilderness visuals you otherwise wouldn't see, taste seasonal forest aromas adrift along your ride and, of course, feel adventure that only can be touched while piloting an ATV or SxS vehicle.
Lead photo by Virgil Knapp
Definitions
What are ATVs? An All-Terrain Vehicle (ATV) is designed to have an operator straddle the seat (similar to a motorcycle), however, ATVs have four wheels and are operated by handlebar controls with a thumb-activated throttle and a combination of hand and foot breaks.
What is a SxS vehicle? Also commonly referred to as UTVs (Utility Terrain Vehicles), these all-purpose machines have a cab and are operated by a steering wheel and foot pedals. SxS vehicles also have a roll cage and can carry anywhere from 2 to 6+ occupants.
Before I get to our tours, please note that these tours were selected based on the merit of catering to NEW riders who have never experienced the joy of off-roading on an ATV or SxS. I'll note that there are many other guides / tour opportunities in Ontario of which some cater to experienced and more advanced riders or groups, including tours that are longer and take you to places you otherwise wouldn't be able to see, touch, feel and smell!. You can learn more about ATV tours in Ontario here.
Horseshoe Riding Adventures
Photo by Virgil Knapp
Located at activity packed Horseshoe Resort just a short drive north from Barrie, Ontario, Yamaha Riding Adventures by SMART Adventures boasts a 20+-year history of training over 100,000 individual riders! This riding center has everything all in one location, providing experiences that can be catered to new riders or even experienced riders. The terrain here is stunning with natural trails through the valley and up hills where you will find mud, gravel and more. The center is open Saturday, Sunday, Tuesday & Thursdays and offers 2-hour ATV tours. This facility and its experienced guides are youth friendly; programming starts for children as young as six years old. Of course, like every operator on this list, full protective/safety gear is provided for each participating rider.
Yamaha Riding Adventures Deerhurst Resort
Photo by Rob Stimpson
Yamaha Riding Adventures has a private facility with dedicated trails and routes, all nestled in the majestic yet rugged mixed Great Lakes St Lawrence Forest that shows its colorful pallet in the fall months and is based out of beautiful Deerhurst Resort. The adventures here are catered to groups of all sizes, offering new ATVs, 4-seat SxS vehicles and even youth-sized ATVs. This is the perfect place to introduce your family to the wonderful activity of off-roading, and yes, they have all the right gear for the little ones! Each tour is led by expert instructors/guides who will outfit you and teach you everything you need to know to tackle the varied terrain, steep hills, rocks, and, of course, mud!
Tom Irwin Adventure Tours
Photo by Rob Stimpson
Tom Irwin Adventure Tours is located one hour west of Canada's capital Ottawa, near the beautiful Calabogie Peaks Resort. Here you will find an Eastern Ontario outdoors & motorsports mecca! This facility offers off-road guided tours in the Madawaska Highlands. Tom Irwin Adventure Tours caters and customizes each tour for the riding group. You have the option to select either half day (3.5 hours) or full day (5 hours) tours on either ATVs or SxS vehicles. As with other tour operators on this list, everything is included in your tour – protective & safety gear, tour guide and of course your off-road ride. Note that to participate as a driver operator in a tour you must be at least 16 years of age and have a valid driver's license. Minimum age for passengers is 8 years old.
ATV Adventure Tours
Photo by Virgil Knapp
Blue Mountain, located in Collingwood, Ontario, is a favorite destination in all-seasons. There is a tremendous amount to do in this area and its only a short drive from Toronto. At ATV Adventure Tours, you will get to experience a one-hour tour on some of the finest "mountain" trails in Ontario. They are located just 15 minutes from the ski resort on the top of Blue Mountain. ATV Adventure tours not only specializes in new riders, but also caters to family get-togethers, stag & does and company functions. Their trail system is purpose built. Maintained and used only by Adventure Tours, it was created to provide an enjoyable, safe experience for you, your family, and your friends. Best of all, they run tours rain or shine, so don't be afraid to get a little dirty.
You may have noticed that each one of these off-road tour operators are based at or nearby a well-known Ontario Outdoors Fun Resort.
You may be visiting one of these resorts to take in other activities such as golf, mountain biking, hiking, boating, TreeTop Trekking or one of the many other activities available. Perhaps you're attending to experience delicious culinary delights, relax in one of the many spas, or maybe even to attend a professional event, wedding or just simply to take in beautiful rural and or expansive Northern Ontario. If you're visiting one of these locations and your primary reason isn't to go off-roading, I encourage you to carve out a bit of time and get out for a ride.
If you've always wanted to try off-roading on an ATV or SxS, you now have the resources, so get off the couch, load up your family, friends or colleagues and head north for an adrenalin filled outdoor off-road adventure. Explore new places! You deserve it!
Now You NEED to Ride Again!
Photo by Virgil Knapp
So, you've been out on a Guided ATV Tour and now you're hooked! I'm not surprised, as it's such a fantastic way to make memories in the great outdoors. Not only is Ontario home to an extensive network of off-road trails, but we also have a knowledgeable dealer base to support you and your ride. There are some great resources here, including ride itinerary ideas. Your local ATV dealership will have a tremendous amount of knowledge about the machines they sell and the related gear and accessories that will enhance your riding & adventure experiences! Published September 19th, 2022 10:00 AM
Top Brands
Popular Articles