1 View
Get a Taste of ATV Riding With a Guided Tour
June 27th, 2016 12:37 PM
Share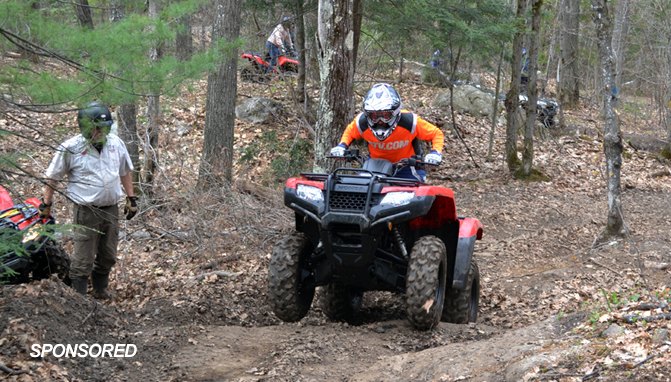 We explored Ontario's wilderness with Bear Claw Tours
If you spend the majority of your time in a big city, you can feel claustrophobic every now and then. The city itself may be vast, but you are often stuck in traffic or sitting in an office all day working.
ATV riding
can seem like a world away, but it doesn't have to be.
How To Introduce New Riders to ATVing While big city living isn't always conducive to ATV ownership (not much ATV storage in most condos), renting a machine or going on a guided tour can be a more practical and affordable way to get out and ride. Of course, not every city is close to ATV touring operators, but if you happen to live near Toronto, Ontario, you are in luck as you can go north or east of the city and find several outfitters ready and willing to help get you riding within a reasonably short drive.
One of the most experienced ATV tour companies I know of anywhere is Bear Claw Tours, which is located just two hours north of Toronto in Seguin, Ontario and has been in business since 2001. I called up Bear Claw Tours a booked a spring tour a couple weeks ago. My photographer, Jason Colston, had never been on an ATV before, so this was an ideal way to introduce him to off-road fun.
You don't get scenery like this in the big city.
We hopped in the car and headed up north on Hwy 400 early on a Saturday morning. Once you get out of Toronto, the scenery quickly changes from concrete jungle to classic Canadian Shield. Tall buildings and an endless sea of humanity give way to farmland, thick forest and massive lakes. It's what the vast majority of the province looks like, which is what makes Ontario such a great place for ATV, snowmobile and motorcycle riding.
We stayed on Hwy 400 until just south of Parry Sound where turned off for a short jaunt east on Hwy 518. This took us right to the headquarters of Bear Claw Tours, where we were greeted by a pair of friendly dogs, along with the father and son team of Andrew and Jonathan Ryeland.
A sure sign that we have arrived.
Bear Claw Tours is a full service touring operator and provides all the riding gear you need. Though I came prepared with my gloves, boots, goggles and helmet, I forgot my rain jacket and borrowed one, as the forecast was calling for the wet stuff.
One of the great things about riding with Bear Claw Tours is the equipment is in tip top shape. Each year this touring operator gets a new fleet of Honda ATVs, so guests always are on machines that work great and look sharp. This year's machines are Honda TRX420 Rancher models with independent rear suspension and electronic power steering.
A fleet of 2016 ATVs was waiting for us at Bear Claw Tours.
The Ryelands gave everybody a quick ATV tutorial and we were off to explore the 1000 acres of private property exclusive to Bear Claw Tours.
Having trained and guided some 6,000 ATV riders over the years, the Ryelands know how to make sure everybody has a good time. While we started out on some easy to manage terrain, it wasn't long before things started to get a lot more challenging. This is no stroll through the park and if you plan to ride in this area in the spring or fall, be prepared to get muddy.
When it comes to ATV riding, sometimes you have to embrace the mud.
The trails, which were cut out of the Canadian Shield by Bear Claw Tours, feature sharp turns, steep, muddy climbs and ample trees and rocks to maneuver around and over. The electronic power steering on our Honda ATVs came in awfully handy as we fought our way through the landscape. It can be slow going at times, which is not surprising given the challenging terrain new riders were tackling.
It's a pretty cool feeling to be the only ones out in the 1000-acre wilderness and we found ourselves riding alongside ponds, small lakes and even a massive beaver dam. It's rugged and beautiful country.
My photographer and first time ATV rider gets a little coaching from the folks at Bear Claw Tours.
We stopped for coffee, hot chocolate and snacks at the halfway point of our tour and took some photos and told stories about the ride before the rain started to fall in earnest. Undeterred, we covered up with the provided rain gear and re-mounted the ATVs for the ride back.
Most of the riders on our tour were new to the sport, but even the experienced ATVers among us were tested. The Ryelands are not afraid to challenge you and want their customers to have a memorable experience. The winch was brought out a time or two and some folks needed a helping hand now and again, but everybody was able to push themselves and have a heck of a good time.
Mother Nature will occasionally leave her mark on one of the trails.
All told, the tour typically lasts three to four hours. Depending on how much rain has fallen and the condition of certain parts of the trail, Bear Claw Tours has many different routes to take. I'd have no problem coming back again year after year just to get out of the city and have a great day outdoors. It would be a whole lot more affordable to go on an ATV tour once or twice a year than it would to own and maintain even an entry level ATV and keep it in the city.
For more information about Bear Claw Tours, visit the official website.
Published May 31st, 2016 11:06 AM