1 View
2012 Oregon DuneFest Report
June 17th, 2015 1:24 PM
Share
We're committed to finding, researching, and recommending the best products. We earn commissions from purchases you make using links in our articles. Learn more here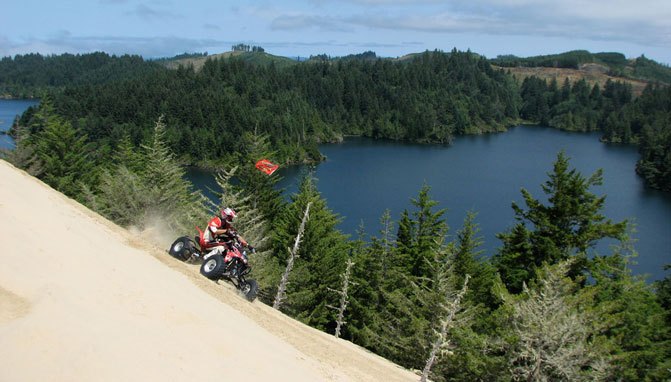 Freestyle, motocross and drag racing highlight awesome family event
Whether you're into drag racing, motocross, cruising around on a side-by-side, trying to capture the best hand on a poker run or simply prefer watching other people doing any of the aforementioned activities, the Oregon DuneFest won't leave you disappointed.
Every ATV enthusiast should make it a point to attend DuneFest at least once. This family friendly event boasts five days of non-stop entertainment revolving around the sport we love in one of the most scenic locations in the world…and we're not kidding.
This is not a view you normally get when riding sand dunes.
Most people associate sand dunes with desert, but that's not the case in Oregon. For many visitors from the southwestern United States, the lush green forest and fresh water lakes butting up against the dunes is a sight to behold. Winchester Bay is part of the Oregon Dunes National Recreation Area with over 10,000 acres of sand dunes open to off-highway vehicles, which makes it the perfect location for an event like Dunefest.
This year's event, held August 1-5, brought sand dune junkies from across the country to the largest sanctioned sand slinging event in the nation. Case in point, my girlfriend and I made the trip all the way from South Carolina to hangout with industry friends, take in the sites and, of course, do some serious dune riding.
As if riding the dunes weren't enough, there is an onslaught of activities throughout the week so boredom in a non issue. The event officially began on Wednesday morning with a free pancake breakfast. Following breakfast the action kicked off at the Family Fun in the Sun activity area where the majority of the weekend's events take place.
Even planners really did think put together something for everyone, from the adrenaline junkie looking for speed to the more laid back newcomer just looking to have a good time.
Racing Action
If racing is your thing, DuneFest is not to be missed. Whether you're competing for the title of King of the Dunes or looking to bang bars on the sand motocross track, DuneFest has an event for you. Racing action got underway Wednesday afternoon at the Albany MX track with Grand Prix style racing for all ages and skill levels. It continued throughout the week with several other formats of racing, including traditional motocross as well as a last man standing event. This bracket style competition pitted two competitors against each other and slowly eliminated them one by one until a winner emerged. Classes were also available for side-by-sides and dirt bikes. As is the case with sand, the track got very rutted out, making passing very difficult. If you weren't near the front after the first turn you had your work cut out for you.
Off-road racing of all kinds was on display.
The drag strip is probably the busiest and most popular area of the entire event. From 9:00 a.m. to early evening, there is hardly a moment when quads, side-by-sides, Jeeps or sand rails aren't making runs down the drag strip with a huge crowd of spectators looking on.
We're not positive, but we don't think that's a stock frame.
Thursday provides a test and tune day where competitors can take practice runs making sure their machines, as well as their reaction time, are up to par before the real competition begins Friday morning. With a number of different drag events, plan to spend a good bit of time at the drag strip as you're sure to see some of the wildest machines ever making tracks down the quarter mile. It's not a bad idea to bring ear plugs either.
Family Friendly
DuneFest is a family friendly event, so you'll see plenty of future ATVers hanging around.
If racing isn't quite your thing you might enjoy taking the family along on a poker run or a treasure hunt. Participants could sign up for either event and make their way around the dunes collecting treasure tokens or playing cards in hopes of redeeming some huge prizes from event sponsors.
Back at the main event area a number of fun activities were held throughout the week, including barrel racing for the kids and the always popular Show 'n Shine presented by ModQuad. It's always amazing to see what some of these folks come up with and you may even recognize a quad or two from a notable magazine or website on display. Organizers actually used a decibel meter to gauge the roar of applause from the audience to decide a winner.
Another popular event, one that doesn't require a motor, is the tire toss. Reminiscent of a World's Strongest Man competition, contestants would compete by age group to see who could toss an ATV tire the farthest. Everyone received two opportunities to throw and it was comical to watch the different techniques people would use to huck the large tire with all their strength.
Funny, we didn't see anybody doing this in London this summer.
For those brave enough to venture out at night, DuneStar Racing sponsored a night ride that had close to 500 participants. To keep it safe, the ride remained on the flatter portions of the dunes but it was quite a spectacle to see that many headlights moving around the sand all at once.
Proud Supporters
You can find virtually anything you need on Vendor Row.
DuneFest would not have been possible without the generous support of sponsors, manufacturers and area organizations like the Chamber of Commerce. As a way of giving back to the community for all of its support, organizers held a charity auction with all proceeds going to local charities. Items were donated by the generous venders and sponsors if you didn't find what you were looking for at the auction, vendor row was open all week long offering deals on everything from billet accessories to funnel cakes.
Event goers could also hop aboard some of the newest products from companies like Yamaha, Artic Cat, and Polaris and spin some laps on the demo track. Support from manufacturers is a huge deal for an event like DuneFest and attendees seem to enjoy getting to test out the latest and greatest machines to hit the market.
Caleb and Colten Moore were on hand to sign autographs.
One of the most highly anticipated events of the week was the freestyle motocross show put on by X Games snowmobile medalists Caleb and Colten Moore. The Moore brothers performed at DunFest six years ago and while they've experienced tremendous success since switching to sleds, have no problem hopping on quads and putting on an amazing show. The freestyle show draws probably the largest crowd of all the events at DuneFest and judging by the applause from the crowd everybody was happy to have the brothers back. Friday and Saturday evenings concluded with a "Rock the Dunes" concert featuring several finalists from the Last Band Standing Northwest competition.
While there's plenty to keep you busy at the event area, you'll definitely want to make time to go out and explore the actual dunes themselves. Banshee Hill is a popular gathering place and offers a spectacular view of the event area and the Pacific Ocean. If avoiding the crowd is more your style you can venture a little farther south to the Vanishing River, a natural spring that snakes its way through the dunes before randomly disappearing into the sand.
A freestyle show, featuring the Moore brothers, was one of the highlights of DuneFest.
Without a doubt, DuneFest is one of the premier off-road events in the country. Organizers work very hard to provide a family environment that is safe, affordable and enjoyable for people of all ages. To promote the family atmosphere, alcohol is prohibited in the event area and all of the sand camps within the dune area itself. For the little tykes, three days of ATV safety training are provided as well as a fenced in riding area for kids 10 and under.
No matter what your age, skill level or vehicle preference, Oregon DuneFest is an event you definitely need to experience for yourself. Load up the family and stay the whole week or just drop by for the day. After a week of slinging sand with over 7,000 other ATV enthusiasts, we think the event motto pretty much sums it up: "The most fun a family can have in the sand!" Seth Fargher
Growing up in Oregon, most of Seth's involvement in the powersports world was limited to what he saw in magazines and videos. Following a brief stint in the corporate world, Seth took a flying leap (literally) and moved to California to pursue a career in freestyle motocross. Though short lived, the opportunity immersed him in the industry and is now a well-established off-road writer.
More by Seth Fargher
Published August 15th, 2012 10:34 AM
Top Brands
Popular Articles