1 View
2015 Oregon Dunefest Report
September 10th, 2015 11:35 AM
Share
We're committed to finding, researching, and recommending the best products. We earn commissions from purchases you make using links in our articles. Learn more here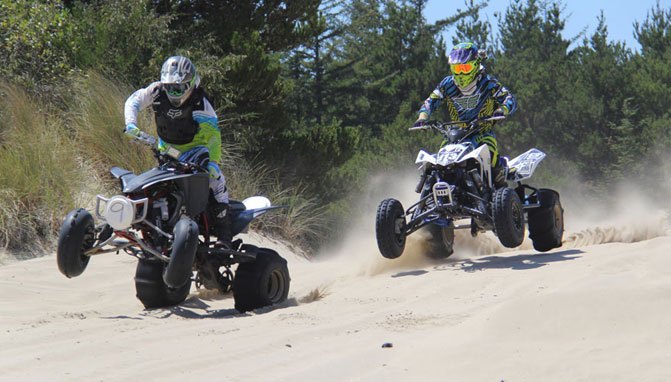 Sand junkies head northwest for Dunefest
It's been a couple of years since I last made it to Dunefest, but the biggest off-roading event in the northwest is always on my calendar if I'm able to fit it in my schedule. This year the company I work for (JRi Shocks) chose to participate in the festivities as a sponsor of the all new Vendor Camp, so I was fortunate enough to tag along and spend the week front and center of the main event area.
For those that may be unfamiliar with the event, Dunefest is an off-road festival of sorts put on by the Reedsport and Winchester Bay Chamber of Commerce. It's a family friendly event billed as "The most fun a family can have in the sand" and it takes place the first weekend in August every year in Winchester Bay, Ore. The Winchester Bay sand dunes are one of three separate dune locations open to off-highway vehicles that make up the Oregon Dunes National Recreation Area.
With the tallest dunes on the Oregon Coast and a wide variety of terrain from challenging hill climbs to massive bowls and sandy trails, Winchester Bay is a favorite for dune riders and the perfect place to hold an event like Dunefest. Like most areas on the coast, the dunes are surrounded by lush vegetation, freshwater lakes, and amazing scenery, quite the contrast to the rugged desert dunes of the southwest.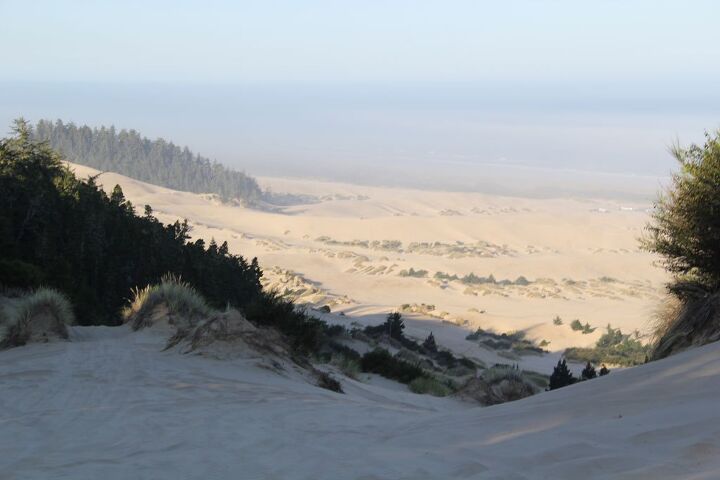 If you can handle waking up early, mornings are the best time to get out on the sand before the dunes start crawling with people.
This year's event marked the beginning of a new era, as the chamber hired a new promoter to take the event to a whole new level. Micheal Allen of Meadow View Productions is a special events coordinator who accepted the challenge and has high hopes of turning Dunefest into one of the premier festivals in the country. "In three years time I'd like to see national music acts packing the dunes and big corporate sponsors like Ford or Chevy getting involved," says Allen. Lofty goals for sure, but we're all in favor of seeing the event grow.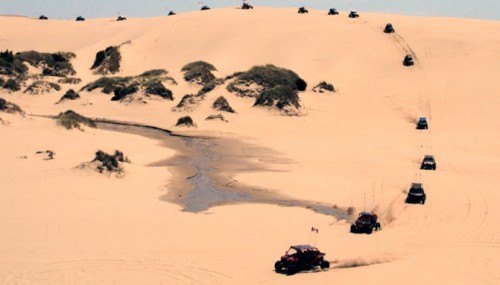 2015 UTV Invasion Winchester Bay Report Our crew arrived in Winchester Bay on Monday night and were greeted with sunny skies and cool temperatures. The weather is always somewhat of a gamble on the Oregon coast, but fortunately for us the forecast was for mild temperatures and not a drop of rain.
Move in day for vendors was Tuesday and since we were participating in Vendor Camp, all we had to do was drive our vehicle into place near the main stage and we were essentially done. Vendor Camp was among the new ideas that Allen brought to the table as a means of encouraging companies to actually stay and camp among the people. Since most of the activities take place at the main stage, the idea was that having vendors camped around the main event area would foster more interaction between the attendees and the vendors.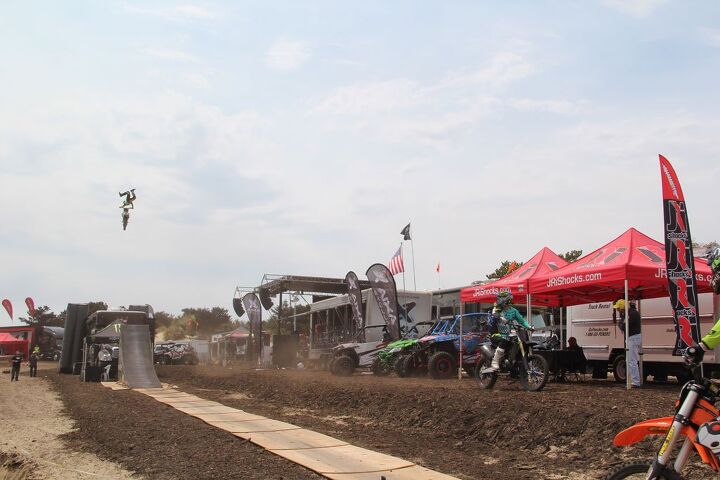 Organizers promised to put us right in the middle of the action and they didn't lie. Any closer and we would have been part of the show!
As more and more vendors began to arrive, we took advantage of being set up early to get out into the dunes for some riding. Because of JRi's relationship with Arctic Cat, we were able to commandeer a couple of Wildcat UTVs for the weekend to have on display in our booth.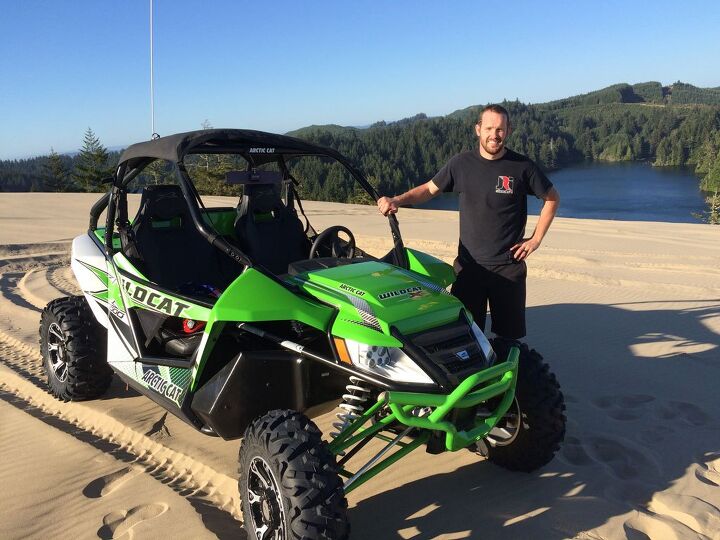 No trip to Dunefest is complete without a photo op at the Clear Lake overlook.
Wednesday and Thursday were more mellow days, as people continued to trickle into the event. We had heard a rumor that a number of people were upset with some of the changes being made and had decided not to come, but based on the sea of RVs that had moved in as early as Tuesday, we're guessing those rumors were false.
Wednesday is the official kickoff for the event and Polaris got things started by showcasing its 2016 model lineup of UTVs, including the much-anticipated RZR XP Turbo EPS. Polaris also provided a free BBQ meal for everyone within ear shot.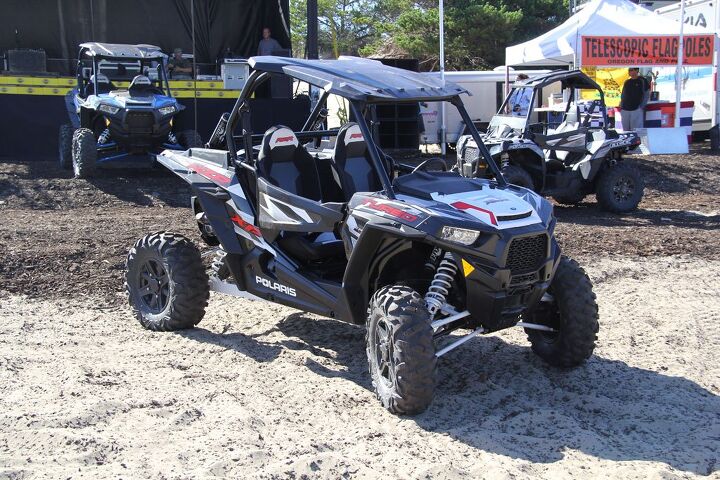 Polaris had its whole fleet of 2016 models available for test drives throughout the event.)
By Thursday everything was running at full speed. The drag strip provides endless entertainment throughout the week and the sand motocross track gives first timers or rookie racers an opportunity to test their competitive spirit in a pretty forgiving environment. Over the last few years it's been evident that the motocross races are less of a draw for attendees. Several years ago it was not uncommon to see one or two top pro racers make their way to Dunefest to compete, but in recent years the motocross races have become more of a sideshow.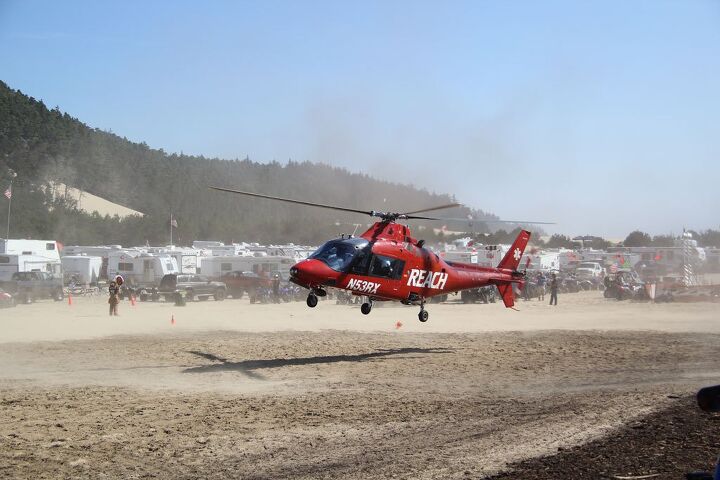 The local EMS life flight helicopter even made an appearance, landing right in the middle of the main event area so people could see a helicopter up close.
One event that continues to be a big hit is the Show 'N Shine competition on Thursday night. With classes like King of Bling, Best ATV, Best UTV, and Utility, you never know what you're going to see. A few of the more unique machines were a General Lee themed XP 1000 complete with an authentic horn and Kalani Korn's matching Hawaiian Punch themed XP 1000 and 450R.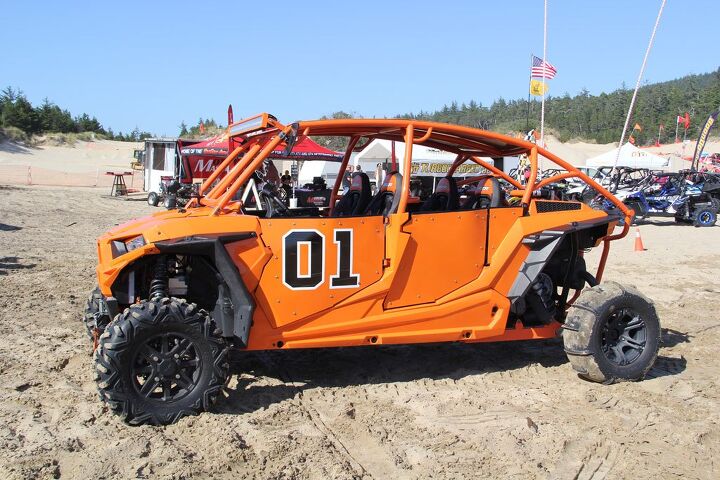 Vendor row featured a new layout from previous years and offered a good mix of parts and accessories, food options, and event paraphernalia. Some of the dedicated off-road companies in attendance were Rugged Radios, Pro Armor, GMZ Race Products, and SSV Works. We'd ultimately love to see vendor row completely filled with off-road industry companies and fewer RVs, T-shirt and souvenir stands, but we understand the need to fill space and hope to see that area grow over time.
Dunefest wouldn't be Dunefest without some form of freestyle exhibition and fans this year were in for a real treat. Marc Burnett of FreestyleMx.com brought his team of award winning riders and the promise of attempting to backflip a Polaris RZR. As is often the case, the weather failed to cooperate on Friday and the riders were unable to jump at all. To complicate things further, Burnett needed to have a large sand landing built in order to complete the RZR flip.
Saturday provided calm enough weather that the dirt bike riders were able to put on several shows throughout the day and a dozer crew worked nonstop until nearly 9pm to get the landing and runway just right for Burnett's flip attempt. As thousands of spectators looked on, Burnett barreled towards the ramp and launched himself and his RZR nearly 40 feet in the air. Although he nailed the rotation, landing on all four tires, somehow he pitched the RZR sideways coming off the ramp which caused him to rotate off axis and come down perpendicular to the landing before rolling onto his roof.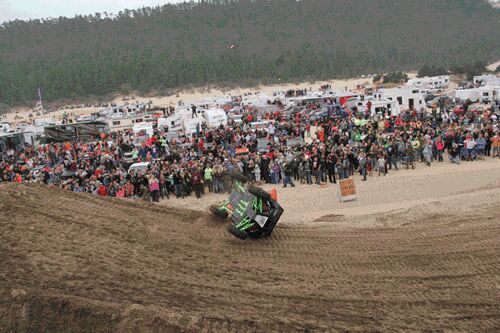 It was somewhat disappointing not to have the ATV freestyle team that the event has enjoyed in years past, but to see a UTV go upside down was something most of us are unlikely to forget.
Once righted, much to the delight of the crowd he lined up again for a second attempt. Unfortunately, this one didn't fare any better as he only rotated about half way around and ended up landing upside down on his cage. Thankfully, the cage held up to the impact and Burnett emerged unscathed.
Following the excitement of the RZR flip, Polaris continued the hype surrounding its release of the XP Turbo EPS by donating one to be auctioned off in the charity auction. We recall seeing the original RZR XP 1000 go for nearly $35,000 two years ago following its release, but much to our dismay, the highest bid for the RZR XP Turbo EPS was a $27,500. Evidently the economy is not as recovered as some would lead us to believe or maybe everyone realized they can pick one up at their local dealer within a few weeks for just $24,999. Regardless, it's always great to see the vendors come together to provide products for the auction, which benefits local charities in the Reedsport and Winchester Bay communities.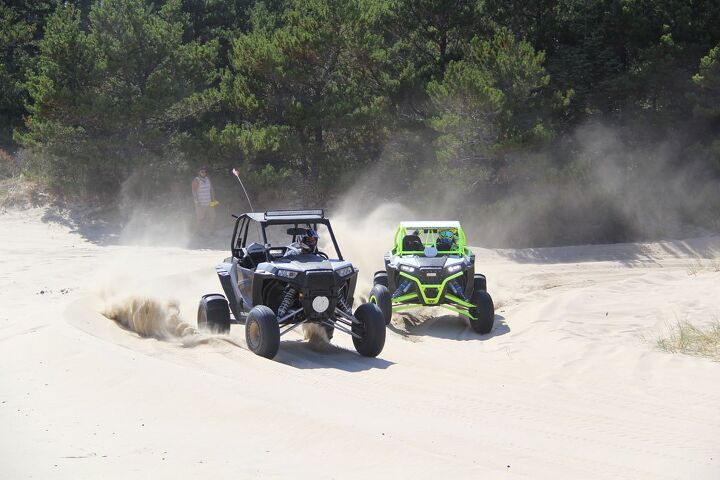 As the event drew to a close, Bon Jovi tribute band Steel Horse took to the stage and rocked the dunes late into the night. In years past the concert has been hit or miss, but from what we gathered Steel Horse was a hit with attendees and we're excited to see what kind of talent organizers can pull in for next year's event.
Despite some of the changes and a little disorganization, we felt that the new team at Dunefest did a pretty stellar job. It appears that they're doing their best to solicit feedback from attendees and make changes wherever possible. One suggestion that came via the Dunefest Facebook page was the playing of the national anthem each morning. Coupled with the involvement of the Oregon Army National Guard, this seemed like a welcome addition and served as a great reminder of the freedoms we enjoy here in America.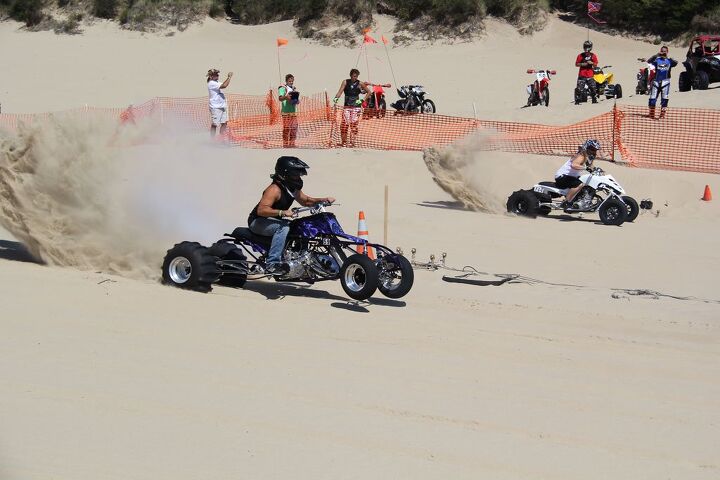 Throughout the week there were some logistical errors and it was disappointing to see only two OEMs present (Arctic Cat and Polaris), but some of that is to be expected when big changes are made. Other than a few events taking off late or getting left out, the event as a whole seemed pretty similar to prior years and emphasized thousands of off-road enthusiasts getting together to have a great time in the sand. Whether you participate in the actual events or just show up to hang out, it's still a lot of excitement packed into one week for just $40 per person.
It will be exciting to see what Allen and his team bring to the table in years to come. We are all in favor of a bigger and better Dunefest! Seth Fargher
Growing up in Oregon, most of Seth's involvement in the powersports world was limited to what he saw in magazines and videos. Following a brief stint in the corporate world, Seth took a flying leap (literally) and moved to California to pursue a career in freestyle motocross. Though short lived, the opportunity immersed him in the industry and is now a well-established off-road writer.
More by Seth Fargher
Published August 6th, 2015 2:53 PM
Top Brands
Popular Articles