1 View
2015 UTV Invasion Winchester Bay Report
July 28th, 2015 11:17 AM
Share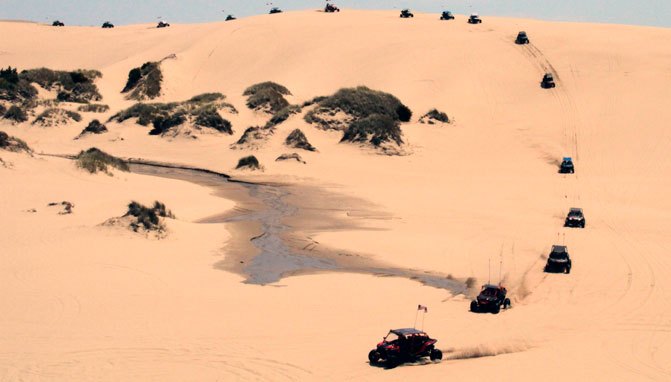 Side-by-Side disciples run wild in Oregon
Sailing through the air with my son by my side in a borrowed 2015 Polaris RZR XP 1000 while hundreds of UTV Invasion participants watched from the dunes far below, I thought to myself "Life doesn't get any better than this." We nailed the landing and we could hear the crowd cheering. Of course, all that massive leap did was wake up the rest of the drivers, who proceeded to out jump us by a good ten feet or more, but we only tried once so we didn't bust my buddy's new RZR. It was a typical beautiful day on the Oregon coast and we were having a great time at the 2015 UTV Invasion at Winchester Bay presented by Boondocker.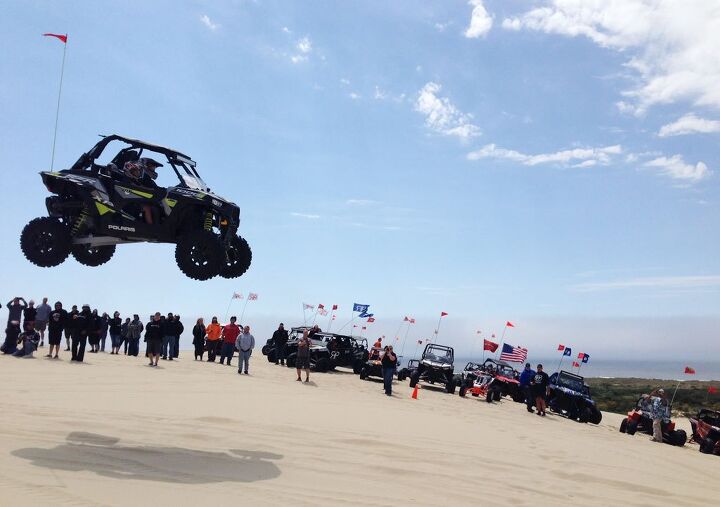 The author gets airborne with his son in a RZR XP 1000. (Photo courtesy Amanda Carlson)
In case you haven't heard about it, UTV Invasion is a new, annual Side-by-Side rally series that started in St. Anthony Dunes, Idaho in 2014 and has now expanded to two events per year including Oregon's Winchester Bay and the original location in Idaho. It would be no surprise to see UTV Invasion make its way south towards So-Cal in the near future as the rumor-mill is that the Imperial Sand Dunes (a.k.a. Glamis) is on the Invasion radar for 2016. If you missed the event in Idaho last year or Oregon this year, you still have one more opportunity because UTV Invasion will be at St. Anthony on Labor Day weekend Sept 3-7, 2015.
As with most of these events and rallies, UTV Invasion features the requisite show and shine, a bunch of daily organized rides, huge giveaways that benefit a local cause, vendors slinging the latest Side-by-Side hardware and, of course, the camaraderie of partying with fellow UTV enthusiasts. The spectacular Winchester Bay sand dunes turned out to be a great fit for the UTV Invasion promoters, since it already has a history with hosting big events and with the proceeds from the giveaway raffle going to support the SaveTheRidersDunes.com (STRD). Everyone who participated played a part in helping with the never-ending battle to keep the Oregon dunes open to OHVs.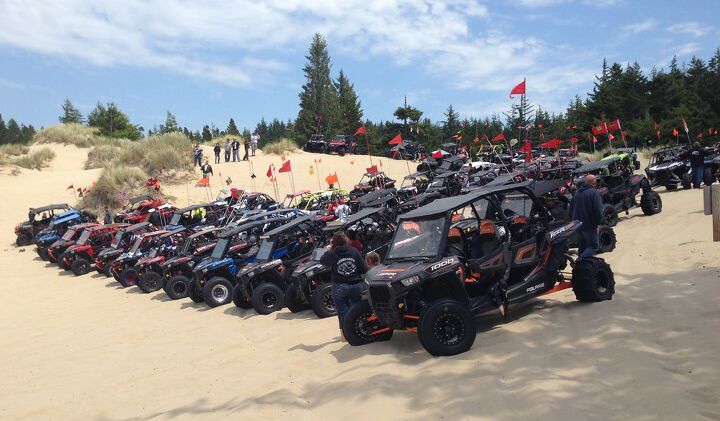 The first UTV Invasion at Winchester Bay drew a big crowd of drivers. (Photo courtesy DirtNDunez.com)
If you haven't been to the Oregon Dunes you should make it a point to get there and check them out. Some of the unique features include the pine forest inter-mingled with the sand along its eastern edges with the Pacific Ocean on the western side. There are numerous worm trails that twist and wind through the grassy hills along the coast, as well as the tree-lined hills. Be aware that the trails are not directional, so there is always a chance of meeting someone from the other direction. We don't recommend riding with reckless abandon; just have some fun. Our XP1K two-seater is just about the perfect UTV for blitzing the worm trails, navigating the Banshee Hill climb or jumping dunes for the heck of it. There's big berms, endless jumps and lots of whoops that combine to make these trail systems a ton of fun.
There are also massive dune mountains that will keep any goon entertained for days on end. Scenic vistas of the coastline, the amazing clear lake, old growth forests and much more seem to be waiting all throughout the area. The Dunestar-sponsored group rides on Friday and Saturday took participants on a series of hour-long rides that stretched from one end to the other so that new riders could get a feel for the layout of the trails and dunes. The first ride lured in just under around 70 UTVs and culminated with well over 100 for both rides on Saturday. There's just something awesome about lining up with that many Side-by-Sides and hauling ass through the dunes that will bring out the inner-kid in anyone. At the end of each ride was an impromptu huck-fest that enticed a dozen or so drivers who were willing to air it out in front of the massive crowds.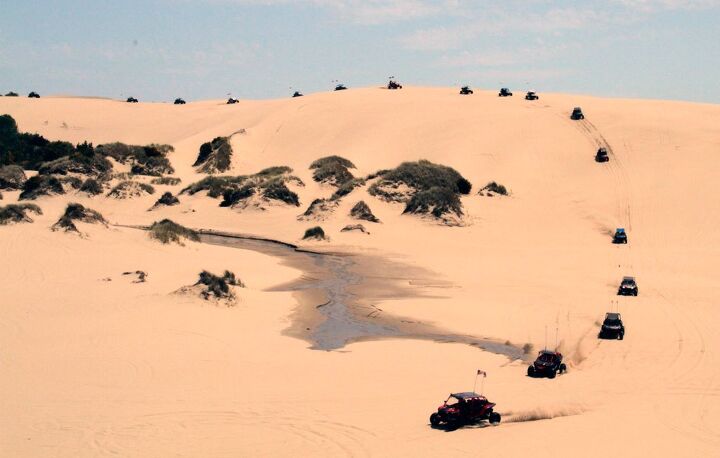 A line of UTVs carves its way down one of the many Winchester Bay hills. (Photo courtesy DirtNDunez.com)
Like I mentioned in the beginning, we couldn't help but make a couple passes since my kid was egging me on. So we let it all hang out for one big jump and drew a big applause from the crowd for our effort in the stock XP. Of course, the built cars and pro drivers were not about to be outdone by the locals, so they went bigger than any of us cared to and drove away with bragging rights in their purpose-built race cars. Am I bitter about not winning? Nah, not at all.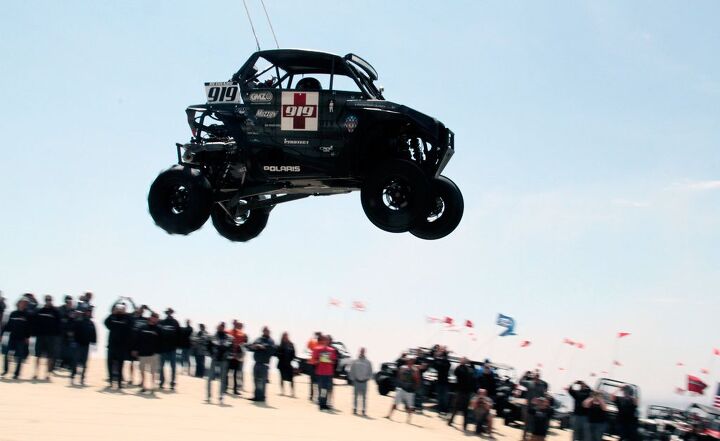 The pros in their purpose-built UTVs showed the crowd what big air really looks like. (Photo courtesy DirtNDunez.com)
Back at Vendor Row the traditional events like the daily Muzzys Tech Tip discussions, the Show & Shine and the UTV Invasion raffle benefitting the STRD all drew huge crowds as well. The raffle prizes included some serious hardware, ranging from a complete Warn Winch package, two complete sets of wheels and tires from Pro Armor and Method, PRP Seats, a selection of LED light bars, LED whips and some UTV Invasion schwag. Tim McCollister walked away from the Show & Shine with a win and the awesome trophy from Mod Quad thanks to his popular 911 Tribute car.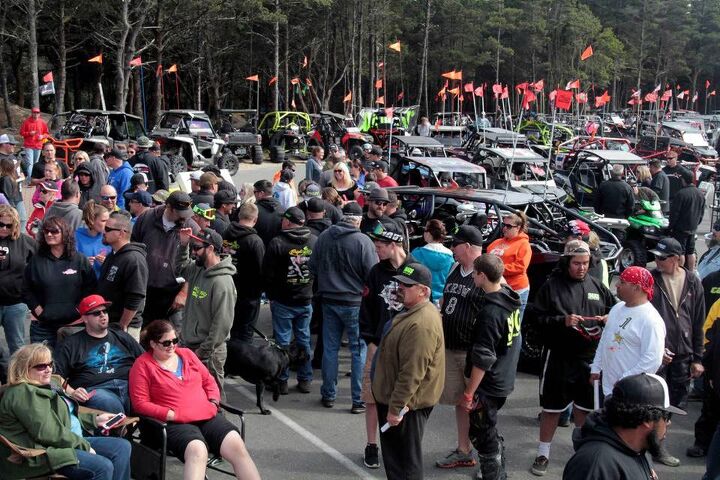 About 5,000 people took in the first UTV Invasion. The response was strong enough ensure a return in 2016. (Photo courtesy DirtNDunez.com)
Overall, the inaugural UTV Invasion at Winchester Bay was a huge success with attendance figures coming in at around 5,000, according to Owner & Organizer Dave Kuskie. That's good news for everyone involved because it is already confirmed that UTV Invasion will be back bigger and better with even more organized events for 2016.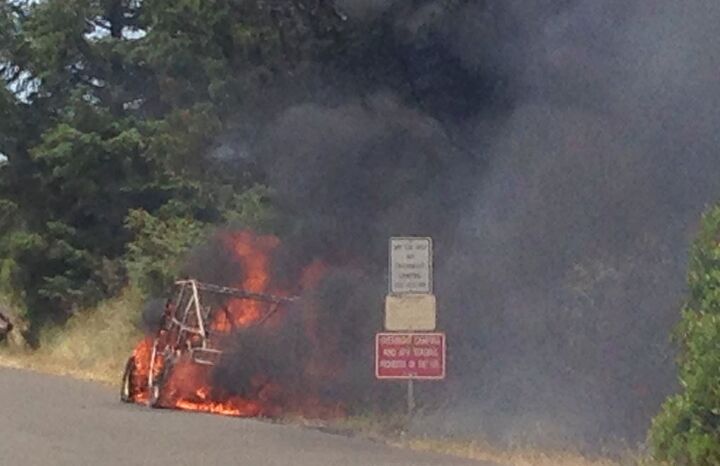 Not everybody had a great time at UTV Invasion. (Photo courtesy DirtNDunez.com)
"Our first UTV Invasion at St. Anthony's Dunes in Idaho last year was so popular," explained Kuskie, "we thought it would be worth trying at the Oregon Dunes at Winchester Bay as a way to raise public awareness of what's happening in the dunes and raise funds for the important work the Save The Riders Dunes folks are doing. UTV Invasion/Winchester Bay exceeded everyone's expectations and will return to Winchester Bay in 2016 on June 23-26."
Event sponsors included Muzzys, Dunestar Racing, Rugged Radios, Whip It Light Rods, Devious Power Sports, PRP Seats, Arctic Cat, UTVTech.com and Oregon West RV. Boondocker has signed on as title sponsor for all UTV Invasion events in 2015-2016.
Published July 21st, 2015 11:15 AM
Top Brands
Popular Articles