1 View
2013 Oregon Dunefest Report
June 17th, 2015 1:23 PM
Share
We're committed to finding, researching, and recommending the best products. We earn commissions from purchases you make using links in our articles. Learn more here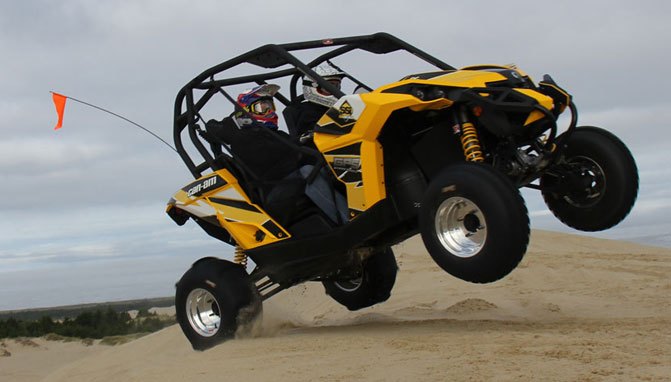 We return to one of the top off-road events of the year
Every year that I attend Dunefest I get this uneasy feeling towards the end of the week that this particular visit might be my last. Something this good can't last forever, right? Fortunately for me, five out of the last six years I've been able to make the trek to Oregon regardless of whatever far reaching corner of the country I happen to be residing in at that time.
This year I've definitely logged some miles traveling to events and races all over the west coast. However, the jaunt to Winchester Bay, Ore. for the 2013 Dunefest would be the longest. I would again be pulling double duty as both a vending sponsor of the event as well as an attendee. Actually, because this event is different than most of the rallies we've done so far this year as vendor row is pretty much hopping all week long so my chances of getting out and roosting some sand were looking pretty slim.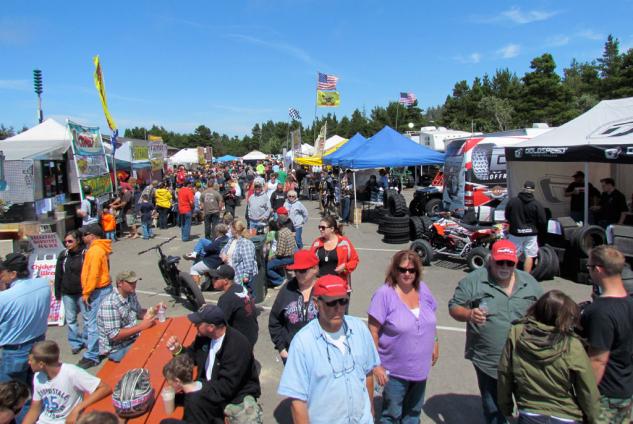 Vendor Row at Dunefest is a constant stream of activity.
My schedule for the week was to arrive Tuesday morning to set up our booth in vendor row and hopefully manage to squeeze in some sand time in the mornings or evenings when vendor row was shut down. Since it was almost a thousand miles from Las Vegas to Oregon and I have family in the area, I thought I'd leave a couple days early in hopes of catching up with my brother and allow some extra time in case anything happened along the way.
VIEW: Read our Brimstone White Knuckle Event report
Turns out it was a good move as I barely made it to the state line when I realized I had a flat tire. Not the way you want to start a trip of this magnitude, especially since I was already nervous about being overweight with a severely loaded van and trailer. I had hoped to find a tire repair shop in Primm, Nev. that could fix the tire so I wouldn't be crossing the rugged desert without a spare. Unfortunately, the only services were in Vegas…behind me. So with that, I swapped out the spare and prayed for no more tire problems until I could get it fixed.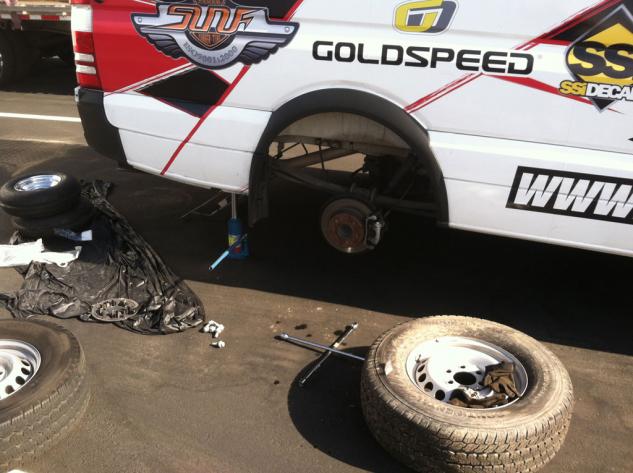 This is not how we wanted to start our journey to Dunefest.
While a flat tire isn't how you want to start any trip, I was able to get the tire repaired in Bakersfield and felt a bit of relief knowing that I once again had a spare tire with me. The rest of the trip to Oregon went relatively smoothly with a quick overnight stop near Redding and then on into Eugene by Monday evening.
For me and a few of my friends, Dunefest is a reunion of sorts. There are several groups of people from all over the western United States that I really only see at Dunefest. Beyond the great riding and amazing scenery, the people that I get to reconnect with every year are really what make Dunefest such an amazing event.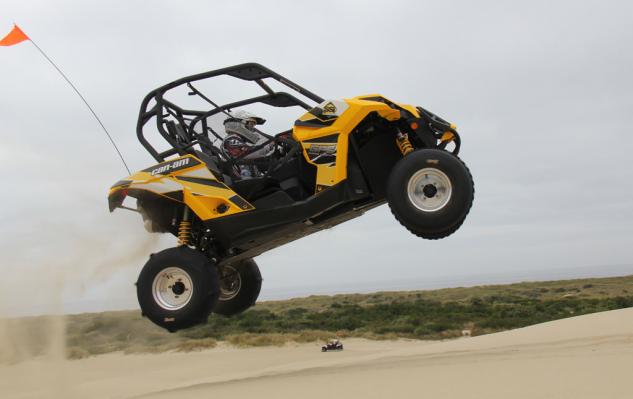 We headed out early on Tuesday to get in some riding before things got too busy.
Since the event didn't technically start until Wednesday, I decided to try and get set up as early on Tuesday as I could and get some seat time before I got locked in my booth for the week. One of my very generous friends who has allowed me to crash at his campsite nearly every year since my first trip back in 2008 was itching to drive our Can-Am Maverick so after I finished setting up the booth, Jaybo and I headed out to the dunes.
VIEW: Read our Rally on the Rocks report
After carving some bowls for a while and letting Jaybo get in the seat of the Maverick, we rendezvoused with a couple other friends and Dunefest regulars Dave from Fullerton Sand Sports and Jon Crowley from UTVGuide.net. Jon is always up for finding a jump or a dune and taking some photos so we cruised around until we found a spot that looked like we could cause some trouble.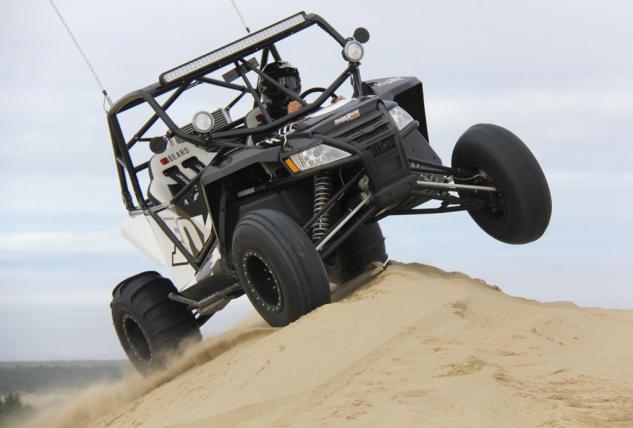 Jon Crowley ripped up the dunes in a turbocharged Arctic Cat Wildcat.
After a few jumps and a couple turns I managed to hit a G-out and bend a tie-rod on our Maverick. Despite being able to somewhat straighten it out and get the machine back to camp, I was kicking myself for blowing what could possibly be my only day of riding. Not to mention now finding some way to fix it with no dealers nearby. Fortunately, a vice and a piece of ¾ inch galvanized pipe from a hardware store allowed me to straighten and sleeve the tire rod to get it through the rest of the week.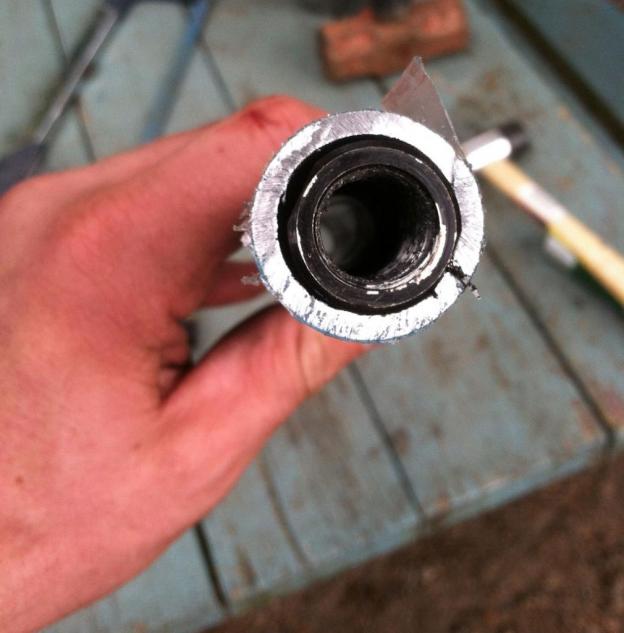 With no Can-Am dealer nearby, we temporarily fixed our bent tie-rod with a pipe we found at a hardware store.
Wednesday and Thursday were pretty mellow days spent just hanging in the booth on Vendor Row. The typical coastal drizzle was in full affect and lasted all day, making riding uncomfortable at best. Thursday wasn't a total bust, however, as I was able to attend the annual Fireball BBQ hosted by a few of the Dunefest regulars. Although not an actual part of the event, it's an invite only shindig that's becoming a tradition for a large group of event goers.
Friday morning greeted us with clear blue skies, making for the first sunny day of the trip and a perfect opportunity to get out and get some more photos with Jon. Not looking to repeat the first day's fiasco, I took it easy as we chased Jon around in his MCX USA turbo Arctic Cat Wildcat 1000. This tricked out Side-by-Side looked more like a trophy truck as it blasted through the sand with its Fox Shox and massive 28-inch STU Sand Blaster tires. We made our way to the southernmost part of the dunes and found a spot to take some photos before racing back to open up our booth by 9 am.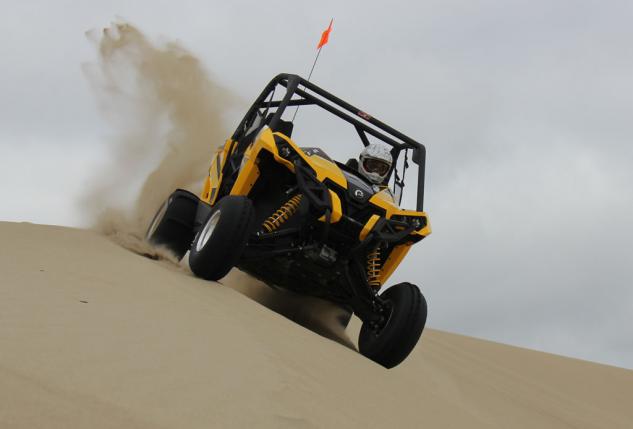 To avoid doing any more damage, we took things a little easier on our Friday morning ride.
Most of Friday was spent in the booth, though I did manage to escape and emcee the tire toss competition since our company was the official tire sponsor of Dunefest. It might sound a little out of the ordinary, but over 90 men, women and children signed up to see who could throw a tire the farthest in each of the three divisions.
VIEW: Read our High Lifter Mud Nationals report
Saturday would prove to be the busiest day of the event with a full list of activities including the Pro Sand Motocross Race and a freestyle show featuring X Games Gold medalist Colten Moore. After having success racing a few sand races in Italy last year, WORCS Pro Dillon Zimmerman opted to come to Oregon and compete in the sand MX race aboard his Factory Can-AM DS450.
Dillon Zimmerman races his factory Can-Am DS450 at Dunefest.
In between the two pro motos I had one last opportunity to sneak away from the booth and take my brother for a ride in the Maverick. He's been working away on an electrical engineering degree the last three years and after letting him get behind the wheel, he's pretty confident he'll be in the market for a Side-by-Side as soon as he graduates in a year or so.
As the final day of the event drew to a close we made our way over to the main stage area to watch the freestyle show. Dunefest organizers made a great change last year by bringing ATV freestyle back to Dunefest with X Games medalists Caleb and Colten Moore. As you may know, Caleb passed away last year following an accident at the Winter X games in Aspen, Colo. Before kicking the show off, rather than having a moment of silence, the crowd gave out one big loud Dunfest shout in Caleb's honor. Having known Caleb personally as well as followed his career for several years, it gave me a special feeling knowing that his legacy and everything that he has done for this sport continues to live on.
Marco Picado catches some serious air in the freestyle show.
As the show got underway, Colten Moore and his teammate Marco Picado got busy throwing some huge tricks despite the rather windy conditions. While Marco is a lesser known rider, he has taken huge strides in recent years, conquering the backflip and proving himself among the top five ATV freestyle riders in the world. Marco wasted no time busting out the first backflip of the event, much to the delight of the crowd.
Following the freestyle show we grabbed a quick bite and retreated to Jaybo's camp for one last night of bench racing and reminiscing about the week's events, Dunefests of the past and just about any industry related topic you can imagine. While the faces around the campfire may change a little bit from year to year, the conversation is almost always the same and I'm left to cross my fingers that wherever I find myself next year that I'll be able to carve out enough time to make it back to Dunefest and keep the traditions alive.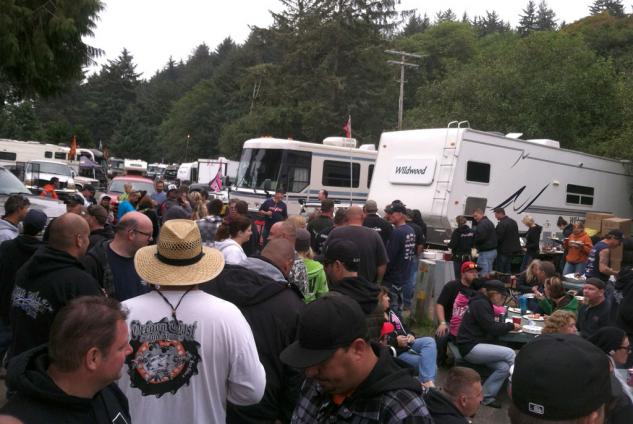 As always, Dunefest was an awesome time. We can't wait to go back again…hopefully next year. Seth Fargher
Growing up in Oregon, most of Seth's involvement in the powersports world was limited to what he saw in magazines and videos. Following a brief stint in the corporate world, Seth took a flying leap (literally) and moved to California to pursue a career in freestyle motocross. Though short lived, the opportunity immersed him in the industry and is now a well-established off-road writer.
More by Seth Fargher
Published August 13th, 2013 12:03 PM
Top Brands
Popular Articles