64 Views
Top 10 Sand Dune Riding Locations
June 19th, 2015 3:42 PM
Share
We're committed to finding, researching, and recommending the best products. We earn commissions from purchases you make using links in our articles. Learn more here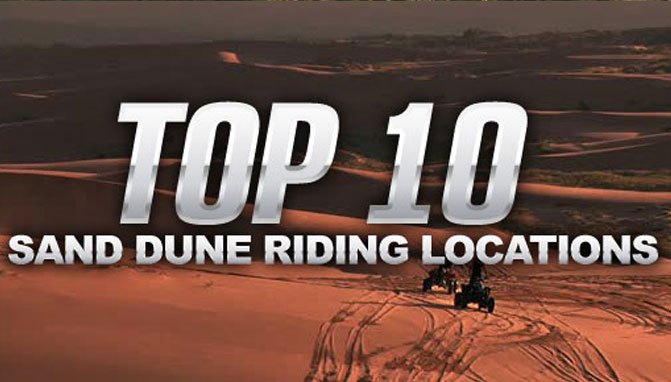 Riding sand dunes on an ATV or a Side-by-Side is a freeing experience. You can pretty much cut, carve, climb and go wherever you want (within reason).
Experiencing the G-forces at the bottom of a dune or carving a bowl at full throttle beats any roller coaster at Six Flags and sand dunes offer a lot of diversity compared to just riding on a track or a trail system.
If you've never ridden sand dunes before, definitely pick a spot from our list and make the time to experience what millions of ATV and UTV enthusiasts make time for every year. Here is our top ten list of sand dune riding locations in the US.
Glamis – California
Known as the sand toy capital of the world, Glamis, Calif. is the most popular off-roading destination in southern California. The Imperial Sand Dunes stretch nearly 40 miles with an average width of five miles and cover more than 118,000 acres. Dunes reach upwards of 300 feet in height and the Bureau of Land Management estimates that nearly 1.4 million people frequent the Imperial Sand Dunes every year. Holiday weekends alone can draw over 200,000 people – Halloweed and Thanksgiving are the most popular. Because of the extremely high temperatures in the summer, dune season for the folks in So Cal begins in September and usually lasts until April or May.
St. Anthony Sand Dunes – Idaho
Sand dunes aren't the first thing to come to mind when you think of this landlocked and mountainous state, but Idaho has them and they are big. In fact, BIG is the only word that comes to mind when you sit at the base of Devil's Dune or Choke Cherry Hill and stare at a nearly vertical 300-foot mountain of sand. The dunes themselves cover over 41,000 acres and stretch five miles in length. The 5,000-foot elevation means the dunes get snow in the winter, but summer temperatures rarely reach above the 90s making this an excellent dune getaway from spring through late fall.
Oregon Dunes National Recreation Area – Oregon
The ODNRA is actually comprised of three separate dune locations – Florence, Winchester Bay and Coos Bay – providing nearly 10,000 acres of sand open to off-highway vehicles. Each is unique in its own right and each offers a much different duning experience compared to the dry desert sands of southern California. In Oregon, the dunes are littered with lush green sea grass clumps and pine trees. Many of the sandy trails snake their way through thick pine forests and the high level of precipitation creates lakes and streams in various areas of the dunes. Both the Florence and Coos Bay areas allow you to ride right onto the beach and Winchester Bay plays host to the annual Oregon Dunefest event every August.
Dumont Dunes – California
Located 30 miles north of Baker, Calif., the Dumont Sand Dunes serve as the gateway to Death Valley. With 8,150 acres of open sand, Dumont is a little less trafficked for southern California and Nevada residents looking to get away from the huge crowds that tend to congregate at Glamis. However, holiday weekends can be just as busy at Dumont.
Little Sahara/Sand Mountain – Utah
(Photo courtesy Jon Crowley – DuneGuide.com)
Don't let the name fool you, Little Sahara isn't so little. With approximately 60,000 acres of rideable sand dunes and the tallest dune, Sand Mountain, stretching nearly 700 feet to the sky, this area is anything but little. With plenty of bowls, trails and open dunes, Little Sahara is a popular duning location for the residents of Utah and central California.
Christmas Valley – Oregon
Christmas Valley is somewhat of a diamond in the rough. Unlike the scenic coastal dunes with plenty of greenery and bodies of water, the Christmas Valley sand dunes are located in the rugged high desert of central Oregon. The area consists of around 11,000 acres of open sand, though most of the dunes are pretty small. High winds constantly dry out and shift the sand, making it extremely soft. Summer temperatures easily reach the triple digits and in the winter can drop well into the teens. Holiday weekends see a fairly good sized crowd, but its remote location keeps this somewhat of a well kept secret – one we feel is definitely worth a visit.
Little Sahara – Oklahoma
(Photo courtesy Blake Shipman – Bshipmanfilms.com)
Despite having less than 2,000 acres of rideable sand, Little Sahara (also known as Waynoka Sand Dunes) is a popular gathering place for Midwestern folks looking to scratch the sand itch. Most of the area features windblown bowls less than 100 feet tall, but it does feature its own competition hill and the annual Snake Hunt festival draws thousands of attendees.
Coral Pink Sand Dunes – Utah
(Photo courtesy Utah Office of Tourism)
Named for its reddish colored sand, the Coral Pink Sand dunes are another popular west coast duning location in the ATV-friendly state of Utah. The reddish color comes mostly from the eroding sandstone in the area and the dunes themselves feature quite a bit of vegetation. The Sand Highway, located along the easternmost part of the dunes, is a popular gathering place for its roller coaster-like, banked switchback turns. There are roughly 2,000 acres of sand dunes open to off-highway vehicles, but the surrounding areas feature miles and miles of trials so we'd recommend bringing your knobbies along too.
Sand Hollow State Park – Utah
There aren't too many places in the country where you can ride an ATV on sand in the morning and go fishing or wakeboarding in the afternoon, but at Sand Hollow State Park that's just business as usual. The park itself, located just outside of St George, Utah, rises from the Sand Hollow reservoir, a popular fishing and boating location for the residents of southern Utah. This year, the popular World Off-Road Championship Series made a stop here and part of the course actually went straight through the dunes. The red rocks make for some spectacular scenery and the area features over 15,000 acres of dunes, trails and rock features. We'd recommend leaving the paddles at home, though. Despite many areas of pure, clean sand, there are plenty of trails and rocky areas to explore outside of the dunes and you won't want to miss out on those.
Oceano Dunes – California
(Photo courtesy Jason McClintock)
One of the smaller riding locales on our list, the Oceano Dunes Recreation area, also known as Pismo Beach, earns a spot on the list for its long-standing history as one of America's favorite dune locations. The only dune riding area in California with beach access, some say that vehicles have been driving on the beach along this stretch of coastline for over 100 years. Despite only 1,500 acres of open sand, the opportunity to both ride, as well as camp right on the beach, makes this a popular duning destination for many California residents. It also plays host to the Pismo beach Huckfest, a crazy event where people will launch anything from an SUV to a full blown trophy truck to see who can jump the farthest. Seth Fargher
Growing up in Oregon, most of Seth's involvement in the powersports world was limited to what he saw in magazines and videos. Following a brief stint in the corporate world, Seth took a flying leap (literally) and moved to California to pursue a career in freestyle motocross. Though short lived, the opportunity immersed him in the industry and is now a well-established off-road writer.
More by Seth Fargher
Published August 29th, 2013 12:35 PM
Top Brands
Popular Articles