1 View
Top 10 Off-Road Riding Locations
August 1st, 2013 9:18 AM
Share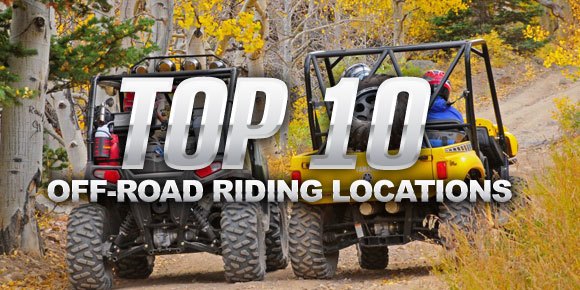 Despite the ongoing battles to keep our OHV lands open, the truth remains that the United States is blessed with some of the most amazing ATV and UTV riding areas anywhere in the world. From the desert mud hills of Ocotillo Wells, California to the lush forests of West Virginia, each area on our list has its own unique draw and unbelievable scenery.
Many of the areas on our list host jamborees and rallies throughout the year – we discussed some of them here. ATV/UTV events are a great way to experience new areas because the trail guides usually make sure to show the best that area has to offer. Whether your prefer riding by yourself or in large groups, these are 10 riding areas that you won't want to miss.
Logandale Trail System – Nevada
Located just outside of Logandale, Nevada, the Logandale trail system makes our top ten list mostly for the diversity of its terrain. Featuring 45,000 acres and 200 miles of trails, it also features open dunes, sand washes and some rocky sections that will test even the most experienced rock crawlers. We tested the Polaris RZR XP 900 HO Jagged X Edition at Logandale earlier this year and it provided not only an amazing backdrop for photos, but the opportunity to test the machine in a variety of different terrain.
East Fort Rock – Oregon
A little over a year ago we tested the 2013 Yamaha Raptor 700 at the East Fort Rock OHV area and, despite some snow flurries, had a blast in this high desert trail paradise. The area boasts over 300 miles of well marked and maintained trails as well as four play areas with hill climbs, berms, jumps and other obstacles. It's in a pretty remote area with the closest services over an hour away so make sure to come prepared. The area gets very dry and dusty in the summer and temperatures can easily drop to the teens in the winter, making fall and spring the optimal time to visit. Read more about the East Fort Rock trails here.
Moab – Utah
Home to one of the most popular UTV rallies in the country ( Rally on the Rocks), Moab, Utah is a must visit off-road paradise that should be on everyone's bucket list. With over 3,000 miles of trails ranging from dirt to slick rock to crazy in-over-your-head rock fields, Moab is easily one of the top OHV destinations in the country. The scenery is unlike anything you'll experience anywhere else in the country, which is probably why countless automobile commercials are filmed out here among the massive rock formations. The town of Moab is very OHV friendly and there are several rental shops if you decide to leave your ATV or Side-by-Side at home. If you visit, tread lightly and stay on the trails. Several environmental groups are working very hard to get the area closed to OHVs.
Ocotillo Wells – California
Ocotillo Wells State Vehicular Recreation area is a freeride paradise of more the 85,000 acres in the rugged southern California desert. Although there are a handful of marked access roads, most of the area is open land filled with trails, washes, large mud hills and sand dunes. Holiday weekends can get very busy and the area is a favorite among many top freestyle motocross riders. It's not at all uncommon to see these riders out busting backflips and other tricks off the many natural jumps in the area. Unfortunately this amazing off-road paradise is under attack by anti-access organizations. You can learn more and even join the fight to save Ocotillo Wells by visiting http://www.saveocotillowells.com.
Paiute Trail System – Utah
Featuring over 900 miles of open trails for ATV and Side-by-Side users, the Paiute trail system is the largest on our list and one of the most scenic. High elevation keeps this area cool year round and the changing seasons bring out some of the most amazing colors. The trail system itself connects several small towns that are very ATV friendly. The area is home to the Rocky Mountain ATV Jamboree in September as well as the Paiutte UTV Jamboree in August.
Hatfield-McCoy Trails – West Virginia
With more than 600 miles of well-groomed trails through the scenic Appalachian Mountains, ATV-friendly towns and miles and miles of wilderness to explore, we can't think of a more perfect nickname than "Trails Heaven." The Hatfield-McCoy trail system is made up of eight separate trail systems stretching throughout southern West Virginia. An annual pass to the area is $26.50 for residents of West Virginia and $50 for non-residents, so if you're going to go, make it worth your while and stay for a while. Also, be sure and check out www.TrailsHeaven.com for more information and to see the full list of rules and regulations.
Durhamtown – Georgia
The Durhamtown Plantation is literally an ATV rider's paradise. This private complex located in Union Point, Georgia features six motocross tracks, UTV track, 150 miles of trails, mud bog pit and much more. Although not all of the tracks are open to ATVs, there's no shortage of fun to be had within the confines of the 6,750-acre facility. All trails are one way so you don't ever have to worry about having a head-on collision while racing through the woods. In the unlikely event that you get tired of riding your ATV, numerous other activities like hunting, fishing and sport clay shooting should keep you entertained.
Brimstone Recreation – Tennessee
Located just a few miles outside of Huntsville, Tennessee, the Brimstone Recreation area features over 300 miles of trails and roads in the heart of Appalachia. The area is very hilly, which allows for some spectacular views and challenging climbs. Many of the wooded areas can be pretty tight for larger Side-by-Sides, but ATVs and smaller UTVs have no problem here. Trails are clearly marked and rated from Easy to Difficult and the area offers some of the most spectacular scenery in the south.
St. George – Utah
The state of Utah has more riding areas on our list than any other. That's probably because it's one of the most ATV/UTV-friendly states in the country. While St. George, Utah doesn't have one specific designated trail system, it made our list because it has several trail systems, stretching for hundreds of miles through the surrounding areas. Back in March, we attended the Tri-State ATV Jamboree where each day, participants could choose from 21 different trails, each within an hour's drive of St George. Most trails are sandy two-track roads with sand stone slick rock features. There is a great deal of history in this area and you can't beat the views of nearby Zion National Park.
Morrow County ORV Park – Oregon
Morrow County ORV park serves as a success story in this day and age when most riding areas are in danger of being shut down. Back in 2001, Morrow County actually received a grant of $1.72 million to purchase the property and develop an off-road vehicle recreation facility. Today the park's 9,000 acres boasts over 200 miles of trails, a small motocross track, bike wash area and a snack bar, all nestled in the pine forests of Eastern Oregon. There is RV camping with dry, partial or full hookups and if you're not into roughing it, there are also cabins onsite that you can rent. If you plan on staying for a while, bring your fishing pole as the nearby lakes and streams offer some excellent trout fishing.
Published July 31st, 2013 11:53 AM
Top Brands
Popular Articles