13 Views
Top 10 ATV and UTV Rallies
July 11th, 2013 4:14 PM
Share
We're committed to finding, researching, and recommending the best products. We earn commissions from purchases you make using links in our articles. Learn more here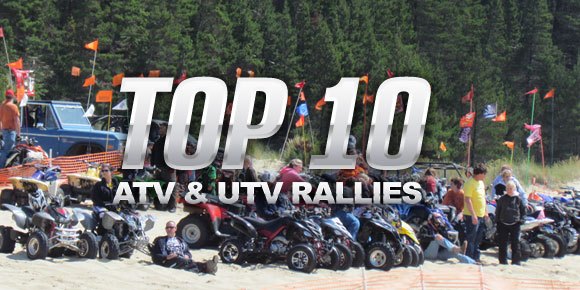 As much as I enjoy having the open dunes to myself on a weekday afternoon or pinning it down a trail without having to worry about oncoming traffic, there is something special about getting together with hundreds or even thousands of fellow enthusiasts and celebrating the sport we love.
Here in the good old US of A we are blessed with some of the most picturesque and unique terrain imaginable and the ATV events and rallies that take place in some of the far reaching corners of the country are as unique as the areas that host them.
If you've never been to an ATV or Side-by-Side rally, you owe it to yourself to go at least once. If you've got the means, get out and try each one on our list because each of these rallies is unique and all offer a heck of a good time.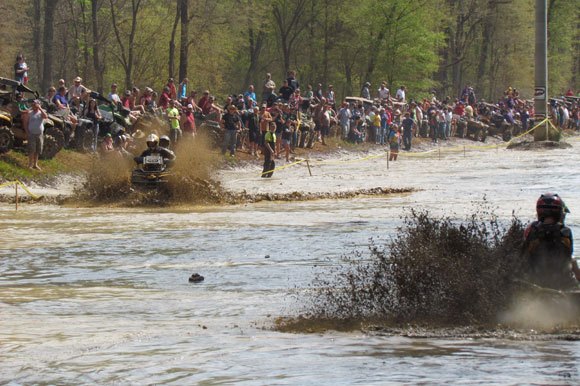 Mud Nationals – Jacksonville Texas
Mud isn't really my thing. It's hard on equipment and takes forever to clean up, but from an entertainment perspective it's hard to top the Highlifter Mud Nationals. Every Spring, Mud Creek Off-Road park plays host to the largest and longest running mudding event in the country. Somewhere between 13,000 and 15,000 ATV and UTV enthusiasts descend upon the private park for a week of, well, getting dirty. There are sanctioned events like the Mudda-Cross, the endurance challenge and even your more standard poker run and show 'n shine. But the real fun is to be had simply kicking back and taking in the insanity that takes place at the "sand-pit." Really more of a glorified mud puddle, this area is a major gathering place at all hours of the day. Just be warned, anything goes at the sand pit and if you happen to venture out at night, don't be surprised if you get stuck in traffic for a few hours on the way.
Rally on the Rocks – Moab Utah
The Rally on the Rocks is one of those best-of-both-worlds events that has something for everyone. If you're the adventurous type and are looking for a challenge, the jagged rocks and sharp ledges of Steel Bender (among others) won't leave you disappointed. If you're more of the laid back and take in the scenery type, you'll love driving up the slick rock formations with amazing views of snow-capped peaks in the distance. Rally on the Rocks provides a controlled and safe environment for Side-by-Side enthusiasts to ride in some of the most scenic and unique landscape our country has to offer, all under the direction of experienced trail guides that are there to keep you safe, or, provide a little coaching up some of the more challenging obstacles if you want to walk a little on the wild side.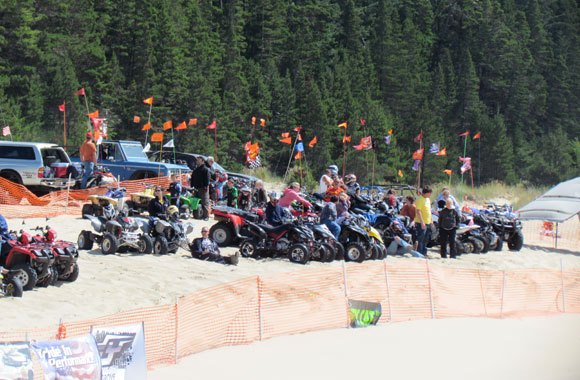 Oregon Dunefest – Winchester Bay Oregon
The slogan says "The most fun a family can have in the sand." After attending four out of the last five years, I'd have to agree that the Oregon Dunefest is probably the most family friendly event on our list. In virtually every event or activity, there are classes for the little guys all the way up to the top professionals. Whether you're into sand motocross, drag racing, poker runs or showing off that shiny quad of yours, Dunefest makes sure the kiddos are able to have just as much fun as the adults. That's not to say there's any lack of excitement for adults, but it's apparent that the event staff wants this to be an event that kids are begging mom and dad to bring them back to year after year. There's never a moment when SOMETHING isn't going on at Dunefest, be it on the drag strip, the MX track, vendor row or the main stage. The event is the largest of its kind in the Pacific Northwest and one of the most well attended ATV/UTV events in the country.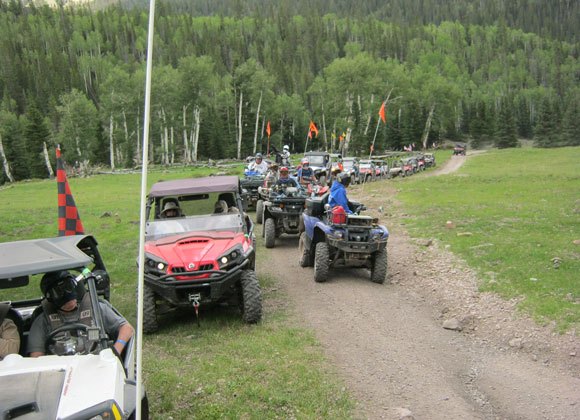 Rocky Mountain ATV Jamboree – Richfield Utah
Utah is one of the most ATV- and UTV-friendly states in the country. That's probably why it plays home to more jamborees and rallies than any other state. Starting in April, you can easily find a rally going on somewhere in the state just about every month all the way through September. The event celebrated its 20th anniversary in 2012, making it one of the largest and longest running jamborees in the state. Taking place in September means comfortable temperatures and beautiful fall colors as the leaves begin to change. The Jamboree boasts nearly 60 guided trail rides through the Paiute and Great Western trial systems in central Utah. In addition to trail riding, event goers are treated to several catered dinners, desert socials, a raffle and even an ATV Rodeo. This year organizers will be raffling off a utility ATV to one lucky event goer. All that fun, food and excitement – as well as a chance to win a brand new – ATV for just $100!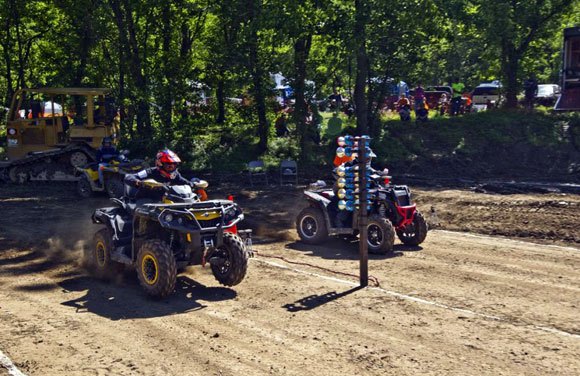 Brimstone White Knuckle Event – Huntsville Tennessee
Not long ago we posted a review from the 2013 White Knuckle ATV event held at Brimstone Recreation facility in Huntsville Tennessee. Unlike most of the other events on our list, the White Knuckle Event isn't a weeklong festival but rather takes place over Memorial Day weekend. The event features most of the same activities as the other rallies on our list, including guided trail rides, concerts and several competitive events. One interesting event is the drag race, complete with an official Christmas tree lighting system. There's nothing special about the race itself, but rather the fact that there are very few "drag specific" machines entered in the race. You can race anything from a sport ATV to a utility quad to a Side-by-Side. Another popular contest is the obstacle course complete with logs, water crossings, jumps and a tire graveyard. The fastest person through the course wins and you only get one shot so do your homework and walk the track first.
Of course, throughout the weekend you can take off on your own and enjoy some open riding on the 300 plus miles of scenic trails that Brimstone has to offer.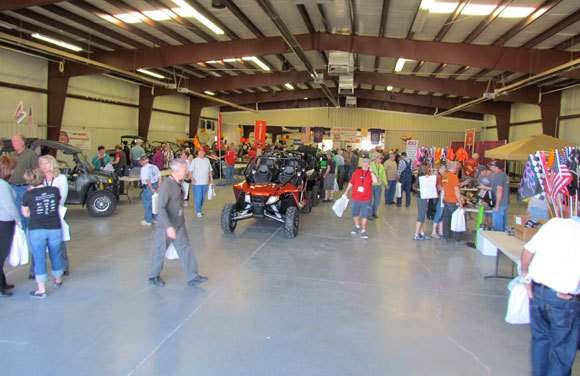 Tri-State ATV Jamboree – Hurricane Utah
The Tri-State ATV Jamboree is simply that; an ATV and UTV rally that spans three different states. Based in Hurricane, Utah, the Jamboree makes use of trail systems stretching from Northern Arizona into Nevada and Southern Utah. Because the Jamboree makes use of so many individual trail systems, event attendees have the opportunity to ride a wide range of terrain throughout the weeklong event. In addition to guided trail rides, there is a hot breakfast served every morning, a catered BBQ dinner and a raffle featuring thousands of dollars in prizes donated by event sponsors.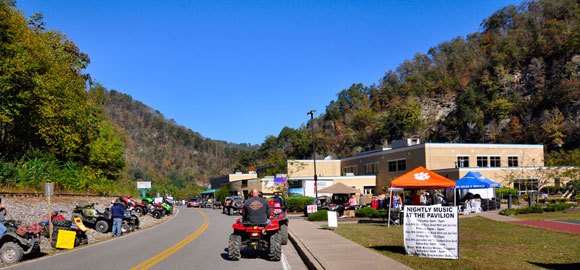 Hatfield-McCoy Trailfest – Gilbert, West Virginia
Now entering its 13th year, the Hatfield-McCoy Trailfest is a great way to celebrate one of the country's best trail systems. The town of Gilbert, West Virginia is the host city, which welcomes off-road riders of all kinds with open arms with factory demo rides, a variety of racing competitions, live music, mud pit, poker runs and more.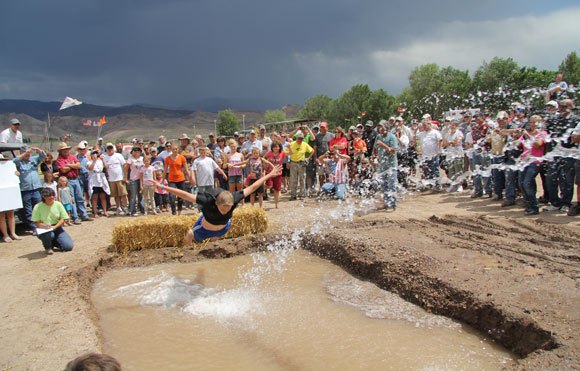 Paiute UTV Jamboree – Marysvale Utah
Once again we return to Utah for another get together of ATV and UTV enthusiasts. The Paiute UTV Jamboree is in its fifth year and has grown steadily in attendance every year. Riders can take in all the amazing scenery of the Paiute trail system and enjoy endless activities at the event headquarters, ranging from an ATV rodeo, to cookouts and even a belly flop contest.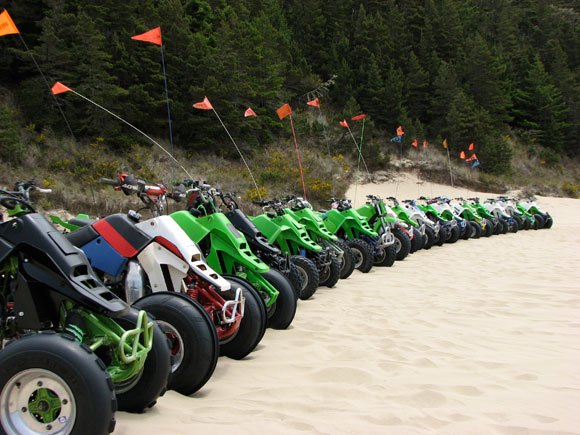 Tecate Fest – Oregon Dunes National Recreation Area
Although this festival, celebrating the almost ancient two-stroke Kawasaki Tecate 3 and 4, is no longer taking place, I felt it merited a place on the list simply for its wow factor. This passionate group of Tecate lovers randomly met while riding at various locations on the Oregon dunes and decided to start getting together once a year and throw their own festival, celebrating their favorite machine of all time. It's not uncommon to see one of the old bright green two-strokes making its way through the dunes every now and then, but to see some 30 or more training through the dunes was a sight to behold. It's definitely a bummer that the festival doesn't take place anymore, but it was certainly a unique one while it lasted.
Spring Jam – Parry Sound, Ontario
No, this doesn't technically take place in the United States, but we'd be foolish to ignore what our friends north of the border are up to. ATV and UTV riders in Ontario know spring has officially arrived when this awesome event is underway. Sure, the trails can still be a little soggy, but the city of Parry Sound goes all out for this event. Not only can you spy ATVs and UTVs throughout the town and on the rugged Canadian Shield, but each year there is a parade of hundreds of off-road vehicles through the city streets – greeted happily by the mayor! Seth Fargher
Growing up in Oregon, most of Seth's involvement in the powersports world was limited to what he saw in magazines and videos. Following a brief stint in the corporate world, Seth took a flying leap (literally) and moved to California to pursue a career in freestyle motocross. Though short lived, the opportunity immersed him in the industry and is now a well-established off-road writer.
More by Seth Fargher
Published July 11th, 2013 3:42 PM
Top Brands
Popular Articles