40 Views
ATVing on a Budget – Five Quads for Under $5,000
June 16th, 2015 4:48 PM
Share
We're committed to finding, researching, and recommending the best products. We earn commissions from purchases you make using links in our articles. Learn more here
Four-wheel fun that won't break the bank
While it looks as though the economy is beginning to rebound, most of us don't have a lot of extra money lying around to pick up a new off-road funster. To help ease your financial burden but still keep you on the trails, we've put together a list of five ATVs you can pick up for under $5,000.
Of course, these aren't the most powerful, accessory-clad four-wheelers available – you'll still have to pony up big bucks for those – but these are fun, functional ATVs from major manufacturers with strong dealer networks.
Keep in mind that all of these prices are 2010 MSRPs. If you shop around you'll find that you can save some significant money off the MSRP, especially if you've got cash in hand or are looking at a model that's been sitting on the showroom floor for quite a while. This is still very much a buyer's market!
Arctic Cat 300 DVX – $3,999 (2010 pricing)
Specs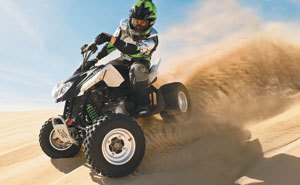 We'll start at the bottom of the price scale with the only sport model in Arctic Cat's ATV lineup – the 300 DVX.
In 2009 Arctic updated the DVX with a new 270cc, single overhead cam, 4-stroke engine, along with a wider track and adjustable five-position shocks (preload and rebound damping) with 6.1-inches of travel up front and 6.5-inches in the rear.
Unlike a typical sport quad, the 300 DVX features a fully automatic CVT. It comes equipped with electric start with a recoil backup, large 3.4-gallon fuel tank, lightweight aluminum wheels and hydraulic disc brakes front and rear.
Though it wasn't designed as a racer, the 300 DVX features removable fenders and can be customized for competition. But really, this model is most at home blasting around the trails and keeping the weekend warrior entertained.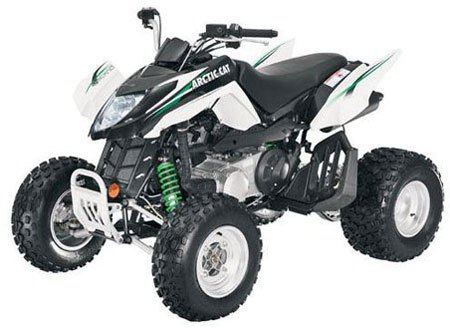 Polaris Trail Boss 330 – $4,299 (2010 pricing)
Specs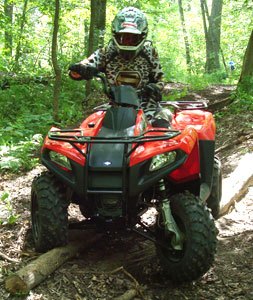 Polaris has had the Trail Boss 330 in its lineup for over a decade and it received a much-needed facelift for 2010. We did a full review of the Trail Boss which you can check out here, but the gist is that it's an affordable, fun, easy-to-ride ATV that offers a surprising amount of utility. Thanks to its Lock-and-Ride compatible steel racks, the Trail Boss can carry up to 200 pounds of cargo – more than the 2010 Sportsman 400 H.O. It can also tow 850 pounds, so you can do a little work around your property.
Suspension was improved in 2010 with 8.2 inches of travel up front and 10.5 inches in the back. It does the job, but it's not quite Sportsman smooth. Climbing over modest sized rocks and logs is a snap, but since the machine is only available in two-wheel drive serious mud running and rock climbing could prove challenging.
As for the engine, the 330cc, air-cooled mill offers a good amount of punch. You can break the back end loose in the corners when you want to slide around and pinning the throttle while you tear down the trails is sure to induce some grins.
Polaris seems to have a vehicle to fit every need so for those looking for a little more sporty riding consider the Trail Blazer 330, which we reviewed here. It's basically the same machine as the Trail Boss, but with a more sporty appearance and without the racks. It also retails for $4,299.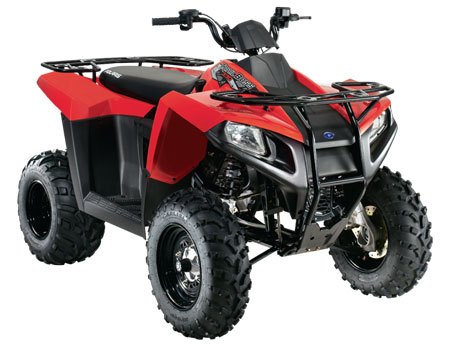 Yamaha Raptor 250 – $4,499 (2010 pricing)
Specs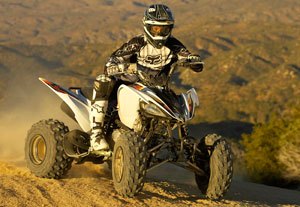 For our money there is no better sport quad under $5,000 than the Yamaha Raptor 250. Besides giving the Raptor its due in a full review, we liked it so much we did a full project build on the Raptor and gave it away to one of our readers! There's just nothing like this in the 250cc sport class.
The Raptor 250 is a fantastic machine for a variety of riders. Beginners will appreciate its light weight and smooth five-speed transmission. More advanced riders can take the Raptor to the track for some motocross action or tear up the local trails and keep up with much more expensive machines.
Equipped with five-position pre-load adjustable shocks front and rear, the Raptor 250 offers up a plush 7.5 inches of travel up front and 7.9 in the back. It also comes standard with aluminum wheels wrapped in Dunlop rubber.
We spent a lot of time on the Raptor and tested it in all sorts of conditions, including an afternoon of motocross fun at Glen Helen Raceway. It really can handle just about anything you can throw at it.
Bottom line…if you like sport quad riding, you'll love the Raptor 250.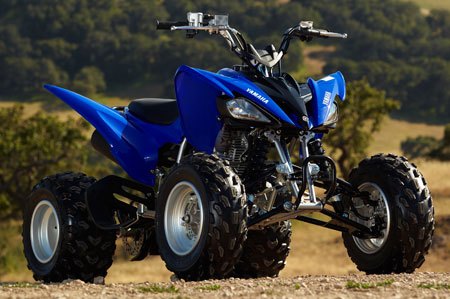 Honda Rancher Base – $4,999 (2010 pricing)
Specs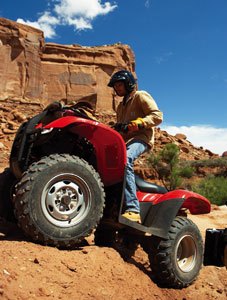 Honda has long had a reputation for building high-quality products that stand up to more abuse than you'd expect. However, quality doesn't come cheap…at least not always. With its base FourTrax Rancher, Honda offers a very solid entry-level ATV at a surprisingly low price.
The base 4×2 Rancher comes with a fuel-injected 420cc engine, which is surprisingly powerful and can get you moving quickly down the trail. It's a lot of engine for this price, especially coming from a manufacturer like Honda.
One unique thing about the Rancher is that it does not come with a fully automatic transmission. It's unusual for a utility ATV to have a manual transmission, but if you're the type that likes to change gears and have more control it may not be a drawback for you. Shifting gears is as easy as pushing a button on the left handlebar.
The base Rancher features a swing arm rear suspension, which has its positives and negatives. You do give up some ground clearance and a little traction in the mud and gnarlier terrain, but for the beginner it's not a bad choice. A swing arm rear suspension can be more stable than independent rear suspension, especially if you're going into a corner with some speed.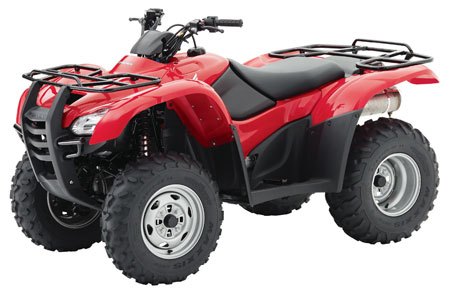 Kymco MXU 375 IRS – $5,299 (2010 pricing)
Specs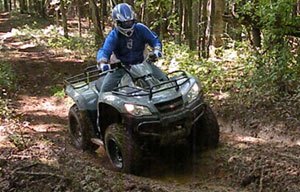 First off, we are aware the MSRP is listed at $5,299 so including the Kymco MXU 375 IRS is a bit of a cheat. However, if you walk into a dealership willing to part with $5,000 something tells us the salesman will be quite happy to sign the paperwork and hand you a key.
Now that we've got that out of the way, let's talk about this machine. What sets the MXU 375 IRS apart for other utility quads in this price range is the fact that it comes with four-wheel drive and independent rear suspension – both features not normally found on a $5,000 ATV.
Four-wheel drive is an expensive addition, usually adding hundreds of dollars to an MSRP, so that's a major bonus for Kymco. Not only will four-wheel drive get you up, over, or through just about any obstacle in your way, but it's a huge help when it comes to getting work done. The MXU is rated to tow 1,050 pounds and if you're hauling around that kind of weight four-wheel drive will come in awfully handy.
Of the five vehicles we've talked about, this is the only one with independent rear suspension. Combine it with four-wheel drive and this machine can take you just about anywhere.
Power from the 366cc, air-cooled, carbureted engine is pretty good. It's a bit of a step down from the Honda, but for most circumstances it's more than enough to get the job done.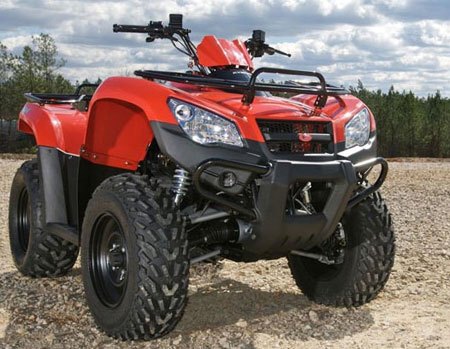 Summary
These are just five of the many examples of budget-priced ATVs available from some of the biggest and most well-respected manufacturers. However, just because you see a higher price tag doesn't mean you can't find a steal of a deal. These are tough times and many ATV dealers need to move product off the showroom floor. You might be surprised what you can get for your money if you let a salesman know you're ready and willing to spend.
For an example of what's available, check out the ATV.com classifieds. A quick look revealed dozens of new and barely used ATVs going for hundreds or even thousands less than the MSRP. Lucas Cooney
I have been working exclusively in digital media since 1997. I started out with TSN.ca, spending nearly nine years creating and editing content on Canada's leading sports website. I left to join VerticalScope, Inc., one of the world's largest online publishers, to start a number of powersports publications. While at VerticalScope, I've helped create and oversee content for a wide variety of different publications, including ATV.com, Off-Road.com, ArcheryTalk.com, Tractor.com, RVGuide.com, and many more.
More by Lucas Cooney
Published July 7th, 2010 12:15 PM
Top Brands
Popular Articles