1 View
2010 Polaris Trail Blazer 330 Review
June 17th, 2015 4:31 PM
Share
Polaris' sporty, entry-level quad gets a facelift
Polaris recently invited us to its state-of-the-art R&D facility in Wisconsin, Minn. to test ride the 2010 ATV line up. While we were there we had a chance to check out and test some of the latest and greatest high displacement quads Polaris has to offer. In addition to these impressive new machines, Polaris also made some key changes to its line of budget-friendly ATVs, including the Trail Blazer 330.
At first glance, the thing that most jumps out on the new Trail Blazer is the plastic. Polaris gave the Trail Blazer, as well as the Trail Boss 330 and Scrambler 500 4×4, new plastic so the style matches more closely to the Outlaw lineup. Additionally, the Trail Blazer received an Outlaw-style headlight that produces 25% more lighting than the previous year's model. As far as looks go, the 2010 Trail Blazer seems much more modern and up to date than its predecessor.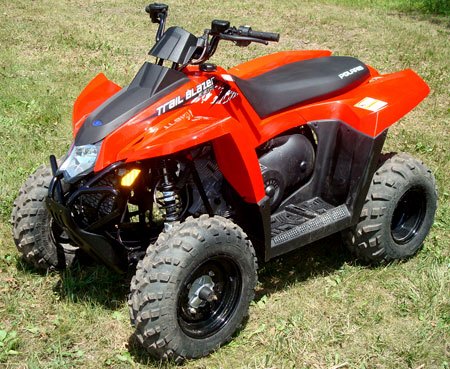 2010 Polaris Trail Blazer 330
Beyond styling, Polaris also made some performance improvements. The front and rear shocks were lengthened to help smooth out the ride. A total of 8.2 inches of travel is now available from the front shocks, a 15 percent increase over the previous model. Even more impressive is the 10.5 inches of travel available in the rear – an increase of 20%. We appreciated the updated suspension as we hit bumps and went over other various obstacles along the trail. The shocks are certainly not as forgiving as the Scrambler 500 4×4, but for an entry-level unit we felt the shocks did a nice job soaking up the terrain.
You'll appreciate the improved shocks when taking on terrain like this.
On top of the enhanced suspension, the Trail Blazer has also been given improved ergonomics and a larger seat to make those long rides a bit more comfortable. Though the sporty Trail Blazer doesn't come with standard cargo racks, it is able to accept the same Lock-and-Ride compatible racks found on the more utility-minded Trail Boss that you can purchase directly from Polaris.
Polaris' R&D facility features a variety of terrain such as wide-open fields, tight trails, rutted out sections, and creek crossings, and even an obstacle course consisting of large rocks, hills and logs that we were free to roam. It was a perfect place to put the Trail Blazer through its paces and see what it was really capable of.
As you'd expect from an entry-level ATV, the Trail Blazer is very easy and unintimidating to ride. Handling is predictable, but not exactly smooth. Although the steering is almost identical to the Trail Boss we felt the Trail Blazer handled better at higher speeds and was more comfortable to move around on while riding aggressively. It's certainly not designed to be a motocross racer, but we still found it fairly easy to throw it around and get all four wheels off the ground despite its near 500-pound dry weight.
Who says you can't catch a little air on a 330cc ATV?
Thanks to a spry 329cc engine, the Trail Blazer 330 has enough of power break the back end loose in corners when you want to and is predictable enough when bringing it back in line with the trail. During our test we never had any problems climbing up hills or while going over various obstacles. It won't keep up with the big sport quads, but the Trail Blazer has enough power for you to have more than a little fun.
Unless we were riding very technical terrain, we pretty much had the throttle pinned on the Trail Blazer.
We found the Trail Blazer's power reasonably easy to control. In fact, we pretty much held the throttle almost wide open the whole time while speeding down Polaris' test facility trails. As much fun as a larger engine would be, the Trail Blazer seems well suited to the amount of power it has.
Bringing the Trail Blazer to a stop was easy with its new thicker disc brakes. Thicker discs mean more consistent stopping power, more reliability and reduced brake fade. Front and rear hydraulic disc brakes are unusual for a vehicle in this class and it helps the Trail Blazer stand out among other entry-level ATVs.
Regardless of its sporty looks and performance on the trails, the Trail Blazer can still double as a workhorse if need be. A standard hitch offers a claimed towing capacity of 850 lbs – enough to make small work of any job around the yard.
One upgrade we'd really like to have seen Polaris add to the Trail Blazer is four-wheel drive similar to its big brother, the Scrambler 500 4×4. Although it is a sport minded model, consumers would surely benefit from the integration of four-wheel-drive. Understand, however, that Polaris wanted to keep the price tag as low as possible and introducing four-wheel drive or any other feature would add dollars to the MSRP. Ultimately, if you really want a Polaris with 4×4, you can just look to the Scrambler 500 4×4 or one of the many utility ATVs in the Sportsman lineup.
It may not be the most modern ATV in the Polaris family, but the affordable Trail Blazer still makes for a fun ride.
Although we did not get to spend as much time on the Trail Blazer 330 as we would have liked, we were happy to see that Polaris made some necessary changes to this entry-level steed. With its easy-to-use CVT transmission, low-maintenance engine and a reasonable price tag of $4,299 (exactly the same as the Trail Boss 330), the Trail Blazer is worth considering for someone wanting to get into the sport and not spend a lot of money.
Comparable Vehicles: Polaris Trail Boss 330, Arctic Cat DVX 300, Honda TRX 300X, Kawasaki Prairie 360