53 Views
2009 Polaris Phoenix 200 Review
June 17th, 2015 4:34 PM
Share
We're committed to finding, researching, and recommending the best products. We earn commissions from purchases you make using links in our articles. Learn more here
A fun, easy to ride ATV aimed at the beginner
Earlier this Spring Polaris sent us a 2009 Phoenix 200 for a long-term review and I decided to use this as an opportunity to teach my girlfriend how to ride an ATV.
I actually attempted to teach her how to ride last year when we first received our stock Yamaha Raptor 250. I thought it would be the perfect ATV for her to learn on since it had a small displacement and was light and nimble. I figured it would be no time until she was out riding the trails with me, but things didn't quite work quite the way I'd planned.
My girlfriend, Olivia Shuff, had never ridden a quad before. She grew up in the city and had never even sat on an ATV until she met me. I was thinking, "Hey, why couldn't she learn how to ride this thing, she has seen me ride plenty of times. I'm sure she could figure out how to use a clutch with a little help."
After many attempts to merely make it across the yard without killing the engine she was fed up with having to learn to use a clutch and threw her hands down in annoyance. Apparently I shouldn't have told her they make automatic ATVs as she then said "I want an automatic quad and I want it to be pink!" I wasn't sure such a thing even existed.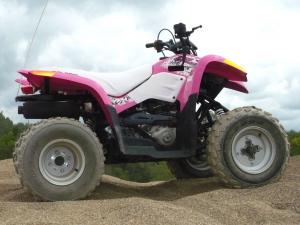 The Polaris Phoenix is a great starter vehicle a new ATV rider.
Sure enough about a week later, I received a call from Lucas Cooney (PowerSports editor for ATV.com) asking me if I was interested in testing out the Polaris Phoenix 200, a fully automatic ATV that just happened to be available in pink! Finally, Olivia was thrilled at the chance to learn to ride and her wish for a pink ATV had been granted.
She loved the way the little Phoenix looked and the automatic CVT transmission (forward, neutral, reverse) made for an easy to operate ATV with little to no learning curve. Starting the Phoenix up is a breeze and Olivia fired the engine up without problem every time.
As for the ergos, the Phoenix is best suited for shorter adults. The 32-inch seat height is lower than a typical ATV, which helps keep the center of gravity lower and makes it more comfortable for a more compact rider.
As expected in an entry-level vehicle the suspension doesn't offer much in the way of adjustability, though you can alter the spring pre-load in the rear shock. Helping to cushion the ride is seven inches of travel up front and a pretty comfortable 6.5 inches in the back courtesy of the rear swing arm shock.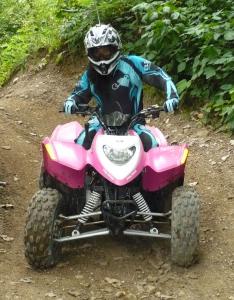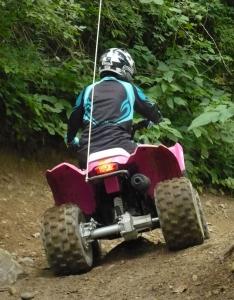 Braking on the Phoenix also proved to be spot on. "I like how you can apply all four brakes with the squeeze of one lever," Olivia said. Olivia used the brakes a lot going down steep, rutted out hills but never experienced any brake fade.
Polaris did a great job meeting the needs of an easy to start and operate ATV, but the power the Phoenix produces is a little tame – it feels a little doggish when taking off. The power doesn't fully kick in until about a quarter to mid throttle. For someone that has experience riding bigger displacement ATVs this could be viewed as a problem, but the Polaris Phoenix 200 was not designed for a skilled and experienced rider, it was manufactured to meet the needs of new riders. The slower reacting throttle response provides the beginner with very controllable power delivery. Although the power that the Phoenix harnesses isn't immediate, that doesn't mean it isn't packing away some ponies.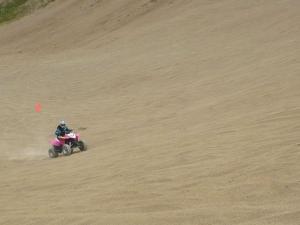 The Phoenix required a head of steam to tackle some of the bigger hills at Badlands Off Road Park.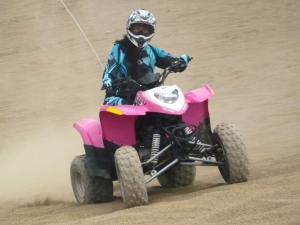 It didn't take our newbie long to get comfortable on the Phoenix.
On the day of the photo shoot at the Badlands Off Road Park in Attica, Ind. (about 80 miles northwest of Indianapolis) I brought along my personal Yamaha YFZ450 to accompany the Phoenix 200. As soon as we got to the park I realized the battery was dead in my YFZ, so I had to be pull started each time we moved locations. We hooked up my YFZ to the Phoenix 200 and let her tug away. To my surprise the Phoenix pulled me through the deep sand with no problem! Although I was a little embarrassed to have my girlfriend pull start me on a pink ATV, the Phoenix came to the rescue.
Despite its impressive towing ability, Olivia found that a few locations at the park proved challenging for the Phoenix – the long, steep, sandy hills in particular. She had to make sure she had good run at the hill ahead to have enough speed to reach the top. When she did find herself stuck on one of the sandy hills, she found it easy to switch the automatic transmission to reverse and get herself out of a hole and back down the hill with no help from me.
I was shocked to see how comfortable Olivia was on the Polaris Phoenix 200. After just a few days riding the Phoenix she felt confident enough to ride it up the steep ramp into the bed of the truck. It handled some difficult terrain and made a novice rider feel in control
"The Phoenix is very comfortable while riding and is easy to control while going up hills and through rough trails," said Olivia.
While Olivia had a great time aboard the Phoenix, she found with her quick learning curve and a little bit of coaching she began to outgrow the ATV. It's a great quad for beginners or people who might be too timid to try more powerful machines; however, a little more power would help with the long-term enjoyment.
If you are thinking of introducing your daughter to ATV riding and she isn't dating a test rider (that you know of), the Polaris Phoenix 200 would make a very good first ATV. If pink is not your color and you're shopping for your son, Polaris does offer the Phoenix in a nice red red/black color scheme.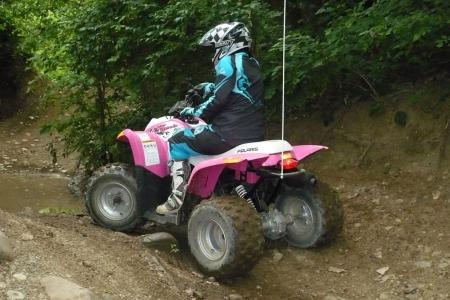 If you're looking for a fun, easy to ride ATV for a beginner, the Phoenix 200 should be on your short list.
At $3,299, the Phoenix 200 is definitely worth a look for the beginners out there, but for those of you (like Olivia) who want a little more power consider also the Polaris Trail Boss 330 and Trail Blazer 330. Both feature fully automatic transmissions and we'll have reviews of each in the coming weeks. Stay tuned.