1 View
MIT Student Develops Off-Road Wheelchair [video]
March 1st, 2010 4:43 PM
Share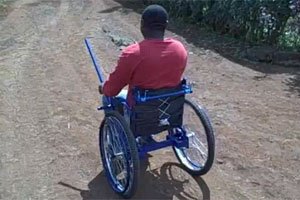 Even though we're an ATV web site, just about all things off-road are of interest to us. One thing we saw that we were eager to share was a new off-road wheelchair.
With the goal of providing affordable transportation to disabled people in developing countries, MIT PhD student, Amos Winter developed what he calls the Leveraged Freedom Chair (LFC). Check out two videos of the LFC below the jump.
Traditional wheelchairs are at their best on paved surfaces or indoors, but they are not meant for much off-road use. Unfortunately, many people in developing countries who need a wheelchair don't live anywhere near paved roads, so they have to travel over dirt roads and other obstacles that just aren't passable with a normal wheelchair.
Winter's innovative solution to this wheelchair dilemma was to add a pair of levers attached to a chain drive, which allows the user to apply additional force to the wheels to get up and over off-road obstacles and even sand.
To keep costs down, Winter's design is built largely using off the shelf bicycle parts. Winter believes his chair can be produced for about $200, which is the same amount as a typical wheelchair.
Get the Flash Player to see this player.
Get the Flash Player to see this player.
Published February 24th, 2010 2:36 PM