139 Views
Best UTV Sand Tires For The Dunes
November 2nd, 2021 6:57 PM
Share
We're committed to finding, researching, and recommending the best products. We earn commissions from purchases you make using links in our articles. Learn more here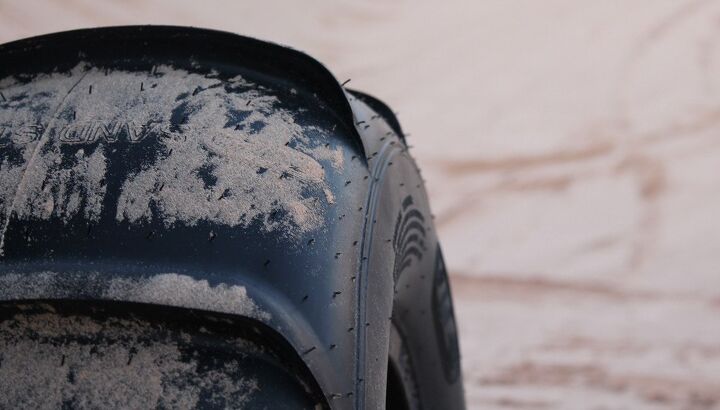 Get the most out of your UTV in the sand
If your UTV spends any serious time in the sand, you're going to need a set of UTV sand tires to get the most out of it. Sand tires are more specialized than most other types of off-road tires, typically featuring tall, vertical "paddles" on the back tires to help your UTV's power delivery in the loose stuff, and longitudinal ribs on the front to help transmit steering input. Where mud-terrain and all-terrain UTV tires have treads that suit a range of different terrain types, UTV sand tires are really only suitable for one thing – sand.
That makes UTV sand tires a bit mysterious to many of us UTV riders; they're less likely to come up in the course of regular tire shopping than all-terrain, mud-terrain, or turf tires. Nonetheless, there are still plenty of great options out there, from well-known, respected manufacturers. They all follow the same basic formula – rear paddle tires for power delivery, ribbed front tires for steering – but that doesn't mean that all sand tires are created equal.
Here, we take a look at the best sand tire options available for today's UTVs.
Table of Contents
1. Editor's Choice: Skat-Trak Extreme
Winner of our Best UTV Sand Tires for 2018 comparison, the Skat-Trak Extreme is a no-compromises, high-performance sand tire for heavier and higher-powered machines, from a company whose UTV paddle tire expertise is just about unparalleled. The Extreme borrows its paddle profile from Skat-Trak's most popular tire, the Hauler, adding 1/8" of thickness at the base for more strength and better stability – a must for today's high-powered turbo UTVs. The carcass is buffed to make it coarse like sandpaper, which gives it the best traction possible in loose sand, the end result being a tire that can hook-up, accelerate, and steer with the absolute best of them.
Developed primarily for high-performance, high-powered machines, the GMZ Sand Stripper is more heavy-duty than most UTV sand tires on the market, with 4- and 6-ply-rating options for puncture-resistance and as many as 16 "deep cut" paddles on the rear, depending on the exact model. That's the most paddles of any tire on this list, and more paddles means more traction with superior hook-up and acceleration. Front Sand Stripper tires feature multiple "concaved tread ribs" for super-responsive steering, and a "TT" version made specifically for AWD UTVs features traction blocks to give the front tires a hand in transmitting power. That's an option you won't find from most manufacturers, and it makes the GMZ Sand Stripper an essential entrant on this list.
3. System 3 Off Road SS360 Sand Tires
While they don't look like your traditional UTV sand tires, the System3 Off-Road SS360 sand tires perform just as good. Available in sizes from 28" to 33" tall, these tires have a lightweight two-ply carcass that offers low-rolling resistance, meaning less stress on your driveline. The unique interlocking tread pattern delivers great traction and cornering predictability making them a premium sand tire.
ITP is one of the biggest names in off-road tires and the Sand Star is the brand's top sand tire offering. Designed to be lightweight with 2-ply rated construction, the ITP Sand Star features a front tire with a dual rib center for improved steering. The rear paddle tires are outfitted with eight 30mm paddles and eight mini scoops to impressive traction.
One possible downside with these tires is there is really only one available size suitable for UTVs - 26x9-12 for the front and 26x11-12 for the rear.
No list of UTV sand tires is complete without mentioning the STI Sand Drifter. The Sand Drifter delivers solid performance with its three-rib front tire design, its 14 one-inch paddles on the rear, and its lightweight 2-ply rating, which gives it excellent flotation and low rolling-resistance. Need more float? The sidewalls are reinforced so that you can air-down safely for a broader contact patch, without risking excessive tire roll or puncturing. Deep integrated rim guards work to protect the lips of your wheels and keep sand out of the beads. Taken altogether, the STI Sand Drifter is a well-balanced, moderately priced staple in the UTV paddle tire world.
EFX Sand Slinger UTV sand tires come in Smoothie, Ribbed, and Paddle versions, each built with a four-ply carcass. Paddle versions feature 14 shoulder-to-shoulder paddles, each with a fairly modest lug height of .87 in (27-inch tire) or .98 in. (29-inch tire). That should make for a smoother ride that tires with more aggressive paddles. The Smoothie, as the name implies, is completely bald, while the Ribbed comes with three ridges to help with steering.
If you're looking for lightweight UTV sand tires with plenty of flotation, the CST Sandblast is an excellent choice. The tires feature a 2-ply rating for superior flotation and agility with minimal rolling resistance, and they offer a good mix between hook-up and wheelspin. The rear UTV paddle tires feature 12 full paddles and a big contact patch, with supplemental traction from shallower tread blocks between paddles, while the fronts utilize a unique dual row arrangement of deep, staggered blade-shaped lugs to carve out a path of travel. Best of all is the price tag, which is among the lowest of all tires on this list, making the CST Sandblast an uncommonly high-performance value proposition.
The Quadboss QBT346 stands out among the UTV sand tires listed here for its unique "spider web" design on the outside of the carcass and its radial construction, which gives the tire excellent ride and handling. Don't let its radial construction fool you into thinking you're giving up strength; the Quadboss QBT346 is 6-ply-rated for exceptional durability and puncture-resistance. The front tires feature a deep three-rib design for excellent steering control, and the rear UTV paddle tires each boast 13 or 14 paddles, depending on the tire size, for superior hook-up. Best of all, the tires are backed by Quadboss's excellent reputation, earned over nearly two decades of catering to discerning UTV enthusiasts.
The Tusk brand of UTV tires offers consumers affordable tire options that don't lack in quality. That continues with the 2-ply Tusk Sand Lite, which are designed to be lightweight while offering solid floatation. The front tires feature a center rib design for improved directional control, while the rear meats offer an array of ¾" paddles for impressive hook up in loose sand.
Recent Updates
May 14, 2021: EFX Sand Slinger and ITP Dune Star added to list.
May 4, 2021: Added two more FAQs at the bottom of the article.
April 14, 2021: Added ITP Sand Star and FAQs.
Nov 2, 2021: Removed obsolete products, added System3 Off Road SS360.
Additional Resources
We are committed to finding, researching, and recommending the best products. We earn commissions from purchases you make using the retail links in our product reviews. Learn more about how this works.
What are UTV paddle tires?
To balance out the need for both flotation and traction on the sand, the off-road world has developed UTV paddle tires. Paddle tires are nothing new, having been around for decades. They are the basic essence of a sand tire, with a broad design and, as the name implies, paddles that dig into the sand and propel you forward. These are extremely specialized tires and are only used in the sand. There is no need to ever use them elsewhere, as it would only destroy the expensive tire, and seriously damage any ground.
Why are front UTV sand tires slick?
You'll notice that the front and rear UTV sand tires typically look quite different. Often in the front, you'll see a slick tire or a tire with ribs that travel the circumference of the tire. The idea is the front is all about flotation where the rear does the heavy lifting and propels the vehicle through the sand.
What makes a good UTV sand tire?
There's a bit of a tradeoff between performance and comfort when it comes to sand tires. If traction is your number one priority, then tall paddles on the rear tires are what you need. But if you want a smoother ride, look for shorter paddles spaced a little closer together. You will lose a bit of hill-climbing traction, but the ride will be a whole lot smoother.
Can you use regular UTV tires in the sand?
Yes, you can certainly use the tires you already have on your machine in the dunes. In fact, we've made more than one trip to the Glamis Sand Dunes with stock tires on both ATVs and UTVs. For the most part, those tires do a fine job of getting you around, but there are limitations. You will have less traction and there is a greater chance you will end up stuck. Aaron Brzozowski
Aaron is a freelance writer, videographer and car enthusiast based out of the Detroit area. He has a special affinity for the Porsche 944 series, and once owned a Volvo 240 sedan with a Weber carb in place of the factory EFI system. His work has appeared on AutoGuide, GM Authority, /Drive, and VW Vortex, among other sites.
More by Aaron Brzozowski
Published September 8th, 2020 2:45 PM
Top Brands
Popular Articles