1 View
January 5th, 2022 2:39 PM
Share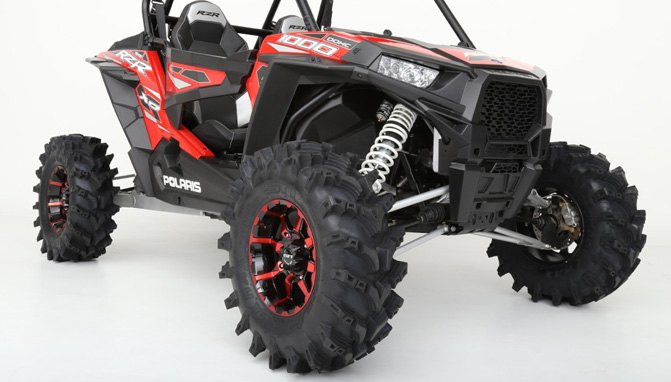 No matter what type of terrain you tackle, STI has the perfect tire for you.
There are the big ATV/UTV tire companies that have multiple branches and have additional products like auto and light truck tires, agriculture tires and more. Many of these companies have been around for years and they are well known. Then there are the smaller tire companies that focus on a few select areas and build a solid reputation by making outstanding tires and wheels that perform and last. STI Powersports is one such company. It has built a strong reputation and there is some buzz these days around the industry about STI Tires. Whether you have an ATV or a UTV, there is an STI tire for you.
Table of Contents
STI designed the Roctane XD as an all-around great tire for extreme conditions, regardless of the machine they are on. These are super-tough 8-ply radial tires that use STI Tire's RocWall sidewall construction for puncture resistance in the sidewall. They also have STI's RocGuard rim protection that protects the wheels from damage and strengthens the bead. The tread patterns in non-directional with large bar-style knobs and a rubber compound that grips rocks well, while still being incredibly durable. You can get them in a wide range of diameters, from 25-inchs up to 34. These are great STI tires for just about every machine.
Following in the footsteps of their popular Roctane XD tires, STI wanted to make a tire that had a lot of the same features like good traction and handling, but wanted to cut the weight of the tire as well as the overall cost. That is where the Roctane XR shines. This new tire is 20-30% lighter than the XD and priced lower as to not lighten your wallet as bad. These tough 8-ply tires are available in 28, 30", 32", 33", and 35" sizes for 14", 15" and 18" rims, and are perfect for todays high horsepower trail machines.
The Chicane is the tire for your high-performance UTV if you need a DOT-compliant tire that can handle rugged terrain. It is an 8-ply tire with reinforced sidewalls and a heavy bead protection with a rim guard. This tire will let you run lower air pressures when you want to crawl and not have to worry about your tires. The tread is made from split knobs and a non-directional patterns. The engineers wanted these STI tires to be lighter than some others, so they would run smoothly for DOT acceptance and be enjoyable for the driver. They hook up in a wide range of terrains, but excel at high-speed running in open conditions.
If you've got a smaller ATV and are looking for a great all-terrain tire that handles well on the trails, provides a comfortable ride and can still leave you confident to take on the muddy obstacles you may encounter, the STI Out & Back XT might be the perfect tire for you. Only available in 25" x 12" sizes, this all terrain tire features a V-pattern tread design that offers plenty of grip and control for those hard pack trails yet has a wide spaced pattern with 3/4" deep lugs that can claw their way out of a sticky situation when you need them to.
If you ride mud, you may well be very aware of Out & Back Max. This tire is well known for being an excellent mud performance tire for UTVs. Mostly an 8-ply tire (there are a couple of smaller-sized 6-plys), this durable mudder has deep directional lugs that start out at 1.5 inches of depth at the center and extending to a full 2 inches deep by the edges. This gives you a flat tire profile and extreme traction. The lugs on these STI tires are stepped so they have flexibility to claw over obstacles. The sturdy sidewall and reinforced bead let you run low tire pressures to help with floatation. A truly great tire for extreme mudding.
Do you lead the pack into the deep mud pits? If you do, then you need a tire that offers good bite, height for ground clearance, and superb self cleaning ability. The STI Out & Back Max'd tire offers all of these. This is a mud tire for serious mud riders that is only available in 33", 35" and 36" x 20" sizes for the most powerful ATV and UTV applications. The stepped 1.5"-2.0" deep tread blocks bite into the mud to keep you moving forward where other tires will leave you spinning for traction. The 8-ply carcass helps to resist punctures from pokey things you can't see under the muck and the deep rim guard helps protect your wheels. A true tire for dedicated mud rider.
The X Comp is STI's answer for the high-performance UTV owner looking for a DOT-compliant tire that is as aggressive as it looks. These are 10-ply, steel-belted radial tires with an aggressive tread pattern with angled shoulder knobs for added traction in intense conditions. A reinforced sidewall and a deep rim guard help resist punctures and pinch flats, while the ride from the tires is remarkably smooth. If you're looking for a perfect all-around performer for your UTV, this is your tire.
That's right, STI Tires has something for the sand, too. The Sand Drifter is actually a set of tires, with a front and rear specific tire for optimal dune running fun. The front is a dual rib tire for steering while the rear tire is a paddle for traction. These 2-ply tires are lightweight, and have a wide footprint for excellent floatation. The sidewalls are reinforced at the bead to allow you to run as low of a tire pressure as possible for even better traction.
What is the best STI tire for my machine?
Picking the best STI tires for your machine is a matter of knowing your driving style, the conditions you drive in most often and what you want to get out of the tires. For example, if you have one of the high-horsepower Sport UTVs, you should immediately be drawn to the newer tires designed specifically for those types of units. From there, look at your terrain types. Luckily, there are some really great new tires for multiple terrains, so you don't have to feel stuck on just one. The steel belted radial tires that are DOT compliant are nice, even if you don't intend to drive on pavement, as they work exceptionally well on hard-pack soils, too.
Why should I pick STI Tires over another brand?
Like anything, who makes the best tire is subjective to opinion. What we can say about STI tires is that the company is a smaller one, owned by enthusiasts with employees who are enthusiasts too. They do nothing but ATV/UTV and dirt bike tires, and ATV/UTV wheels. It is because of that determination and drive in a sport they are passionate about, that this company tends to make some of the very best, and well developed products. If the STI tire you're looking at fits your needs and budget, you can be confident it will do the job.
What is the tallest STI tire available?
The R4 mud tire comes in sizes up to 35 inches. The Chicane is next on the list at 33 inches. There are several models available up to 32 inches tall.
Additional Resources
Recent Updates
12/22/2021: Updated product descriptions, deleted discontinued product, added new products, updated product links, added additional resources.
Become an ATV insider. Get the latest news first by subscribing to our newsletter here.
We are committed to finding, researching, and recommending the best products. We earn commissions from purchases you make using the retail links in our product reviews. Learn more about how this works.
Published February 20th, 2019 12:40 PM
Top Brands
Popular Articles