10 Views
February 14th, 2022 3:02 PM
Share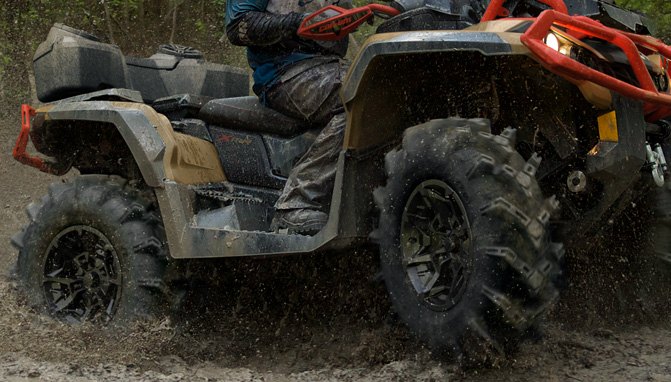 From sand to snow and every terrain in between, ITP tires has what you need.
The industry's deepest lineup of ATV and UTV tires
One of the biggest names in ATV and UTV tires is ITP Tires. Since 1982, the Franklin, Tenn. company has been at or near the top in production and sales of high-performance tires for many different terrain and competition types. Whether for running across the desert at high speed, navigating the tight woods, slogging through a bottomless mud pit, or clawing your way to the top of a rutted, rock-filled hill, there is an ITP tire that is tested tough and proven to perform. But which one is best for your machine? Here is a look at some of the popular models of ITP tires for your ATV and UTV.
There are several variations of the popular Mud Lite tire. The Mud Lite II takes the same basic tread pattern that makes the Mud Lite AT so popular and gives it a little extra bite with a slightly deeper tread pattern. If you look at any of the Mud Lite tires, you get directional tread that digs into the mud, while also working very well as an all-terrain trail tire. Tread depth varies from ¾ to 1-1/8 inches deep. The Mud Lite II adds a little extra tread between the main tread blocks for additional bite. The entire Mud Lite series, including the Mud Lite II ITP Tires, are an extremely economical choice. They are 6-ply tough and very durable. A popular replacement tire for ATVs and UTVs.
The lineage of the Blackwater tire goes back a long way to the famed off-road race in West Virginia. The newest version, the Blackwater Evolution, is a new breed of multi-terrain tires that features non-directional tread blocks that perform extremely well in a wide range of terrain. This tire is seriously tough, with 8-ply construction and Sidewall Armor created to resist the dreaded sidewall puncture. This is one of the toughest ITP tires in the lineup and a great performance tire.
ITP knows the same tire that works for your utility UTV isn't necessarily going to be the hot ticket for the extreme, high-horsepower super-sport machines on the market. The Coyote is one of ITP's tires for those machines. It is a belted radial that is DOT certified and designed to grab traction in a wide range of terrain types. Like its namesake, it is adaptable and works just about anywhere you take it. It thrives in the desert and rocky terrain and will do well in hardpack and root-filled eastern trails, too. It is an extremely durable 8-ply tire, too, and does well at speed, making it a great choice.
ITP Tires designed the TerraCross as a do-it-all tire, and it is a success in that respect. What really surprised people was just how well the TerraCross did in the snow. It is a smooth-riding tire that hooks up well in mud, snow, and sand. It has a blocky, interlocking tread that wraps around the sidewall for extra bite. It has 6-play radial construction and even with the amount of tread on the tire, it feels light and has excellent floatation, helping it grab traction like crazy. These are proving to be great tires for northern conditions.
5. ITP Ultra Cross R Spec
The Ultra Cross is one of ITP Tires' best desert and rock-crawling models. This is a purpose-built tire with multi-surface, non-directional and open tread that excels in everything desert, from loose sand to slick rocks. It is extremely durable with 8-ply construction, reinforced sidewalls and thick, heavy tread. It is perfect for running full tilt through the desert and then slowing down to claw your way up a steep rock face. It is available in popular desert sizes and is ready to take on what you can dish out.
The perfect tire for your lawn – if you hate your lawn and want to tear it to shreds. The Cryptid is a purpose-built mud tire that is made for the serious muck. It has a directional chevron-style tread pattern that starts out at 1.5 inches deep in the center and grows to 2 inches deep by the time the tread reaches the sidewall. Six-ply construction keeps the weight down while still being plenty puncture resistant. Going muddin'? Get the Cryptid.
ITP Tires listens to the market and what people need in tires for their machines. The Versa Cross is another DOT-approved, belted radial for high-performance UTVs. This is the tire you want for extreme performance on hard-pack terrain. The tread is made using ITP's Tough Tread rubber compound that wears extremely well and the non-direction knobs grip very well on hard surfaces like rocks and hard terrain. It is an 8-ply tire with a stiff rim guard for added protection.
8. Sport ATV - ITP Holeshot Series
When it comes to tires for Sport ATV riders that demand maximum traction and durability in every kind of terrain you can think of, the ITP Holeshot line of tires is where you start looking. Countless ATV motocross and GNCC-style races have been won on some variation of the ITP Holeshot tire, and they are one of the strongest-selling tires in the Sport ATV market. There are various models of this tire line such as the Holeshot XCR, Holeshot XCT, Holeshot XC, Holeshot HD, and Holeshot GNCC that are all extremely durable and made to conqueror rocky and rutted trails from the deserts to the mountains where each model has a home.
If you prefer riding on groomed motocross tracks, don't fret. The Holeshot MXR6 is just the tire for you. Constructed with a long-wearing tread compound, this tire has a reinforced carcass that provides a consistent feel when cornering yet maintains a flat tire profile for consistent traction and drive.
Countless ATV motocross and GNCC-style races have been won on some variation of the ITP Holeshot tire. These Sport ATV tires are extremely popular and are still one of the strongest-selling tires going. There are MX-specific version, as well as GNCC-style cross country designs. The Holeshot HD is the toughest version of the tire yet. It has a durable 6-ply design and rugged tread that digs in well. These are a little wider overall than a standard Holeshot and have a stiffer sidewall for added puncture resistance.
9. ITP Mayhem Series Mud Tires
There are those of us who play it safe and try to take it easy, and there are those of us who, well, don't. And then, there are those that think the other two groups are wimps. It's these types of riders that ITP developed the Mayhem lineup of mud tires. These are the tires for riders that see a slimy, nasty mudhole that others are avoiding and think, "Oh yeah, hold my (insert favorite beverage here)." Depending on how big that hole is or how sure you are of your mudding skills, either the Mayhem, Mega Mayhem, Mammoth Mayhem or Monster Mayhem will likely get the job done for you. Each has their features to separate themselves apart from one another, like varied lug sizes and tires sizes, but ultimately they prove a good ride on the trail and excellent bite when you need it in the muck.
There are a couple of ITP tires for sand, including the Sand Star, a front and rear-specific tire that works well for handling in the sand. That is one area that some other tire companies come up short in. Paddles in the rear and front slicks float well, but what happens when you want to turn? The Sand Star digs in well with the angled paddles in the rear, while the front tires have enough tread to let you carve your turns better without skipping and sliding as much. Further proof that ITP is on its game with tire design.
What are the best ITP tires for my machine?
With there being such a wide range of machines and terrain types, picking a suitable replacement tire can be tricky. ITP Tires have 31 different ATV and UTV tires that work in a wide range of terrain types. Everything from mud-specific, to hard-pack and desert tires, are available. So picking the right ITP tire for your machine means you need to know exactly what type of terrain you ride in most often and use that as your starting point for making your selection.
One of the things that makes ITP tires so popular is the number of options. Take the Mud Lite tires for example. There are several versions of the same basic design, with different tread blocks, deeper tread, and additional size offerings that make these tires extremely popular, and available for a wide range of machines. The same goes for the Mayhem mud tires and the Holeshot Sport ATV tires.
What does ITP stand for?
ITP originally stood for Industrial Tire Products, but was shortened to ITP and trademarked as such when the company became CarlStar Group, LLC. This came about when ITP merged with Carlisle Tires many years ago. ITP has emerged as the world's biggest ATV, UTV, and golf cart tire and wheel producer.
Where are ITP tires made?
That's an easy question to answer. All ITP tires are made in America in Clinton, Tenn., at ITP's tire production facility. Being located in Tennessee gives the engineers a great location for testing and developing tires that work in everything from mud to rocks and much more. ITP Tires have been in production since 1982 and have been one of the leaders in ATV tire production since that time. There are companies that specialize in one certain style of tire, but few have as wide of a range of tires as ITP.
Additional Resources
Recent Updates
1/13/2022: Updated product descriptions, updated product links, added additional resources
Become an ATV insider. Get the latest news first by subscribing to our newsletter here.
We are committed to finding, researching, and recommending the best products. We earn commissions from purchases you make using the retail links in our product reviews. Learn more about how this works.
Published February 11th, 2019 3:14 PM
Top Brands
Popular Articles